'My daughter is the cool kid I dreamed of being'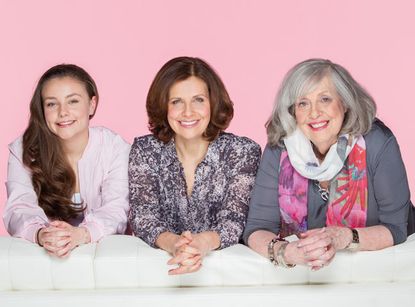 woman&home newsletter
Sign up to our free daily email for the latest royal and entertainment news, interesting opinion, expert advice on styling and beauty trends, and no-nonsense guides to the health and wellness questions you want answered.
Thank you for signing up to . You will receive a verification email shortly.
There was a problem. Please refresh the page and try again.
Actress Rebecca 51, lives in London with her husband screenwriter Phil, son Oliver, 17, and Tilly, 14.
Now that my daughter, Tilly, is a teen, I think one of the things that drives her mad is my anxiety. I'm forever asking: "Will you make sure you text me when you get there?'" There are so many more issues to consider - sharing too much information online and crazy body ideals. Now if I try to make a subtle reference to an article I read about online grooming, she'll say, "Mum I saw that news story too, you really don't need to tell me!' I'm her mother though - and that's what we're here for, right?
Tilly is the cool kid I dreamed of being as a teenager. When I was her age, I was the geeky, spotty girl at school who wore a cape and got teased for it. She started giving me style advice from the age of about six. I'd come downstairs with my glad rags on before an event and she'd say, "You look nice mummy...but not the shoes." I thought it was quite funny at first, but after a while I realised she was right.
I've already started to worry about when the time comes for her to leave home. I keep joking with her that I'm just going to change the locks with her inside! Luckily I have friends with much older kids who keep saying, "Don't worry because they all come back when they can't afford to buy anywhere to live!" I'm secretly hoping that will happen because I count her as one of my closest friends.
I've lost count of the number of times I've stopped and thought, "Oh my god, I'm turning into my mum!" It's comments like, "Are you taking a coat?" and "You're not going out like that!"
My mother, who was always very fashionable, would have loved to have a daughter who wanted to shop with her - unfortunately, she ended up with me! I hated shopping as a teenager; most of my memories with her are of walking round Marks & Spencer in Ilford where I grew up getting grumpy and saying, "When can we go home?" I think that was my rebellious stage!
She was a teacher and was so together, organised and gutsy. I still don't think she's ever recognised that in herself. Her mantra was always: "Listen and explain". I knew I could be open with her. We didn't share fashion and experiences in the way I do with Tilly though.
I think my mum enjoys the moments now when I sigh and say, "I had to have a go at the kids about this". This wry smile comes over her face and she'll say, "Oh yes!" She can often take sides with Tilly - and start taking the mickey out of me!
Rebecca Front stars in Doctor Thorne on ITV tonight.
'I've got Mum hooked on The Kardashians!'
Tilly, 14, is in her third year at secondary school My friends think it's really cool that my mum's an actress but I'm usually thinking, "I hope she didn't do anything embarrassing". When I watch her, all I can see is mum staring back at me. I'm really interested in psychology and I might like to work in it one day, so I find it much cooler that a friend's mum is a therapist. I really admire the fact that mum's found a job that makes her incredibly happy though and I hope I do too.
Mum's got good at not embarrassing me when I'm with my friends - but it's taken some time. When I was in primary school, we once had a big carol concert where someone dropped out - and she got up and sang instead. Looking back now, it doesn't seem so bad because she's a brilliant singer, but at the time I wanted the ground to swallow me up. I was mortified!
Mum and I like to get a takeaway and watch reality TV when we've got an evening together - I've recently got her addicted to Keeping Up with the Kardashians! Now she'll sneak into the living room and pretend not to watch it behind her iPad! She shares my passion for shopping now too - our favourites are Brandy Melville, Urban Outfitters and American Apparel. We always have a good laugh when we're trying on clothes together.
My grandma and I are incredibly similar - mum always jokes that it's skipped a generation! She's a real fashionista and she has a knack for picking out clothes I like. In fact, her best piece of advice has probably been when she's told me not to wear something!
'Rebecca is teaching me mindfulness and Tilly shows me how to use gadgets '
Sheila Front, 80, a teacher and children's writer and her husband, Charles, an illustrator, live close to Rebecca in London. They have a son, Jeremy, who's older than Rebecca, and three grandchildren. Looking back, I'd like to have been less negative when Rebecca was growing up. I was a war child and grew up rationing with few clothes and shoes, so it was a very strict time. I tried to make a point of being less dictatorial and always listen to what she had to say - but I often recall myself saying, "Don't do this" and "Don't do that".
Rebecca and I are both terrible worriers, particularly about health, so at the moment, she's trying to teach me mindfulness. I think she inherited some negativity from me, so now she's trying to be a grown-up about it and ironically teaching me to be one too. She's recommending books and courses and nagging me to write down my thoughts. It all helps you to look at life in a more positive manner.
I was 64 when I became a grandma for the first time and I'd almost given up hope - now I'm loving every minute. Tilly's trying very hard to drag me into the 21st century showing me how to use the gadgets. I think she values the fact she can't do a thing wrong with me, but I suppose the easy part of being the grandparent is that it's not up to you what happens next.
Natalie Whittle is a British journalist specialising in celebrity content in the women's lifestyle sector. She previously held the role of Celebrity Director at Woman & Home and has also worked at Prima, Red & Good Housekeeping.