Exciting news for James Norton fans as McMafia season two is confirmed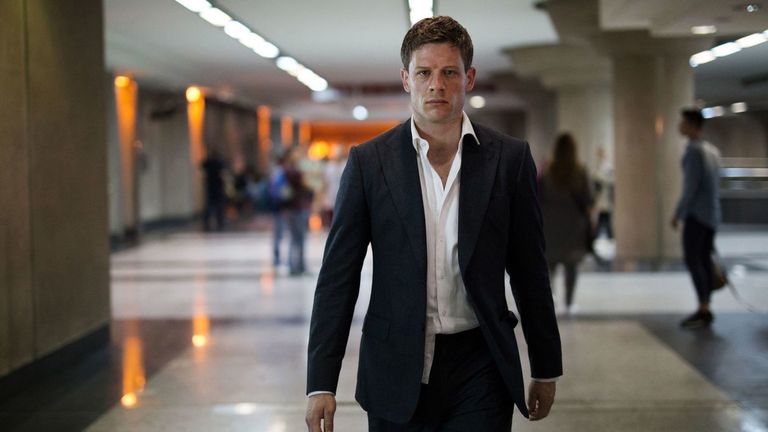 By Amy Hunt
If you were a fan of BBC One's recent, dark thriller McMafia, you will be delighted to hear the news that the drama is returning for a second season.
The series, starring popular actor James Norton, won over viewers across the UK with its first series, charting the journey of Alex Godman into a sinister criminal underworld, as he desperately attempted to protect his family.
The Sunday night prime-time series, inspired by a non-fiction book about real mafia organisations around the world, attracted around 6 million viewers every episode. So it's no surprise that the BBC have decided to bring fans a second season of the show.
MORE: 'Crushed' Grantchester fans react following sad James Norton news
In a statement, the controller of BBC drama Piers Wenger said, 'McMafia's blend of topicality and killer storytelling struck a chord with audiences and significantly added to the discourse around Anglo-Russian relations.'
He continued, 'We are excited to be returning to that world in the safe and brilliant hands of James and Hoss for series two.
'We are so thrilled with how McMafia has resonated with audiences across the world and are delighted to be given the opportunity to cast more light on the shady intersections of transnational criminals and their enablers in finance, law, intelligence agencies and even in governments.'
It's not yet been confirmed that James Norton himself is returning, however, as the main character - it is expected that we'll see James again in season two.
McMafia proved so popular during its first series, that it has now become the fourth most-watched drama title on BBC iPlayer.
In fact, the effects of the dark drama even stretched outside of the entertainment industry. Due to the influence of the series, a new law was brought into force, allowing authorities to seize foreigner's assests if they can't prove that they were obtained by legal means.
Inspired by the gripping show, the law has even been dubbed 'the McMafia law'.
Fans appeared delighted with the announcement that the show was returning. On social media, one viewer wrote, 'Yay! Brilliant drama - look forward to seeing the next series.' While another agreed, saying, '@jginorton excellent news! Loved McMafia. Can't wait to see what happens in Alex' life this time..👍😊'.
A release date for the second season of McMafia has not yet been announced.
In the meantime however, it looks as though James Norton is pretty busy with his schedule for a brand new film, Gareth Jones.
The 32-year-old will be starring alongside The Crown actress Vanessa Kirby, in the movie based on the real life story of an investigative journalist who travels into the Soviet Union to uncover a conspiracy.
The release date for James' new film is also not yet known.