Mariah Carey is being sued over her iconic holiday song All I Want for Christmas is You
Turns out that a band called Vince Vance & The Valiants released a song called All I Want for Christmas Is You years before Mariah Carey's eponymous hit dropped!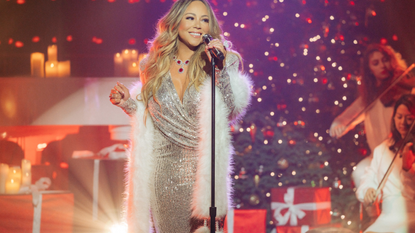 (Image credit: CBS Photo Archive / Contributor)
Superstar Mariah Carey was just sued over her iconic 1994 holiday classic All I Want for Christmas is You by songwriter Andy Stone, who claims he co-wrote an eponymous track five years before the release of Mariah's.
First thing's first: as evidenced by recordings, the two songs don't have much in common on a musical level. Mariah's version, which has turned her into the unofficial queen of Christmas (she even has her own Christmas TV special!), is as pop as it gets, with jingle bells for added holiday measure. Andy's version, which he recorded as Vince Vance alongside his band Vince Vance & The Valiants, has more of a country-slash-rock sound to it. The lyrics of the works are also different.
That being said, the two tracks do share a name, and Vince's band did release the song in 1989, according to the lawsuit. The document also claims that the track became a hit in 1993, just a year before Mariah and co-writer Walter Afanasieff released the now-iconic tune as part of the artist's album titled Merry Christmas.
---
The complaint, which was filed in a federal court in New Orleans, claims that Mariah illegally exploited Andy's "popularity and unique style" and caused overall confusion. Andy also claims he owns the copyright on the title All I want for Christmas Is You and he is seeking $20 million in damages.
According to the complaint, Andy's lawyers first contacted Mariah's team in April 2021 but were, "unable to come to any agreement." It's not clear when, exactly, Andy was made aware of the eponymous song considering it's taken him nearly three decades to file the suit.
Lest you think it's too late for Andy's infringement lawsuit to have any importance these many years after Mariah's song dropped (and landed in the number one spot on the Hot 100 list during the holiday season), think again: in 2014, the United States Supreme Court dealt with a case concerning the movie Raging Bull and, as a result of the judicial body's decision, long-standing rules on how long a copyright owner can wait before taking court action were overturned. To put it simply, the federal Copyright Act's three-year statute of limitations is a rolling one that keeps resetting.
As they are wont to do, social media users took to various platforms to, mostly, express their support for Mariah.
"The songs don't even sound anything like the other!!," one Twitter user wrote. "Hope they get the attorney fees granted in court for wasting people's time!!"
"That lawsuit against Mariah Carey is stupid. Why would anyone wait 28 years to sue for copyright infringement?," another posited.
"Trying to think of something to sue Mariah Carey for," yet another Twitter user cheekily wrote on the platform.
No word yet on when, or even if, the matter will end up in court but here's hoping we'll still hear the haunting (in a good way!) Mariah song come next holiday season.
Anna Rahmanan is a New York-based writer and editor who covers culture, entertainment, food, fashion and travel news. Anna's words have appeared on Time Out New York, the Huffington Post, Fortune, Forbes, Us Weekly, Bon Appetit and Brooklyn Magazine, among other outlets.