Linda Evangelista looks stunning on Vogue cover - after admitting cosmetic surgery that left her 'disfigured'
The supermodel had a coolsculpting treatment six years ago which went wrong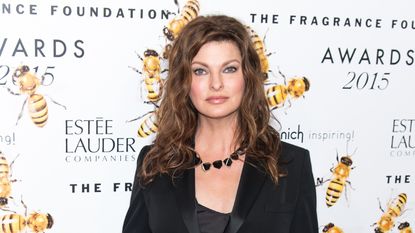 (Image credit: Gilbert Carrasquillo/FilmMagic)
Linda Evangelista has spoken out about her Vogue cover - after the amazing photos of her appeared this week.
The supermodel appears in this month's Vogue (opens in new tab)- looking radiant, in a series of stunning pictures - however, after she sued an aesthetics company because of a coolsculpting treatment that went wrong, she admits that the pictures saw her face being taped back by a makeup artist.
After staying out of the public eye for years the supermodel is back with a bang - but admits that her jawline and neck aren't real.
Linda, who was one of the original 90s supermodels, along with Kate Moss, who recently revealed why she testified in the Johnny Depp trial, admitted last year that she underwent a CoolSculpting fat-reduction procedure that left her "permanently deformed." As a result, she has filed a lawsuit against the parent company of the brand, Zeltiq Aesthetics.
She said of the Vogue shoot, "That's not my jaw and neck in real life - and I can't walk around with tape and elastics everywhere."
She went on to explain that makeup artist Pat McGrath used tape to draw her jawline back and then wrapped her head in scarves and designer hats for the shoots.
She said of the transformation, "You know what, I'm trying to love myself as I am, but for the photos. Look, for photos, I always think we're here to create fantasies. We're creating dreams. I think it's allowed. Also, all my insecurities are taken care of in these pictures, so I got to do what I love to do."
Talking to Vogue about the incident the Canadian model said, "Am I cured mentally? Absolutely not," while admitting that she can't look in the mirror anymore. However, she went on to say, "But I'm so grateful for the support I got from my friends and from my industry."
Last year Linda, who used to model for Versace and Calvin Klein, took to Instagram last year to explain why, saying, "Today I took a big step towards righting a wrong that I have suffered and have kept to myself for over five years."
"To my followers who have wondered why I have not been working while my peers' careers have been thriving, the reason is that I was brutally disfigured by Zeltiq's CoolSculpting procedure which did the opposite of what it promised."
Sarah is a freelance journalist - writing about the royals and celebrities for Woman & Home, fitness and beauty for the Evening Standard and how the world of work has changed due to the pandemic for the BBC.
She also covers a variety of other subjects and loves interviewing leaders and innovators in the beauty, travel and wellness worlds for numerous UK and overseas publications.
As a journalist, she has written thousands of profile pieces - interviewing CEOs, real-life case studies and celebrities - interviewing everyone from Emma Bunton to the founder of Headspace.