Kylie Minogue celebrates her 54th birthday with this adorable throwback photo
Fans and celebrity pals took to Instagram to wish Kylie Minogue a happy birthday as well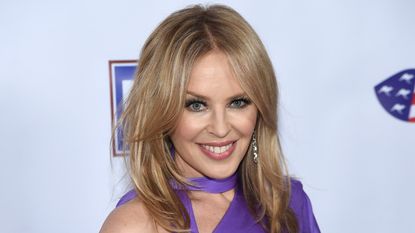 (Image credit: Jamie McCarthy / Staff / Getty)
This past weekend, the iconic Kylie Minogue celebrated her 54th birthday and, to mark the occasion, the Australian singer posted the cutest throwback photo of herself on Instagram.
The artist has even more reason to celebrate as Kylie Minogue's Neighbours return was announced earlier this week, to the delight of all of her fans.
"Oh my …. When you're so overwhelmed by the birthday love 💖," Kylie wrote as a caption to the black-and-white photo she posted on her birthday. "Thank you for your lovely messages. Sending all the love right back to each and every one of you 😍🥰😘."
The image that the artist shared shows a young Kylie resting her head on her hand while smiling at the camera with perfectly coiffed wavy hair and very cute bangs.
Fans and celebrity pals alike took to the social media platform to congratulate Kylie as well.
"Happy Birthday !! 🎉 icon !! 🙌🏼 💜💗💗," actor Rose Byrne wrote in the comments section.
Fellow Aussie Nash Edgerton, the film director, also wished Kylie a happy birthday, as did actor Paul Feig and American designer Jeff Leatham.
As remarked by plenty of her followers and fans, Kylie looks absolutely phenomenal in her 50s (she was even voted the sexiest over-50 in a new poll!).
Although good genes and a healthy lifestyle are certainly part of the reason why she's always looked so amazing, we do imagine that Kylie also invests in the best neck creams and treatments out there, and, perhaps, even the best hair products of the year​.
Her long-time relationship with beau Paul Solomons, the creative director of British GQ, is likely a source of joy and wellbeing as well. The couple has been together since 2018 and, although Kylie is usually reluctant to share details about their life together, she did open up about it to PEOPLE back in 2020.
"In a nutshell, he's a great guy. He's so caring and supportive," she said to the outlet then. "He has a wicked sense of humor, he has his own life and his own career going on. So we meet in the middle somewhere. Yeah, it's good. And there's a lot to be said for that."
The two even made a rare appearance on the red carpet together just last week while attending ABBA's Voyage digital concert residency in London.
Happiest birthday to you, Kylie!
Anna Rahmanan is a New York-based writer and editor who covers culture, entertainment, food, fashion and travel news. Anna's words have appeared on Time Out New York, the Huffington Post, Fortune, Forbes, Us Weekly, Bon Appetit and Brooklyn Magazine, among other outlets.