Kirstie Allsopp reveals the way she maintains her incredible two-stone weight loss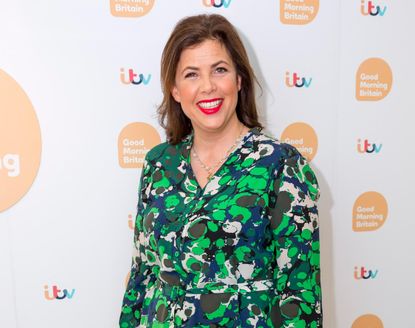 (Image credit: Ken McKay/ITV/REX/Shutterstock)
woman&home newsletter
Sign up to our free daily email for the latest royal and entertainment news, interesting opinion, expert advice on styling and beauty trends, and no-nonsense guides to the health and wellness questions you want answered.
Thank you for signing up to . You will receive a verification email shortly.
There was a problem. Please refresh the page and try again.
Location, Location, Location star Kirstie Allsopp has shed an incredible two stone in the last few years - and now, she's shared how she maintains the loss and keeps her figure in check.
Speaking to The Sun, the property expert discussed her healthy lifestyle and workout routine, which helps her to keep the pounds off after her big weight loss.
On a normal working day, Kirstie revealed that she gets up early, to prioritise her workout for the day. She shared, "On a working day, I get up at 6.15am and I'm straight into my exercise kit for a workout."
Revealing exactly how she works out, Kirstie revealed, "I run up hills and then walk down them. I also do the school run on my scooter. It's brilliant."
Kirstie has previously revealed the heartbreaking reason behind the motivation to lose two-stone - the fear that she may get cancer.
Kirstie's mum developed breast cancer at 41, and 46-year-old Kirstie cites "being overweight on your 50th birthday" the "number one risk factor" for the disease.
"I put on two stone between 40 and 44 and decided that I was being irresponsible as a parent and a partner and it had to go," she told the Mail Online.
The TV star has seen some fantastic results after trying out the same diet plan that helped celebrities Sam Smith and James Corden lose weight, dropping from a size 16 to a 12.
Kirstie attributes her previous weight gain to life on the road. She told Chris Evans on his Radio 2 show, "I blame this totally on my work because being on the road, on location, is very unhealthy.
"The crew eat like gannets [and] there's always food everywhere; there are crisps, bacon sarnies and Haribos. It's cold, so you eat because it's cold, and you eat late at night. You're in pubs and hotels, and it's just not healthy."
Discovering nutritionist and author of Eat Nourish Glow Amelia Freer was a pivotal moment during Kirstie's weight loss journey. Freer was formerly an assistant to Prince Charles before training as a nutritionist and has now developed a huge following, including many celebrities.
These are the golden rules Kirstie followed to reach her weight loss goal...
Resisting temptation on the menu
Speaking to The Sun, Kirstie revealed that a key factor in her weight loss has been making better choices whilst on the road with her Channel 4 show.
She confessed, "It's a battle to eat healthily. When I'm working, we often have a pub lunch, and I'll try to order a salad, but it depends what else is on offer.
However, that doesn't mean that she doesn't occasionally give in! Kirstie admitted, "I'm usually tempted by something more exciting on the menu."
Eat more greens - and less aubergines
The Location, Location, Location star admitted that cutting carbs and incorporating plenty more greens into her diet has been key to her success.
She confessed, "For me, one of my things is that potatoes don't suit me. I don't eat them anymore,'
And another vegetable is also surprisingly out of bounds too - "And aubergines don't agree with me. Wine doesn't agree with me so now I drink vodka martinis."
Kirstie continued, "I really eat more greens. I order two salads now. I haven't really been a pasta person for a while. It's viewing vegetables as carbs. It's always the beans, the broccoli - there's no need for potatoes."
Eat three meals a day
[instagram]
But no snacking. Regular meals will keep your metabolism in check, so make sure you're sticking to a carefully calculated meal plan. The 'Metabolic Meal Plan' that Kirstie followed stipulates that those on the diet should wait five hours between meals.
"I eat three meals a day - I do not leave the house without having breakfast," Kirstie told the Mail Online. "What is key is having five hours between meals and not having anything except water during those five hours."
Cut out sugar
This is no new concept, but according to Freer, it's cutting out sugar is essential if you want to shift the pounds. Freer advises that you should ditch all processed foods in favour of fresh ingredients. Following Amelia's advice, which involves ditching processed foods Kirstie discovered that completely cutting out sugar is another key to success.
"If I stay away from sugar, the weight stays off like it did when I was in my 30s, a size 14 on the bottom and 12 on the top," Kirstie told the Mail Online.
Do regular exercise
[instagram]
[/instagram]
Kirstie boosted her weight loss plan by taking up running. The TV presenter admitted she is lucky to live near Holland Park in West London, where she was able to enjoy some beautiful scenery during her morning run.
"I do half an hour of running up and down hills in the morning to get my heart rate up," she said. Kirstie also enjoys swimming and cycling.
She also has another, more novel way of shedding the pounds. The star has recently been spotted scooting about town on a £600 scooter. Kirstie's is from Swifty Scooters, can fold up, and weighs just 8.3kg.
Cut out alcohol
Sadly, cutting back on those evening glasses of wine is an essential part of the diet plan that has worked so well for Kirstie.
Writing for the Daily Mail, Amelia has said of alcohol in your diet: "Just a few glasses of wine contains more sugar than a chocolate bar."