Killer Sally: Where are Sally McNeil and her children now?
An update on where the folks featured in Netflix's three-part crime documentary Killer Sally are now, including Sally McNeil herself and her children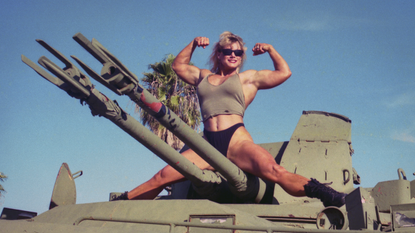 (Image credit: Netflix)
Killer Sally is a new three-part Netflix docuseries about American former professional bodybuilder Sally McNeil, who shot and killed her husband Ray McNeil, also a bodybuilder, on Valentine's Day of 1995.
Fans have been hooked on the production since it premiered on November 2, with many wondering who is Sally McNeil and why did she kill her husband on Valentine's Day.
Even more specifically, audience members are curious about Sally's and her children's current whereabouts.
What is Netflix's Killer Sally about?
Killer Sally on Netflix is the first time that the now 60-year-old Sally has spoken out in public about what she has always claimed to be an act of self-defense: shooting and killing her husband Ray in 1995.
The 911 call that Sally placed right after shooting Ray is also reproduced in Killer Sally. "I just shot my husband because he beat me up," the bodybuilder is heard telling the operator nearly three decades ago.
"He said that I was inferior and he was the superior bodybuilder and everything should go towards him," Sally says about her ex-husband in the documentary. "From the start, I wasn't good enough. I was never good enough. Ray felt as though he was the most important person in the family. He was trying to get me to give up my dream so I could support him."
The three-part-documentary chronicles the couple's unhealthy relationship, their respective careers, Ray's consistent violence spurred by his use of anabolic steroids and Sally's eventual sentence of 25 years in prison for second-degree murder.
The production also dissects Ray's abuse of Sally's children from her previous marriage to Anthony Lowden. Shantina and John, now in their late thirties, also go on the record in the documentary, discussing the abuse directly.
Where are Sally McNeil and her children now?
Sally was found guilty of second-degree murder and sentenced to 25 years in prison in 1996. She was released from prison in 2020 and, according to reports, she now lives in Northern California and works in a warehouse.
She is now also married to her third husband, Norfleet Stewart, whom she met while attending support groups after being released from jail.
When their mother was sent to jail, Shantina and John Lowden were respectively 12-years-old and 9-years-old. They were immediately taken to a care home but were then able to move in with their maternal grandparents.
Both kids eventually joined the military. Shantina worked in the electrical engineering world and joined the United States Army for 16 years, touring Iraq and Afghanistan. She reportedly suffered from PTSA because of her experience in the army and in response to an abusive relationship. She now lives in Georgia where she works for an IT network administrator for Defense Logistics Agency. She has a son.
John, on the other hand, served five combat tours in Afghanistan and, according to reports, also dealt with drug addiction and PTSD issues following his time in the army. John now lives in Texas and also has a son.
Despite not having much contact with their mother while she was in prison, Shantina and John have reconnected with her since her release. John even walked her down the aisle when she married Norfleet.
When was Sally McNeil released from prison?
Sally was released from prison in 2020 but she made a number of requests for parole before that. Her conviction was actually once overturned but then reinstated in 2004.
When she got out of jail two years ago, Sally lived at the Veterans Transition Center in California, where she was also able to attend support group meetings. That is where she first connected with her current husband.
Sign up to our free daily email for the latest royal and entertainment news, interesting opinion, expert advice on styling and beauty trends, and no-nonsense guides to the health and wellness questions you want answered.
Anna Rahmanan is a New York-based writer and editor who covers culture, entertainment, food, fashion and travel news. Anna's words have appeared on Time Out New York, the Huffington Post, Fortune, Forbes, Us Weekly, Bon Appetit and Brooklyn Magazine, among other outlets.