Kate Middleton's voted as one of the best smiles in the world
A new survey reveals that Kate Middleton and Kim Kardashian have the most sought after smiles in the world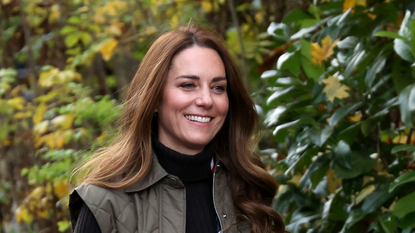 (Image credit: Chris Jackson/Getty Images)
Marilyn Monroe famously said that a smile is the best makeup any girl can wear, and it seems that we're still obsessed with getting our pearly whites perfect.
A new study from a leading orthodontic specialist reveals the celebrity smiles we covet the most. Out of the 2000 people polled, Kim Kardashian topped the list of the preferred smiles, followed closely by Kate Middleton.
Kim Kardashian tops the list of the most desired celebrity smiles, with 36% of those surveyed admitting the reality superstar has the perfect set of teeth. 31% voted Kate Middleton as having the perfect set of pearly whites, with many preferring her classic, healthy, white smile. Football star David Beckham's teeth came in third, with 27% voting his smile as their favorite.
The top ten best smiles
Kim Kardashian
Kate Middleton
David Beckham
Adele
Tess Daly
Holly Willoughby
Harry Styles
Mark Wright
Idris Elba
Emma Watson
Expert tips for a better smile
As we get ready for a new year, what dental hygiene tips and tricks should you include in your beauty regime for a smile like Kate Middleton's?
Dr Khaled Kasem, Chief of Orthodontics at Impress, told Woman&Home, "The start of a new year sees many of us reflect on ourselves, listing our to-dos for the year to come. This research has proven that we're all doing just that, with many of us after our own Hollywood smile.
"It's important to remember though that dental health is much bigger than just aesthetics. TV stars such as Kim Kardashian have access to weekly dental treatments if they want them – this is out of reach for most people, and it's important to not feel inferior if your smile doesn't look like a celebrities. Regular brushing, flossing, plus some orthodontic and restorative care where necessary are the most important things to remember, plus smiling! Everyone looks better when they smile, celebrity or not, so be proud and look happy!"
As well as these handy tips, there are other ways to keep your smile at its dazzling best.
When it comes to your favorite tipples like coffee and wine, there's a guide to keep your teeth white while sipping drinks that stain. Plus there are six simple and effective tricks to whitening your teeth at home.
Jack Slater is not the Last Action Hero, but that's what comes up first when you Google him. Preferring a much more sedentary life, Jack gets his thrills by covering news, entertainment, celebrity, film and culture for woman&home, and other digital publications.
Having written for various print and online publications—ranging from national syndicates to niche magazines—Jack has written about nearly everything there is to write about, covering LGBTQ+ news, celebrity features, TV and film scoops, reviewing the latest theatre shows lighting up London's West End and the most pressing of SEO based stories.