Kate Garraway makes very surprising menopause confession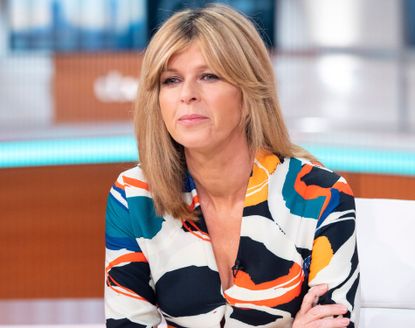 (Image credit: Ken McKay/ITV/REX/Shutterstock)
Kate Garraway is showing no signs of entering the menopause just yet – but that hasn't stopped her making a surprising confession about when the time comes.
The Good Morning Britain presenter, 51, admitted she hasn't felt any of the symptoms associated with the menopause yet, however she's 'sure it's just around the corner' and is actually looking forward to it.
"The menopause used to signify the end, but that's because in the past women didn't live much longer afterwards," she told The Sun.
More:Perimenopause symptoms: key signs, prognosis and how it differs from the menopause (opens in new tab)
"Now we're in a whole new era and it's an exciting time. There are actually lots of studies that show the menopause is a great thing and it rewires the brain in a positive way – although I do remember my mum going through it around the age I am now, and forgetting words and finding it hard."
She added, "But there are all sorts of things to support women now, from supplements to HRT, so it's nothing to be afraid of."
Kate, who turns 52 next week, also admitted that she is now embracing the ageing process instead of trying to hide from it.
She added, "Of course, no one wants to get older. But on the other hand, there's a wonderful thing about reassessing your priorities and what doesn't scare you any more.
"At some point, bits of you are going to go wrong, but I've had friends who've had breast cancer and a friend who didn't make it to 50, so we need to celebrate getting older. Ultimately we have to embrace it, because what's the alternative?"
Meanwhile, most women reach menopause between their late forties and early sixties. In the UK, the average age is 51, so Kate may be right when she said that it could be 'just around the corner' for her...
Jenni McKnight is a beauty, lifestyle and entertainment journalist and a regular contributor to woman&home, having previously worked as Acting Senior Content Editor of our former sister site, CelebsNow. She has also written for HELLO! Magazine, GoodToKnow, the Daily Mirror and Yahoo!