Jennifer Aniston's beauty secrets revealed and they're surprisingly simple
Jennifer Aniston has finally revealed her best beauty secrets...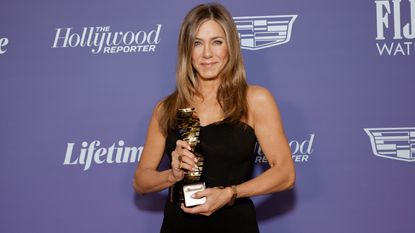 (Image credit: Getty)
Jennifer Aniston has revealed her top beauty secrets, including starting her day with warm lemon water and cardio classes.
The actress has barely aged since her Friends days, and she has now revealed how she achieves her youthful looks.
Jennifer told First For Women magazine all about her diet and beauty regime, which involves lots of fresh food and meditation. She said, "During quarantine I loved cooking. When I wake up I have warm lemon water, then a shake or avocado and eggs. I found ways to make eggs every which way."
She added, "But I also do oatmeal with an egg white whipped in. Do it right before the oatmeal is finished cooking—it gives extra protein and this fluffy texture that's delicious."
And when it comes to her exercise routine, the Friends star admitted that change is key in order to keep her body guessing.
She explained, "Changing up my workout routine is key. I always try to surprise my muscles."
The actress revealed how she works out at Rise Nation, which is a fitness climbing cardio class on the stair climber.
"It's such a great workout," Jen said. "And when my trainer Leyon, whom I love more than life, handed me a jump rope for the first time, I said, 'You're out of your mind.' I would dread doing it and I would skip instead of jump over the rope.
"But within six months, my jumping became fluid. Now I can just go and go and go."
And as for her skincare routine, she treats herself to a 'mini facial' once a week, but swears by meditation and yoga for reducing stress, which can be detrimental to our skin.
Speaking of her love for meditation, she said, "It's my favorite moment. I wish we could freeze time in that magic hour because there's a lot of taking it all in, the appreciation of the day."
Robyn is a celebrity and entertainment journalist and editor with over eight years experience in the industry. As well as contributing regular to woman&home, she also often writes for Woman, Woman's Own, Woman's Weekly and The Sun.