Jane Seymour reveals her youthful glow secret and it's not makeup
Bond Girl Jane Seymour knows that staying fresh is all about lighting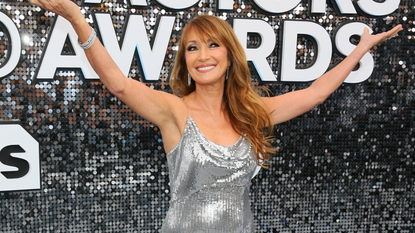 (Image credit: JEAN-BAPTISTE LACROIX / Contributor)
After years in Hollywood, there's a lot that former Bond Girl Jane Seymour has learned - including how to constantly look radiant on camera.
Jane, who famously hasn't had a facelift and looks incredible, recently opened up about a technique that she aptly dubbed "Jane's igloo" and has been using on set for years now.
"So, basically the minute you take the top light off me I don't have bags under my eyes," the 72-year-old actress said to Definition Magazine. "If you have top light, my eyes become very baggy. So, I need no top light and I need something straight at me. Mercifully, I can take a lot of light."
Of course, it took years for her to master the art of lighting while working on films and TV shows like, among others, The Kominsky Method, The Wedding Crashers, Little Italy, Captains and the Kings and the 1973 James Bond film Live and Let Die, in which she played psychic Bond girl Solitaire.
"I've done so many films where I understand the light for me," the mother of five said on the record. "I'm also an artist and like to do photography as well, so I understand what makes good and bad light for myself – what will and won't work. I never have to ask, though. They figure it out, usually on the first day."
Jane always looks youthfully fabulous so, clearly, she knows what she's talking about.
This actually isn't the first time that the British actress has gone on the record to share some details about the proper way to look fresh and constantly glow.
Just a couple of years ago, in fact, right after turning 70, Jane sang the praises of a proper skincare routine while chatting with New Beauty.
"I think having good skin is really the secret to not aging your face," she said to the outlet in 2021. "Using retinol at night, protecting yourself from the sun, using the great skincare that plumps your skin and pretty much anything that makes me feel healthy is the best anti-aging secret I know."
Also important, according to the star: loads of vitamins, exercise (including daily walks on the beach and Pilates classes) and proper eating habits - which, for her, include consuming produce that she actually grows in her garden in Malibu.
But back to plastic surgery: the actress wants everyone to know that, although she has not gone under the knife herself as of now, she sees nothing wrong with the practice.
"As of now, I have chosen not to have a facelift—but I have nothing against any of it, nothing," she said to New Beauty a while back. "Almost everyone I know is doing it and they're really thrilled with the results. I think it's great, and if I felt that somebody could do something that wouldn't change my face, and I would have the results where I would look just like me, I would do it. I'm not saying I'd never do it, but I haven't done it yet."
Bonus points for honesty!
Anna Rahmanan is a New York-based writer and editor who covers culture, entertainment, food, fashion and travel news. Anna's words have appeared on Time Out New York, the Huffington Post, Fortune, Forbes, Us Weekly, Bon Appetit and Brooklyn Magazine, among other outlets.