Jamie Lynn Spears, sister of Britney Spears, claims parents pushed her to get abortion
Britney Spears isn't the only Spears sibling opening up this year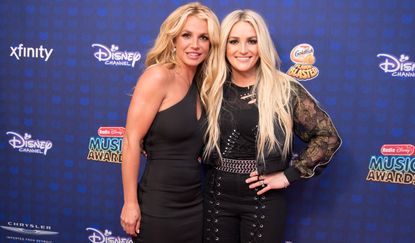 (Image credit: Image Group LA/Getty)
All eyes have been on Britney Spears' fight for freedom, but Jamie Lynn Spears' new book claims Britney isn't the only sister to have struggled with their parents.
Britney Spears' fight against her oppressive conservatorship has dominated the headlines all year. Her harrowing story was shown in both the Britney Spears Netflix documentary and another on HBO which fuelled the already existing 'Free Britney' movement.
However, it was her legal battle that exposed shocking revelations about forced birth control, alleged abuses, and the sad realization that one of the most famous women in the world has been denied basic human rights for over a decade.
---
As the tide has turned for Britney, with her father Jamie Spears stepping down as conservator and the singer getting engaged to boyfriend Sam Asghari, her younger sister is opening up about some of her own traumas growing up a Spears.
Jamie Lynn is a singer and actress, best known for starring in the Nickelodeon series Zoey 101 between 2005 and 2008.
The hit children's TV show came to a controversial end after Jamie Lynn fell pregnant, aged 16.
In her new memoir, Things I Should Have Said, the younger Spears is opening up about that time in her life, and alluding to tight restrictions placed upon her by her parents, mirroring some of the issues Britney has faced.
In excerpts released by TMZ, Jamie Lynn writes in the book that her parents tried to convince her to abort her pregnancy at 16 and, when that failed, to push her to give the baby up for adoption.
Jamie Lynn wrote that a brigade of people "came to my room trying to convince me that having a baby at this point in my life was a terrible idea." She described their remarks, "It will kill your career. You are just too young. You don't know what you're doing. There are pills you can take. We can help you take care of this problem."
Jamie Lynn also alleges that her phone was taken from her to prevent her from speaking to anyone outside her immediate circle and that she couldn't tell her older sister about the news.
"To this day, the hurt of not being able to tell my sister myself still lingers," Jamie Lynn wrote.
The book isn't out until 2022 but it's already proving to be controversial. In addition to these latest excerpts, the book has prompted some ire from Britney fans who think Jamie Lynn is taking advantage of her sister's struggles.
Britney has aired her frustrations with her sister out publicly in recent months, too.
In July, the Gimme More icon wrote that she didn't, "like that my sister showed up at an awards show and performed MY SONGS to remixes," seemingly referencing the 2017 Radio Disney Music Awards, where Jamie did a tribute performance.
She continued, "My so-called support system hurt me deeply... This conservatorship killed my dreams...so all I have is hope and hope is the only thing in this world that is very hard to kill...yet people still try!!!!"
A mental health charity, This Is My Brave, also publicly rejected Jamie Lynn's offer to donate proceeds from the book sales.
Jamie Lynn's book comes out January 18, 2022.
Jack Slater is not the Last Action Hero, but that's what comes up first when you Google him. Preferring a much more sedentary life, Jack gets his thrills by covering news, entertainment, celebrity, film and culture for woman&home, and other digital publications.
Having written for various print and online publications—ranging from national syndicates to niche magazines—Jack has written about nearly everything there is to write about, covering LGBTQ+ news, celebrity features, TV and film scoops, reviewing the latest theatre shows lighting up London's West End and the most pressing of SEO based stories.