Is Virgin River based on a book? All we know about the wholesomely sweet show
Waiting for the premiere of season 5 on Netflix, fans wonder if Virgin River is based on a book...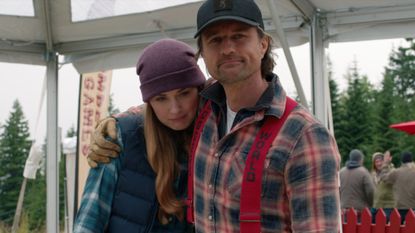 (Image credit: Cr. COURTESY OF NETFLIX © 2022)
Since first premiering on Netflix back in 2019, fans have been asking, is Virgin River based on a book?
Now gearing up for the premiere of Virgin River season 5, set to debut on the streaming network sometime in 2023, the series is based on the Virgin River novels written by Robyn Carr, the first one of which debuted back in 2007.
What is Virgin River about?
Virgin River on Netflix is set in the Northern California town of Virgin River and specifically follows the life of Melinda "Mel" Monroe (Alexandra Breckenridge), a nurse practitioner and midwife who moves into town from Los Angeles to start fresh and forget all about her painful past.
With each new episode, viewers immerse themselves in the lives of Mel and her fellow small-town residents, including former US Marine and local bar owner Jack Sheridan (Martin Henderson), his close friend John Middleton (Colin Lawrence), local physician Vernon Mullins (Tim Matheson) and the mayor of Virgin River, Hope McCrea (Annette O'Toole).
---
Needless to say, Mel and Jack's relationship is a major plot point across all four seasons of the show that have already aired - and likely an important part of the upcoming season 5 as well.
Among the many questions that fans hope to discover answers to when season 5 actually premieres are (spoiler alert!): who is the father of Mel's baby? How will Jack's ex-girlfriend Charmaine Roberts' (Lauren Hammersley) own pregnancy affect the other characters? Who shot Jack?
Is Virgin River based on a book?
Virgin River on Netflix is based on the series of books written by Robyn Carr beginning back in 2007. In total, the book series includes 21 books - so you can imagine how much material there is to pull from for the development of the TV adaptation.
The author of the successful series has previously gone on the record about Netflix's adaptation.
"I really thought the Virgin River series would make a good television series," Robyn said to Entertainment Weekly (opens in new tab) back in 2018. "We've had a lot of interest over the years. They rarely pan out. But this time, I knew from the very beginning that it was going to work. I was on a conference call with the producer and the showrunner, and they knew all the characters' names from all the books, and I thought, 'Oh, these people know what they're doing.' It was a no-brainer, but did I want it for a long time? You bet. But we didn't go chasing it; it chased us."
Specifically, the writer praised the network for shedding light on "positive drama" amid a sea of gut-wrenching TV shows that seem to constantly permeate our airwaves.
"There's a need for positive drama," Robyn said to the outlet. "Not just goody-two-shoes, everything-is-beautiful kind of story, but a kind of story where people have real problems and real issues and they have to resolve them. Hopefully intelligently and with the help that's available. Maybe with counseling, maybe with medical intervention. They need to come out the other side in a better place than they were, and the characters need to serve as positive role models for the women who are reading the books."
Virgin River novels in order:
1. Virgin River
2. Shelter Mountain
3. Whispering Rock
4. A Virgin River Christmas
5. Second Chance Pass
6. Temptation Ridge
7. Paradise Valley
8. Under the Christmas Tree
9. Forbidden Falls
10. Angel's Peak
11. Moonlight Road
12. Midnight Confessions
13. Promise Canyon
14. Wild Man Creek
15. Harvest Moon
16. Bring Me Home for Christmas
17. Hidden Summit
18. Redwood Bend
19. Sunrise Point
20. My Kind of Christmas
21. Return to Virgin River
How similar are the Virgin River books to the Netflix series?
Overall, the Virgin River TV show stays true to its source material although the two entities mainly differ in presentation. In fact, each Virgin River book focuses on a different town resident. Other characters certainly appear in the novels, but as secondary figures. The show, on the other hand, basically gives equal attention to all cast members - albeit turning Mel and Jack's love story into the central focus of the storyline.
Where can I watch Virgin River?
Seasons 1 through 4 of Virgin River are available for streaming on Netflix right now. The first three seasons feature ten episodes each and the fourth one, originally released on July 20, 2022, includes 12 different episodes.
Anna Rahmanan is a New York-based writer and editor who covers culture, entertainment, food, fashion and travel news. Anna's words have appeared on Time Out New York, the Huffington Post, Fortune, Forbes, Us Weekly, Bon Appetit and Brooklyn Magazine, among other outlets.