Is Adele married? Fans spot big 'clue' that she might be
Is Adele married to Rich Paul? Fans think so after spotting something...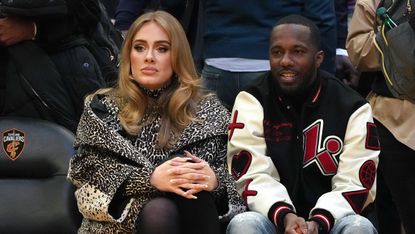 (Image credit: Getty Images)
Adele fans think they have spotted a big clue that she and Rich Paul are married.
The Set Fire To The Rain singer, whose Las Vegas residency is set to kick off in November, set tongues wagging when she shared a glimpse inside her lavish LA home after winning an Emmy Award for her CBS concert special.
In honor of Adele: One Night Only receiving the coveted award, Adele took to social media to share a snap of the iconic trophy - but fans were focussed on something in the background.
Announcing that she was "pleased as punch" to be given the Emmy, Adele posed for a couple of fresh-faced selfies and posted a photo of the award taking pride of place on her coffee table.
Beside the trophy a a dominoes set with the words 'The Paul's' written on the case. Of course, commenters were quick to notice the bold, white lettering and begin speculating that Adele and Rich Paul have privately tied the knot.
"'The Paul's' 😍," one wrote.
"'The Paul's' 👀👀 is you married?! 😂," another asked, while a third chipped in to add, "I spotted that too… 🤔"
"MY GIRL IS MARRIED," another comment read.
Others were quick to point out what seems to be a grammatical error on the dominoes, insisting there should be no apostrophe in "The Paul's".
"I can't tell if I am more excited about it or upset at the bad punctuation," one fan joked, while another agreed, adding, "The punctuation kills me."
Adele, who went public with her and Rich Paul's relationship in July 2021, opened up about her love for him in an interview with Elle and confirmed that she wanted to get married for a second time.
"I've never been in love like this. I'm obsessed with him," the Tottenham-born star said.
"I definitely want more kids," she continued.
"I'm a homemaker, and I'm a matriarch, and a stable life helps me with my music."