This ingenious present wrapping trick will change your life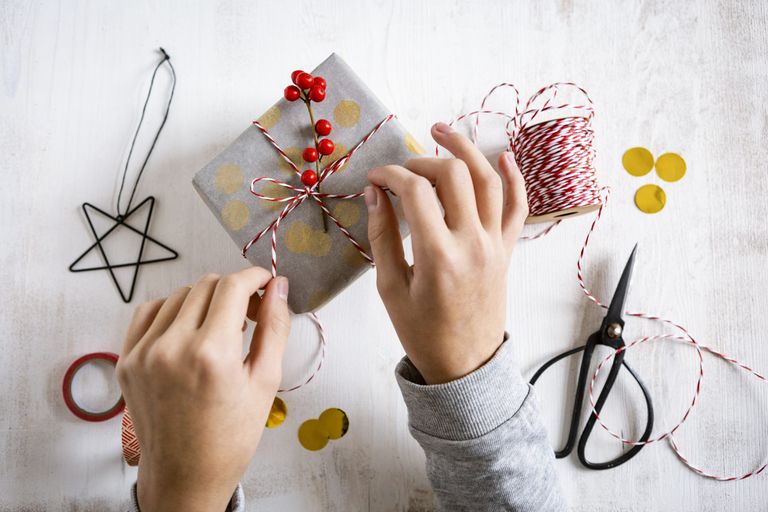 If you're running low on wrapping paper, don't panic: this video is here to save your Christmas.
Waterstones just shared a seven-second 'public service announcement' on Twitter – and it's already changing lives.
The video, originally created by Blossom Hacks, shows a pair of hands caught up in the kind of gift wrap-related dilemma we all face at this time of year. Haven't cut enough wrapping paper to cover your present lengthways? No? How about widthways? Still no? Stop, breathe and behold the so-simple-we-can't-believe-we-didn't-think-of-it-already solution: turn the present diagonally.
So far, the post has received more than 100,000 likes and 1,700 comments, and been retweeted 26,000 times.
'I was literally just thinking I had to look this up!' one user tweeted. 'I saw someone do it at a store and couldn't remember how they did it. Thank you thank you!'
'I was a bookseller for 3 years, wrapped about a million books, and I did not know this,' another admitted. 'I feel embarrassed and ashamed.'
'What kind of sorcery is this?' a third demanded. 'And why did no one tell me sooner? All those years of wasted wrapping paper and late-night Christmas Eve tears…'
'HOW DID I NOT KNOW THIS?' another user asked, while one grateful soul simply wrote, 'You just changed my life'.
'I'm furious,' another user commented. 'Still in shock,' agreed another. 'I'm 67. So many wasted years,' another lamented. '50 years on this planet and I have never worked this out!! Don't know whether to be astounded or deeply ashamed,' another mused.
'Got stuck watching this in a loop,' another confessed. 'Why is it so soothing?'
But while most people were wowed, a few were baffled. 'I've done that my whole life,' wrote one. 'Can't imagine that others did not know about this.'
'Yeah me too,' another responded. 'But it's good to spread to the rest of humanity I suppose.'
But the one comment that really summed it up? 'Logging off now. Nothing I see today will be more meaningful to me than this.'