How Malala won the Oscars with this perfect comeback at tasteless joke by host Jimmy Kimmel
Humanitarian Malala Yousafzai very classily shut down host Jimmy Kimmel's silly question at the Oscars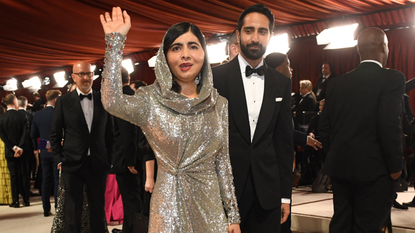 (Image credit: VALERIE MACON / Contributor)
This past weekend's Academy Awards were filled with memorable moments that involved both film stars and other guests.
From Jamie Lee Curtis' first-ever Oscar win to Lady Gaga's makeup-less performance, folks are still talking about one of the most important nights in Hollywood - but it's a short bit involving humanitarian Malala Yousafzai, who was in the audience alongside her husband Asser Malik, that has garnered much attention and praise.
During one of his skits, host Jimmy Kimmel took to walking by audience members and, when approaching the 25-year-old Nobel Peace Prize winner, he asked her about the infamous Harry Styles-spitting-on-Chris-Pine episode that made headlines during the actors' Don't Worry Darling press tour.
"As the youngest Nobel Prize winner in history, I was wondering, do you think Harry Styles spit on Chris Pine?" Jimmy asked.
Malala, who was one of the best dressed attendees at the Oscars 2023, simply answered, "I only talk about peace." Talk about a perfect comeback.
Folks quickly took to social media to denounce Jimmy's tasteless joke, reminding the world of the difficult life that Malala has had and the accomplishments that she lays claim to that should have, perhaps, been highlighted during her brief moment on camera at the awards show.
Jimmy Kimmel asks Malala Yousafzai a viewer question: "As the youngest Nobel Prize winner in history, I was wondering, do you think Harry Styles spit on Chris Pine?""I only talk about peace." #Oscars#Oscars95https://t.co/OizA2V2cyr pic.twitter.com/krf3VvN7osMarch 13, 2023
See more
As a reminder, back in 2012, while on a bus after taking an exam in Pakistan, Malala and two other girls were shot in the face by a Taliban in an assassination attempt in reaction to her activism.
Admitted to the hospital in critical condition, the then 15-year-old Malala eventually got better and actually used her newfound recognition to propel her cause forward and fight for women's right to education all around the world.
The year before, in 2013, she chronicled her experiences in her memoir I Am Malala: The Girl Who Stood Up for Education and Was Shot by the Taliban, and, the year after, at just 17, she became the youngest person ever to receive a Nobel Prize.
Clearly, despite his having to comedically entertain an audience, Jimmy could have chosen a different topic to discuss on air with Malala - as demonstrated by the number of comments on Twitter criticizing the host's actions.
"This girl didn't survive a bullet to the face to hear about pointless pop culture drama," someone wrote.
"Not a good question, but beautifully answered by Malala," another user noted.
---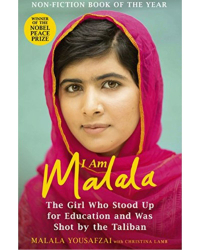 (opens in new tab)
I Am Malala: The Girl Who Stood Up for Education and Was Shot by the Taliban, from $9.40 (£7.79) | Amazon
I Am Malala is the remarkable tale of a family uprooted by global terrorism, of the fight for girls' education.
Yet another simply commented, "My least favorite part of the show. A missed opportunity by Jimmy Kimmel. He had an opportunity to talk to a survivor, an author & Nobel Prize Winner. A tasteless question."
"Full offense malala was SHOT by the taliban in her FACE and she has an oscar nominated documentary and is the youngest nobel prize winner and you're asking her about *reads notes* SPITGATE?????," a fourth user tweeted.
Interestingly enough, on her own Twitter profile, Malala herself shared an article published on Jezebel that argues it was "perfectly fine" for Jimmy to ask her to gossip while at the event - which may indicate where the humanitarian stands on the whole ordeal.
Malala, however, makes no reference to the episode in the diary that she penned for British Vogue (opens in new tab) about her experience at the Oscars. She did, however, express how excited she was about meeting Rihanna. "Her performance was amazing and I was so excited to see her in person!," she wrote in the chronicle.
Wherever Malala herself stands on the Jimmy-at-the-Oscars debacle, one thing is for sure: the woman has tons of charisma and class.
Anna Rahmanan is a New York-based writer and editor who covers culture, entertainment, food, fashion and travel news. Anna's words have appeared on Time Out New York, the Huffington Post, Fortune, Forbes, Us Weekly, Bon Appetit and Brooklyn Magazine, among other outlets.