7 Things You Didn't Know About Holly Willoughby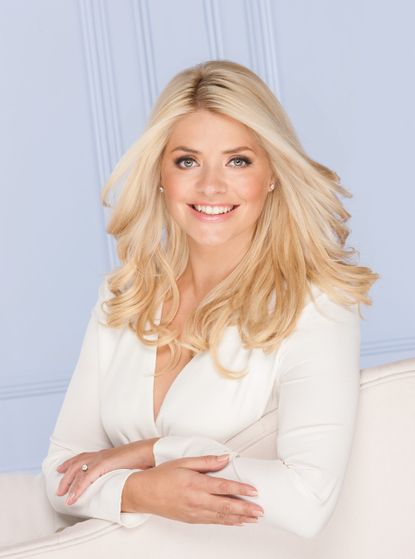 TV presenter Holly Willoughby, 33, has co-presented This Morning with Phillip Schofield since 2009. Holly lives in London with her husband, producer Dan Baldwin and their children Harry, five, Belle, four and seven-month-old Chester.
Our April cover star, Holly tells woman&home about family life, being outnumbered at home and her love for interiors...
'I didn't exactly have an Ugly Betty phase, but as a teenager I had a head brace. I used to walk on my toes - so badly that the tendons in the back of my legs were really short, so I had both legs in plaster at one point to stretch them out. And I was really accident-prone, as is my daughter now, constantly falling over, so always bruised and battered.
Way before I ever picked up fashion magazines, I was into interior magazines. Mum always had them around and, as a child, I'd plan my fantasy bedroom and kitchen. Then as I got older and bought my first flat, it became a reality.
The older I get, the more I realise that my childhood was idyllic. My mum and dad just really loved their kids and they loved being with us. Weekends were about doing things as a family, even if it was just washing the car or scraping wallpaper off the downstairs toilet - because no sooner had Mum finished one room, then she'd be on to the next, and that would be the weekend!
I never had a rebellious phase - I wouldn't have dared! I really wish I had, and it's not that we didn't have anything to rebel against because everybody does. I just wouldn't have wanted to upset my mother!
I am now outnumbered [Holly has 3 children - 2 boys and a girl]! I feel it too, but we've all just had to adapt.
I love cooking things like spaghetti Bolognese and shepherd's pie. But I do a really good roast and my gravy is my signature dish.
My relationship with Phillip Schofield is brilliant. We hang out all the time and I love him to bits. I wouldn't say I've got tons of girlfriends, but I've got a very close friend from college called Emma. Then I've got Nicole Appleton. And Fearne Cotton had just moved back nearer to me. Girls' nights out are rare - it's more lunches so I can do the school run.'
Head to Dailymail.co.uk to find out Holly's relationship secrets and read our full interview with Holly Willoughby in w&h April - download the digital edition.