Here's how you can help your pets live longer, happier and healthier lives with new site PetsRadar.com
Because although we know (and love) them pretty well, we still have a thousand questions.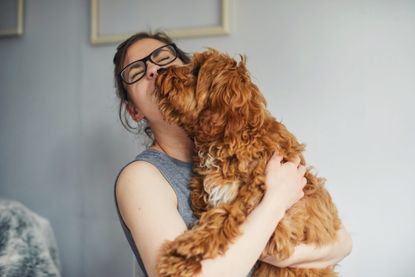 (Image credit: Getty Images)
From choices around yourpet's diet (opens in new tab) to the latest pet-related technology, PetsRadar.com (opens in new tab) has you covered when it comes to taking best care of your furry friends.
Working from home over lockdown probably means you got to know your pets pretty well. And while it's fair to say that they're rather good at telling us what they want andwhenthey want it, we often still have a thousand unanswered questions about what's best for them.
Luckily, our brand new sister site PetsRadar.com (opens in new tab) is here to give you a helping hand.
On a mission tohelp the world's pets lead happier, healthier and longer lives, it's a one-stop shop for advice on caring for dogs, cats and everything in between.
PetsRadar.com (opens in new tab)offers a unique combination of trusted advice, detailed product information and pricing comparisons to ensure you're getting the best deals on the top products for your pets.
From finding the best pet insurance (opens in new tab) to the great dry food vs wet food (opens in new tab) debate, the new site promises to provide a wealth of information on keeping your furry friends happy – because lockdown hasn't been easy for them, either.
PetsRadar.com (opens in new tab)boasts a wealth of buying guides (opens in new tab) to make sure you get the best value and quality from your pet-related purchases.And with Covid-19 causing a huge spike in pet ownership (hands up who finally got the dog they've always dreamed of) it couldn't have come at a better time.
Whether you're a new pet owner or a seasoned pro, you're sure to find all the information you need – and then some – on the site.
"As the proud pet-parent of a beautiful German Shepherd Dog named Vinnie, I know first-hand just how much of a huge place pets take in the hearts of their owners and families," said Dave Harfield, Editor-in-Chief of PetsRadar.com, (opens in new tab) of the site's exciting launch.
"The love and dedication that owners and pets share for each other will be at the core of what we do at PetsRadar.com (opens in new tab), inspiring us to provide a reliable and compassionate voice that's dedicated to improving the lives of pets and their people alike."
Kate is a freelance contributor to woman&home, covering everything she loves most: fashion, fiction, and fancy face cream. If she's not working, she's probably reading, feeding her online shopping addiction, or judging the taste level of celebrity houses (10/10 for Dakota Johnson, 2/10 for Tan France).

She graduated from Central Saint Martins in 2020 with a BA in fashion journalism, and her byline has also appeared in British Vogue, The Times, and Marie Claire.