Here's how much Suzanne Somers made through sales of ThighMaster
The iconic Suzanne Somers reveals that her life profits from ThighMaster alone are close to $300 million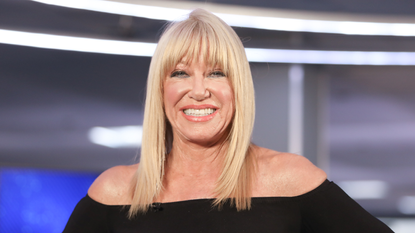 (Image credit: Paul Archuleta / Contributor)
We knew that famous fitness device ThighMaster was a successful invention but we did not know just how much of a financial achievement the item has been to Suzanne Somers, who started advertising it in the 1990s.
While on the Hollywood Raw podcast, the 75-year-old actor, singer and businesswoman revealed that she now owns the product "outright" and delved into the specific numbers, announcing that the company has sold about 15 million ThighMasters at $19.95 each.
Co-host Dax Holt quickly did the math live and came up with a pretty hefty number: $299,250,000.
"Yeah but I spent a lot," Suzanne said jokingly. "You should see my clothes."
"We had partners - 50/50 - and they got drunk on money when it all started selling," she explained more thoroughly. "They overspent to the point where they could no longer afford to be in their side of the business so we bought them out. We have 100 percent."
---
She went on, "People are always calling me and wanting to know 'How do I this?' You can't decide to make money. You have to have a passion about whatever you're selling. It has to be a fit. I can't sell baseball bats. But I wanted to keep my legs looking great for those Manolo Blahnik shoes. So there was a weird, kind of strange, passion there."
Suzanne proved her point further by explaining that she's also passionate about the slew of other items she currently sells. "I don't want to put chemicals on my skin. I don't want my brain over there shrinking. I want to keep my brain. For someone who played the dumbest blonde on television, I have a really good brain," she said.
The popularity of the ThighMaster is unequivocal. The product even resonates within celebrity circles! Last year, Khloé Kardashian took to her Instagram Stories to express her excitement at having received a ThighMaster signed by Suzanne herself.
"You guys, my birthday came early this year because look at what I got," the reality star said then. "I got a f---ing ThighMaster signed by Suzanne Somers! And it says 'To Khloe, come and knock on my door.' I don't think you guys understand. I could never use this because I need to put this in a [...] plexiglass box. I cannot believe it."
Khloe, we totally get your excitement.
Anna Rahmanan is a New York-based writer and editor who covers culture, entertainment, food, fashion and travel news. Anna's words have appeared on Time Out New York, the Huffington Post, Fortune, Forbes, Us Weekly, Bon Appetit and Brooklyn Magazine, among other outlets.