Grey's Anatomy tackles tough racism issues head on in its latest episode
Things get emotional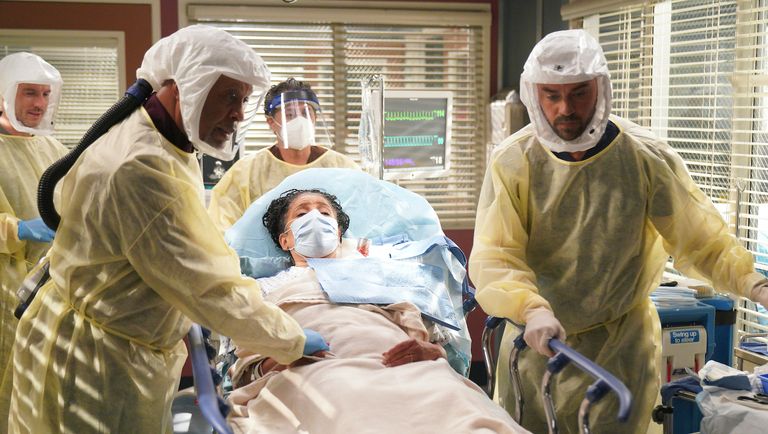 (Image credit: Courtesy Disney + ABC)
We're reliving 2020's toughest moments on Grey's Anatomy. The hospital drama decided to tackle injustice and racism in its latest episode, and the fictionalized scenes seem all-too-real.
In addition to the main star, Meredith Grey (Ellen Pompeo) fighting to beat COVID-19, other characters are enduring struggles of their own. Dr. Jackson Avery (Jesse Williams) and members of the Grey Sloan Memorial team are forced to treat an elderly protestor who was injured in a Black Lives Matter protest.
"She was marching peacefully. Can you imagine firing poison gas at this woman? Still marching at her age," Richard Webber asked Dr. Avery.
That wasn't the only time the show made reference to the racism we've been experiencing over the past year. While Maggie Pierce's new fiancé Dr. Winston Ndugu (Anthony Hill), was en route toward Seattle, he was unfairly profiled by police.
"My bike rack was obscuring my license plate, and then they saw me," he revealed on the phone to his fianceé after the incident. "It turned into one of those things, I guess. Maggie, I'm a little bit shaken up right now. I don't know if I'm good to drive yet."
The show, seemingly acknowledging the emotional subject matter, released a statement on Instagram encouraging acceptance and love. "Pledge to make the world a better place," the caption read alongside a short video.
More from woman&home:
• The best dresses to buy this spring
• The best jeans for all occasions
• The best running shoes for all types of exercises
Grey Anatomy has been especially successful at making viewers emotional as of late. Showrunner Krista Vernoff revealed to Deadline that she planned to bring back a deceased character this season in one of Meredith's dreams, noting how significant people's dreams have been during the pandemic. That's how we ended up seeing the much-beloved Lexie reappear after 10 years—though saying goodbye to her twice was incredibly difficult for some fans.
New episodes air on ABC Thursdays at 9|8c.