Grey's Anatomy 400th episode shocks fans with major cliffhangers
Fans of long-running Grey's Anatomy are wondering which characters will even be back next season following major cliffhangers at the end of season 18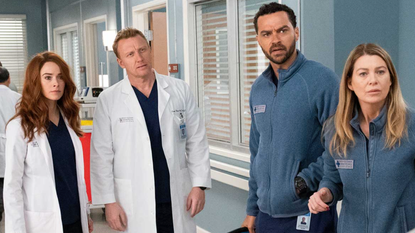 (Image credit: ABC)
This week's Grey's Anatomy season 18 finale was actually the 400th episode of the series. Dubbed You are the Blood, the two-hour-long finale left fans shocked given a number of major cliffhangers that has left everyone wondering what will happen to some of the main characters next season.
Although fans of the long-running Shonda Rhimes show, who were delighted by the return of Kate Walsh as Addison Montgomery earlier this season, were expecting Ellen Pompeo's character Meredith Grey to leave Grey Sloan Memorial, they were instead left to deal with the potential departure of other doctors.
Following Chandra Wilson's Miranda Bailey's decision to turn in her resignation, Meredith is actually given the keys to the chief of surgery office as the song Chasing Cars by Snow Patrol starts playing in the background. As fans of Grey's Anatomy know, the track is synonymous with "big changes are coming!" on the show.
Although you might at first think that Miranda is forever leaving the show, as the episode moves forward, questions arise: does Miranda just not want to be chief of surgery anymore? Is she leaving the hospital, and the show, forever? Is she going to regret her decision? Will Meredith actually take her place?
Rumor has it (at least, according to Deadline (opens in new tab)) that Shonda actually already spoke up about season 19, specifically citing Miranda as one of the characters who will permeate future storylines.
Alas, some other personalities will likely not be back for future seasons and we're sure that their departures will affect audience members as drastically as Katherine Heigl's decision to leave the medical drama back in 2010 did.
Kevin McKidd's Owen Hunt and Kim Raver's Teddy Altman also left fans in limbo, for example. In the last episode, the two are confronted with Owen's past decision to assist veterans end their lives with dignity. Scared to be turned into the authorities, the two gather up their children and run away.
Meredith's own love interest, Nick Marsh (played by Scott Speedman), might not make a comeback either. At the end of the finale, Meredith advises Nick to go back to Minnesota. Although she apparently regrets the decision and ends up running after him, he is by then long gone.
Speaking of love: After stepping away from the series for a bit, Jesse Williams and Sarah Drew returned on the set, reprising their roles of, respectively, Jackson Avery and April Kepner. Although the two moved to Boston as a non-couple, they are seen kissing in an elevator during the season finale, a scene that obviously delighted all Japril fans.
But as shocking as the various potential departures and cliffhangers were, it's the flashbacks that populated the episode (likely in honor of it being the 400th one) that had a lot of fans crying throughout the two-hour finale.
You Are the Blood features a series of old scenes starring the likes of Cristina Yang (Sandra Oh), Izzie Stevens (Katherine), George O'Malley (T.R. Knight) and Derek Shepherd (Patrick Dempsey).
Here's to hoping that, although we expect a lot of characters to be missing come season 19 of Grey's Anatomy, they'll actually all surprise us with a comeback.
Anna Rahmanan is a New York-based writer and editor who covers culture, entertainment, food, fashion and travel news. Anna's words have appeared on Time Out New York, the Huffington Post, Fortune, Forbes, Us Weekly, Bon Appetit and Brooklyn Magazine, among other outlets.