'I feel confident, strong and indestructible!' Fern Britton reveals why she's excited to have found the real version of herself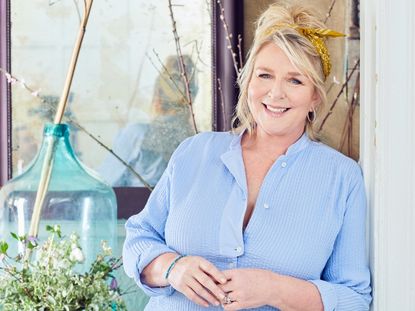 Presenter and author Fern Britton talks to Jack White about following her own path in life and the importance of being 'woke'
Fern Britton is the perfect example of why it's never too late to try something new. After years as one of the country's best-loved TV presenters, in her early 50s, Fern decided to try her hand at writing novels – and this June she'll release her ninth.
'My autobiography came out when I was 51 and it did really well,' she explains. 'So they asked me if I'd like to write a novel. My editor held my hand all the way through the first one and then said, "Right, now you're on your own!"'
It's clear to see that life off-screen is agreeing with Fern, 62, who's comfortable with her new life choices, including relocating to Cornwall permanently. She's in London for 24 hours for our shoot and is very relaxed about turning up beautifully barefaced. 'I'm all about no make-up and looking terrible!' she jokes.
'Actually, I like it. OK, I'm in my 60s and walking about in funny clothes, but I just don't care!' In fact Fern is applying her sunny outlook to all areas of her life, including the positive way she and husband Phil Vickery revealed they are separating after almost 20 years of marriage.
At this particular moment in life I'm feeling really confident, strong and quite indestructible. There are times, of course, when I've been very low and finding life difficult. I did a tour last year and was on the road for nine months doing Calendar Girls. I missed home, although I liked being on tour, but it just didn't fit me somehow. There were days when I just thought, 'What am I doing here?' It was a difficult year but now I'm fine again.
I think that since turning 60, I'm re-powering, which gives you a fresh look at life. It's not that you have to change but you have to find the basic, real version of who you are and ask, 'what does that person really want?' I'm getting there and it's really exciting.
That said, I'm suddenly on my way to being 63 – just seven years until I'm 70. So I've started thinking, 'I'd better get everything done because life is running shorter!' So now I make the most of it. People will ring up and say, 'We're having this great barbecue and there'll be lots of different people there. They'd really like to meet you.' And I know I'll hate it because they don't want to meet me, they want to meet Fern Britton.
It's annoying when you think, 'Oh, I can't get those jeans on.' But it's great when you discover 'I can button up that shirt again!' But I think as a society we've finally got over weight, shape, size, sexuality, race and religion – and if that's 'woke', then good.
Fern's new novel, Daughters of Cornwall, will be published in June by HarperCollins
For our full interview and shoot with Fern, pick up the April issue of woman&home on sale 5 March
Jack is Celebrity Content Director at Future PLC, working across the Women's Lifestyle brands such as Woman&Home, Woman, Woman's Own, Women's Weekly and GoodtoKnow.