Interesting Facts About The Queen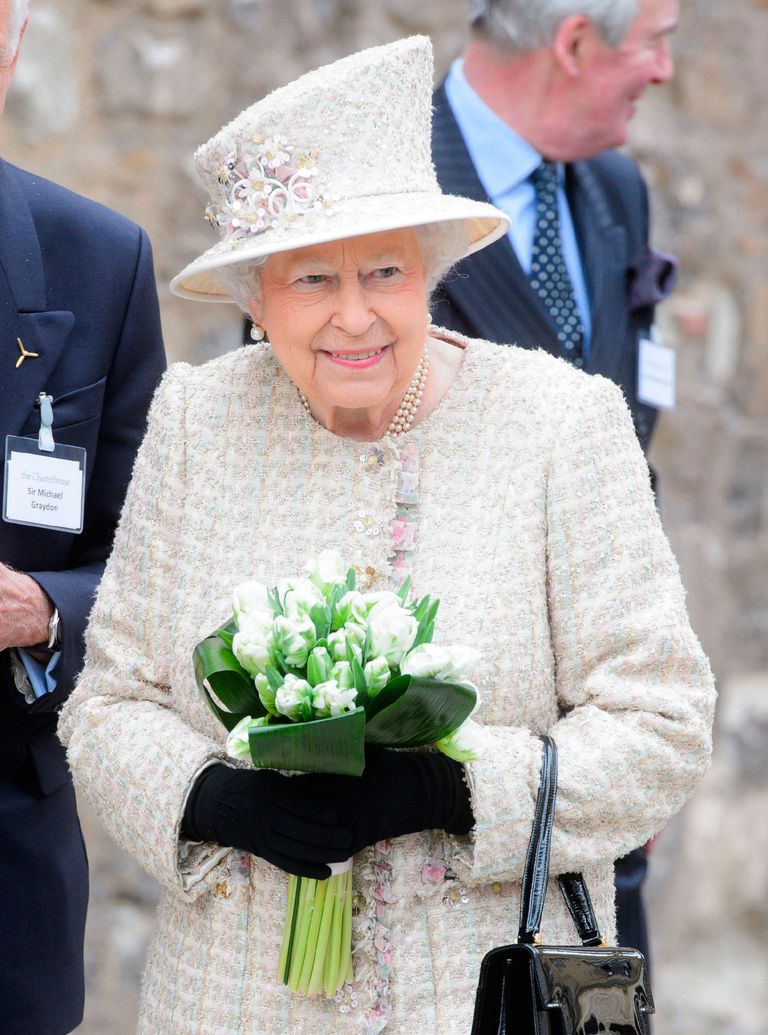 (Image credit: Rex Features (Shutterstock))
The Queen of England is one of the most well-known women in the world, but also one of the most private. And while we mere mortals are privy to a few details about what the Queen does in a typical day, less is known about the Queen's living quarters, her actual powers as a leader, and what she likes to eat in a day.
Until now. We uncover all about where the Queen actually lives (and how many homes she has), if she can cast a vote in general elections, and the food she likes to indulge in. And some of it may surprise you...
Can the Queen vote?
It's long been thought that the Queen, as a member of the royal family, isn't allowed to vote. But this is a common misconception - by law, the Queen actually is allowed to cast a vote in general elections. So does the Queen vote? No, the Queen actually prefers to maintain neutral on political matters, much like the rest of the Royal family.
So, what power does the Queen have?
The Queen has no say in deciding laws and passing them. However, her democratic power can act as final and authoritative voice when matters of political issues come to hand. And, it times of war and political upheavel, she can have the final say. It's true that her powers are mostly symbolic - her executive powers are limited.
Where does the Queen live?
When you imagine the Queen's home, generally the first place that springs to mind is the regal Buckingham Palace. But, did you know that this isn't Her Majesty's official residence?
St. James' Palace, a few metres down from the palace, is where the court is officially based. But Queen Victoria made history by becoming the first royal to take up residence in Buckingham Palace, and the rest of the family have followed suit since. Buckingham Palace is where the Queen spends a lot of time over the course of a year, in order to fulfil royal engagements and obligations in London. But what about the other official royal residences?
This historic castle sits 20 miles from London, and the Queen usually spends weekends and Easter here. The Queen signals her presence by using flags - if the Union Jack is up, she's not there, but if the Royal Standard flag is flying, she is. Although Buckingham Palace is the most well-known of the Queen's homes, she actually spends most of her time here.
Another of the Queen's famous residences is Sandringham House in Norfolk, where the Queen spends much of the winter. It's also where she stays over the Christmas and New Year period.
The Palace of Holyrood House
This is the Queen's official home in Edinburgh, on the famous Royal Mile in the middle of the city. The palace has long been home to many members of the royal family, including Mary Queen of Scots. The Queen will always spend Holyrood week here, which usually takes place from the end of June to the beginning of July.
Balmoral Castle
Perhaps the most private all of the palatial royal residences is Balmoral, located in the picturesque Cairngorms National Park in Scotland. The Queen will usually spend around 60 nights of the year here, and generally likes to stay over summer to make the most of the nature and stunning views.
What does the Queen eat?
Keen on finding out more facts about the Queen? You're in luck. The details of the Queen's dining habits have just been revealed, and her daily diet isn't what you might expect. Apparently, the Queen isn't one to go overboard with her meals. Former royal chef Darren McGrady revealed that she "isn't a foodie" - unlike her husband. According to Darren, "Prince Philip loves to eat and would stand and talk food all day."
So what does the Queen eat for breakfast, lunch, and dinner? And does she snack? Find out below...
Breakfast
BT maintains that the Queen's favourite choice of morning beverage is, of course, a classic pot of Earl Grey tea - but hold the milk and sugar. The Queen's breakfast go-to is usually always cereal, namely Special K. However, Kellogg's, Quaker Oats, and Weetabix all hold royal warrants too, so the Queen may well have these on her dining table too.
The Queen is famously known as being thrifty - something that's clear in her breakfast choices. Darren reveals that she loved scrambled eggs, "with smoked salmon and a grating of truffle." But he admitted she wouldn't always opt for the expensive truffle treat. He said "She was too frugal to ever order fresh truffles and only really enjoyed them at Christmas when the truffles were sent as a gift."
Lunch
Perhaps unsurprisingly, the Queen often indulges in a quick tipple before settling down for lunch. The Independent reports that she enjoys a gin and a Dubonnet, an apertif, with lemon and ice, and that she'll likely use a classic Gordon's Gin to make the drink, as it has a royal warrant.
And as it turns out, the Queen was all over clean eating before clean eating was even a thing. She makes sure to have a super healthy lunch, which is usually made up of simple dishes like grilled chicken and salad, or fish (dover sole to be specific), with spinach and courgettes.
The Queen - who recently turned 90 - also has a strict policy on avoiding starchy foods. Most days, she'll steer clear of pasta, rice and potatoes, especially if she's dining alone, when she's "very disciplined", according to Darren. Could this diet by the key to living into our 90's?
Afternoon tea
Being the Queen, it only makes sense that she'd be a fan of the regal ritual of afternoon tea. And actually, she makes sure to have it every day.
So what's on the menu for the Queen's afternoon tea? She usually has finger sandwiches filled with cucumber, smoked salmon, ham and mustard, or egg and mayonnaise. She'll also indulge in jam pennies too - small circular raspberry sandwiches. And Her Majesty will never have sandwiches with the crusts on.
She'll also indulge in some yummy McVitie's rich tea biscuits, scones, and a range of cakes including a honey and cream sponge, and a chocolate biscuit cake - which was originally served at the Duke and Duchess of Cambridge's wedding.
Dinner
The Queen will usually have a portion of meat come dinner time - either a fillet of beef, pheasant or venison. And this will normally come exclusively from her farms in Balmoral or Sandringham.
The Queen also loves a traditional Sunday roast - but only if the meat is well done.
However, there's one flavoursome accompaniment the monarch certainly won't allow in her food. Reportedly, she'll never eat garlic. According to former royal chef, the Queen is actually so opposed to it, that she's banned it from use in Buckingham Palace completely!
He admitted "The Queen is a wonderful lady, the royal family are wonderful people.
"But they're missing out on garlic, because at Buckingham Palace you don't cook with garlic. I suppose, in case you get the royal burp."
Sweet treats
So what about snacks? The Queen is partial to treating herself every once in a while, particularly with either chocolate or strawberries, which will be sourced from her Balmoral estate. She's also a fan of the white peaches grown in the greenhouses at Windsor Castle, so will be sure to have them when she's there.
And, just like the rest of us, the Queen is also a fan of a glass of something to wind down at the end of the day. She usually have some Champagne - brands like Lanson and Bollinger have a royal warrant.
A woman after our own heart...