Drew Barrymore embraces the 'childhood she never had' in this video of her dancing in the rain
In the clip, Drew Barrymore urges followers to "go out in the rain" whenever they can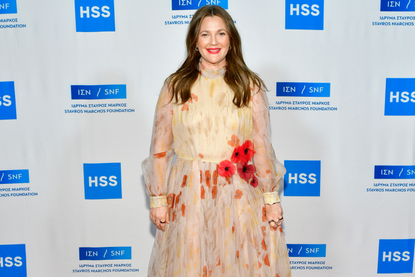 (Image credit: Eugene Gologursky / Stringer)
There is something perennially endearing about Drew Barrymore, as proven by a new video that she posted on her social media accounts in which she nonchalantly dances in a downpour.
Drew, who made her TikTok debut less than a year ago dressed in hilarious character costume, posted the clip on the social media platform and on Instagram just two days ago. The 13-second video has over 600,000 likes on Instagram and 2.9 million likes on TikTok already.
"Whenever you can go out into the rain, do not miss the opportunity," the 47-year-old actor happily shouts in the video while doing just so.
---
Fans quickly took to the comments section of the post to praise Drew's world view, even suggesting the actor might actually be finally embracing the childhood "she never had" given the fact that she was thrown into the spotlight at a very young age.
When she was only 11 months old, after all, Drew appeared in a dog food commercial. She famously played Gertie in Steven Spielberg's E.T. the Extra-Terrestrial at the age of 6 and has been part and parcel of Hollywood since then.
"Don't ever change Drew ❤️❤️❤️," a fan commented on Instagram. "I hope one day I can meet you and we can be silly in the rain together! #flowerchildren"
"I love your joy. ❤️," another user noted.
Similar comments surfaced on TikTok. "PROTECT THIS WOMAN," someone wrote.
"I want to experience a simple joy like this," someone else commented.
Even fellow celebrities took the time to celebrate Drew in all her (rainy!) glory.
Actor Leslie Jordan simply wrote, "Love this."
Editor Christina Grasso commented, "We are one," and Paris Hilton posted a heart-eye emoji under the clip on Instagram.
Fans of Drew know that her social media account is a treasure trove of cute clips with the star at their center.
Just a month ago, the actor took her followers behind the scenes of her New York City apartment renovation just as she made a surprising discovery.
The video kicked off with Drew looking outside a window and saying, "It's so hopeful. It's like something that can be so covered up and dark, you can pry it open and create light."
Her at-first-impact dramatic commentary makes more sense as the clip progresses and Drew explains that the window was covered up with drywall and she was able to discover it just a few minutes prior.
"So the people who owned this apartment before me covered up a window with drywall," the celebrity explained in the clip. "And I was like, 'I know there's a window, I know there's a window.' And guess what? There's a window and we're about to reveal it."
There's just something about Drew, right?
Anna Rahmanan is a New York-based writer and editor who covers culture, entertainment, food, fashion and travel news. Anna's words have appeared on Time Out New York, the Huffington Post, Fortune, Forbes, Us Weekly, Bon Appetit and Brooklyn Magazine, among other outlets.