Devil in Ohio season 2: why *that* unnerving ending could suggest the finale might not be the last we see of Mae and Suzanne
There'll no doubt be many fans hoping for a Devil in Ohio season 2, but could that ever happen for the hit thriller?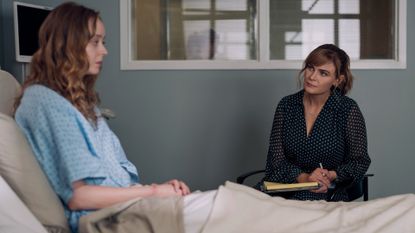 (Image credit: Cr. Ricardo Hubbs/Netflix © 2022)
Devil in Ohio season 2 hasn't been confirmed but that won't stop fans of the hit thriller speculating about where Mae and Suzanne's story could be taken.
Anyone who binge-watched their way through to the Devil in Ohio ending might well now be hoping that this gripping finale isn't the last they'll see of cult-escapee Mae Dodd and her emergency foster carer and psychiatrist Dr Suzanne Mathis. Since it landed on Netflix, many people might well have been asking themselves everything from is Devil in Ohio based on a true story to where is Devil in Ohio set, and is it actually filmed in the titular state? But if there's one episode that left us with all the questions it was the finale which ended on a major cliffhanger.
Sadly, there's been no confirmation yet that the show will be renewed. But does the finale suggest that there's scope for a Devil in Ohio season 2 and what could it be about?
*Warning: spoilers ahead*
Why the ending suggests there could be a Devil in Ohio season 2
Unfortunately for fans of this seriously suspenseful thriller, there's been no official confirmation from Netflix of a Devil in Ohio season 2 and the series is understood to have been billed as a limited series. This would typically mean that the Netflix hit was intended to be a standalone series and it was also based on a single book by Daria Polatin which could be seen to strongly indicate that a second installment is highly unlikely.
However, this doesn't necessarily mean that a Devil in Ohio season 2 is completely off the cards as other limited series shows with high fan demand like Big Little Lies, which is based on one of the best thriller books, have been developed further. And as anyone who was left reeling following the final twist will already know, there's space to take Mae and Suzanne's story further.
In the Devil in Ohio finale, fans saw psychiatrist Suzanne race to save Mae Dodd, who'd returned to the fictional The Devil's Own cult after apparently being triggered by a bouquet of white roses at the Harvest Dance. These beautiful blooms were used a lot by the cult and Mae promptly headed for her former home, only to be prepared to be sacrificed to the Devil.
Rushing to save Mae from this horrifying fate, Suzanne arrives at the cult's base in Amontown and when a fire breaks out in the church, the chilling proceedings are halted. The psychiatrist manages to reach Mae in time and Mae's biological mother Abigail decides to take her place as the sacrifice.
The pair make it home to Suzanne's house and it becomes clear that Suzanne's marriage to husband Peter and her bond with their three children remains extremely strained.
Bringing the story forward to Thanksgiving, Suzanne takes Mae with her in the car to bring food for the girls to the apartment where they and Peter are living. Though upon seeing Mae in the car, Peter promptly asks his wife to leave, suggesting that when it came down to a choice between prioritizing her family and Mae, Suzanne didn't make the one they might've expected.
Returning home, Suzanne and Mae prepare to enjoy their full Thanksgiving dinner until the devoted psychiatrist receives a phone call that changes everything and takes the already dark drama to a whole other level. It's revealed by Detective Alex Lopez that they have uncovered footage of Mae hiding white roses herself and he explains that she planned the supposedly triggering event herself and stole Teddy's car keys to drive herself back to the Cult.
Horrified, Suzanne realizes that Mae had planned it all, knowing that her foster mother would come and save her and free her from the cult forever. What follows this discovery is one of the most sinister scenes in the whole show, when Mae declares that they "deserve" to enjoy a meal together and smiles serenely as Suzanne stares at her in silence.
The camera then pans out to the woods where Mae's shrine appears decorated with white roses and pictures of her and Suzanne placed together. It's suggested that Mae had prayed to the Devil for Suzanne and that she'd finally got what she'd been hoping for…
This sudden twist makes for not only an unforgettable ending, but leaves plot threads that could be explored in a possible The Devil in Ohio season 2. After all, the last episode raised plenty of questions that fans might want the answer to, from how Suzanne and Peter might resolve things between them to how Suzanne might confront Mae after that call and what happened to the cult who are revealed to have left before law enforcement could investigate them.
What could happen if there is a Devil in Ohio season 2?
Whilst fans keep their fingers and toes crossed that Mae and Suzanne could be back in action in the future, there was so much in that finale that could be used to speculate about a possible plot if Netflix do ever announce a Devil in Ohio season 2. Now Suzanne is aware of the lengths to which Mae has gone to secure her undivided attention, there's potential to explore how this affects her relationship with Peter and the girls and whether she attempts to reach out.
Meanwhile, whilst Mae might have had a plan, her time with The Devil's Own cult has had a huge impact on her. Suzanne has compassion and is trying to help Mae adjust to life outside of the cult's strict boundaries and regardless of Mae's actions, she might want to persevere in the hope of Mae making more progress. There's also the question of what happened to the cult themselves.
They managed to avoid being questioned by police this time, but given their terrifying sacrificial practices and the trauma they've been inflicting on their followers, fans might be interested in seeing Lopez continuing his investigation and bringing the leader to justice. Of course, the cult might also not have given up on Mae, who was intended to be one of their sacrifices so they could come into contact with each other again.
Author Daria Polatin, who wrote the book on which the show was based and was the series' creator, showrunner and executive producer, has recently explained to TV Insider that the show was written with a distinct beginning, middle and end. Though she also acknowledged that "anything's possible" when asked about the future of Devil in Ohio.
"Well, anything's possible. We wrote it as a limited series. We wrote beginning, middle, and end. We put all our cards on the table," she said. "But the story naturally has a couple of questions at the end. Where did the cult go, and what's going to happen with Mae and Suzanne? Is she going to pick up the phone and call Peter in the next moment? It's interesting to think where it might go but for now, it is just an all-in limited [series]."
Ultimately, the Netflix show wasn't originally intended to come back for Devil in Ohio season 2. However, given *that* question-raising ending and the many "interesting" directions it could be taken in, there's certainly scope to take it further if the streaming giant and showrunners want to. It seems fans will just have to wait and hope for an announcement and until then, there's plenty of time to enjoy all your favorite creepy moments all over again…
Sign up to our free daily email for the latest royal and entertainment news, interesting opinion, expert advice on styling and beauty trends, and no-nonsense guides to the health and wellness questions you want answered.
Emma is a Royal Editor with seven years of experience working in digital publishing. Her specialist areas including literature, the British Royal Family and knowing all there is to know about the latest TV shows on the BBC, ITV, Channel 4 and every streaming service out there. When she's not writing about the next unmissable show to add to your to-watch list or delving into royal protocol, you can find Emma cooking and watching yet more crime dramas.