Demi Moore talks approaching 60 and feeling 'more alive' than ever
Turning 60 this November, Demi Moore challenges the idea that "women become less desirable" as they age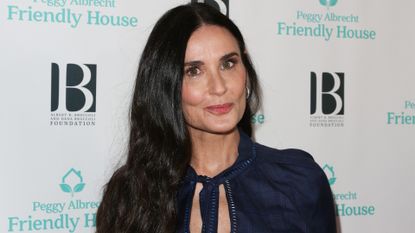 (Image credit: Photo by Paul Archuleta/FilmMagic via Getty)
In a new interview with PEOPLE, Demi Moore gets very candid about her upcoming 60th birthday in November, specifically arguing that women should celebrate getting older instead of being ashamed of their age.
Demi is no stranger to honesty. Just last year, she spoke out about the "blessing" of quarantining with ex-husband Bruce Willis and, now, the actor has gone on the record about a subject that plenty of celebrities usually stay quiet about.
---
"You hit 59 and you're already thinking, 'Well, I'm going to be 60'," Demi said to PEOPLE. "When I think of my grandmother at 60, she in a way seemed to be already resigned to being old. But I feel, in so many ways, more alive and present than ever."
Proving her point further, the actor has just launched a collection for the inclusive swimwear brand Andie. Aptly dubbed Demi Moore x Andie capsule, the beautiful designs are actually also modeled by Demi.
"[The collection] is changing this idea that women become less desirable as we get older," Demi said to the outlet. "We don't want to look matronly or not feel sexy."
The 59-year-old star shared a number of photos on her Instagram account, each one showing off a different design she's worked on. But, although she certainly looks confident in every shot, Demi was quick to point out to PEOPLE that her attitude has shifted throughout her years in the spotlight.
"[When I hear my name and the word 'icon' in the same sentence] seems a bit out-of-body," she said. "I feel flattered and a bit like, that doesn't feel like me, but I like it. To me, what an icon has always signified is somebody who's paved a way and marked something that has moved people or had impact that has been positive. And in that regard, I feel really proud to be put in a category that would be related to that."
This isn't the first time Demi has spoken out about the topic. In an interview with PEOPLE in early July, the star said, "I probably fit into the category that has not been the most confident about my body. And I think that part of even doing a [swimwear] shoot, no matter what, it is extremely vulnerable."
She went on explaining that she felt "supported and encouraged" on the swimwear shoot. "I really do hope it makes women feel confident," she said.
Anna Rahmanan is a New York-based writer and editor who covers culture, entertainment, food, fashion and travel news. Anna's words have appeared on Time Out New York, the Huffington Post, Fortune, Forbes, Us Weekly, Bon Appetit and Brooklyn Magazine, among other outlets.