Deborah Meaden reveals how Strictly 'lit up' her life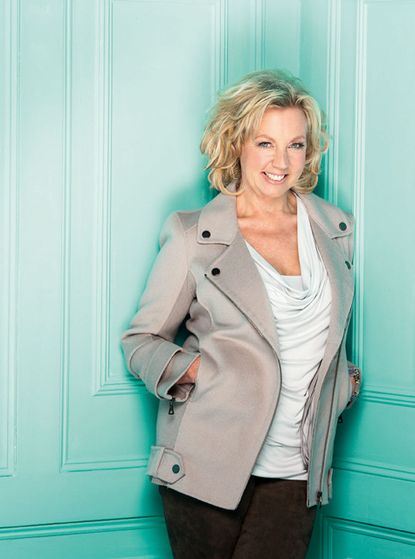 She was best known for her straight-talking alter ego on the BBC series of Dragon's Den. But in 2013 that all changed for Deborah Meaden as she set foot on the glossy boards of Strictly Come Dancing, giving the British public a glimpse of the fun-loving woman behind the power suit. Now, speaking exclusively to Woman & Home in the February issue, Deborah reveals how the Strictly experience 'lit up' her life and reinvigorated her relationship of 28 years.
Speaking about her transition from the boardroom to the dance floor, Deborah admits that it wasn't an easy one, "The experience was totally out of my comfort zone. The minute before I stepped on to the Strictly dancefloor for the first time, I don't remember ever feeling so much fear, mixed with excitement."
Thankfully, she had the support of her professional dancing partner, Robin Windsor, to guide her through that first nerve-wracking performance. "I don't usually get nervous, so I had no coping mechanism. Robin is very good - he shot me a look as if to say, "Get up out of that chair!" because I was sitting on a chair at the start. All I did was focus on him."
The experience reignited a passion in Deborah, and now she vows never to let dancing out of her life again. "When I'm dancing I feel lit up, and I'd like all women of my age to feel this - it has awakened something in me. I want to remember what else was in my life that lit up my eyes, that has just gone."
Now, it's just a case of coaxing husband Paul on to the dancefloor. Deborah admits that after being immersed in the Strictly furore for 8 weeks, she was glad to be reunited with him. "Strictly made us look at each other again. We've been together for 28 years and sometimes you just don't look at someone in the same way, and I looked at him and said, "You're actually quite romantic, aren't you?"
Want to read the full interview? Pick up a copy of Woman & Home's February issue, which is out now!
Download your digital edition here