Christopher Walken painted over a Banksy original on TV and the Internet had a lot to say
Turns out, Christopher Walken's character on The Outlaws actually painted over a real Banksy piece of art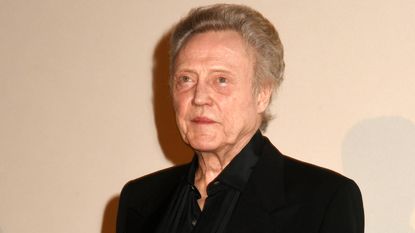 (Image credit: Foc Kan / Contributor)
Fans of the Christopher Walken-starring show The Outlaws on BBC—a thriller about eight strangers bonding while performing community service together likely noticed the familiar sight of a Banksy painting on this week's episode—that is, before the 78-year-old actor wiped away the work with a paint roller.
In the episode, the season finale, Christopher's character, Frank, is performing community service alongside others. While cleaning up graffiti from a wall on a building in Bristol, Banksy's hometown, Frank knocks over a board and reveals the recognizable black-and-white rat that the artist usually includes in his works. Viewers might have even noticed the name Banksy spray-painted on the wall in orange.
---
Lest you thought the art to be a fake reproduction, think again. A spokesperson from Big Talk Productions, the company behind the show, released the following statement, "we can confirm that the artwork at the end of The Outlaws was an original Banksy, and that Christopher Walken painted over that artwork during the filming of this scene, ultimately destroying it."
This is all clearly a big deal, as Banksy—a British artist who has steadfastly maintained his anonymity throughout the years—has become one of the most renowned and financially successful creatives in the modern era.
Perhaps most notoriously, back in 2018, the street artist organized for his painting "Love is in the Bin" to self-destruct just moments after it was sold at auction for $1.4 million. In October of this year, the partly shredded work was resold by Sotheby's in London for a record-breaking $25.4 million. Clearly, Banksy knows what he's doing.
Although neither Banksy nor Christopher commented on the episode, it seems like the Internet had much to say about it.
"Christopher Walken [is] the GOAT," wrote one Twitter user. "He's the man! Banksy agreed to make art for a BBC series. Then, Christopher Walken painted over it."
"Christopher Walken destroys history," commented another.
While another couldn't figure out if the actor had made a mistake or not, saying, "Was it intentional or by mistake?"
Alas, art (and TV shows!) are made to entertain—and Banksy, Christopher and the BBC did just that. Who are we to judge?
Anna Rahmanan is a New York-based writer and editor who covers culture, entertainment, food, fashion and travel news. Anna's words have appeared on Time Out New York, the Huffington Post, Fortune, Forbes, Us Weekly, Bon Appetit and Brooklyn Magazine, among other outlets.