Chelsea Handler hits the slopes in a bikini with carefree confidence to celebrate turning 48
The actress just proved that you really can do anything if you're confident enough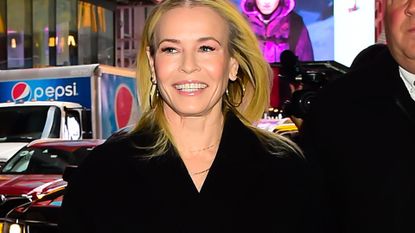 (Image credit: Getty Images)
Chelsea Handler is a pro on the slopes - and to celebrate her 48th birthday, she hit them in a bikini.
There are lots of things we would never be bold enough to do - one of them is skiing in a bikini. However, actress and comedian Chelsea Handler has the kind of confidence we wish we all had, and she wants everyone to know just how good she's feeling about her skills on the slopes - especially on her birthday.
For her 48th birthday on February 26, Chelsea Handler posted a video to her Instagram of her skiing, a feat that can already be difficult in itself. However, she took the challenge of skiing one step further by stripping herself down into just a bikini as she took some runs down the snowy hills.
She captioned the video, "48! Salud!" and put the Eminem song "Without Me" in the background of the video for full dramatic effect.
In the video, she climbs up the hill in her bikini, with her skiis in tow. Then, she puts on her skiing sunglasses and just goes for it, racing down the slope with an infectious air of confidence that we can only wish for in our own lives.
Then, hilariously, in the middle of the video, she takes a pause from skiing for a break. Off the side of the slope, she she starts smoking, and is also holding a drink in her hand. We have to say, she's pretty much living the dream.
Of course, Chelsea's fans were all over her birthday skiing trip, praising her for her confidence and skill. Even some celebrity friends of Chelsea's commented, telling her how iconic she is for being able to ski so well, let alone in just a bikini (which, btw, she looks stunning in.)
Jennifer Aniston commented, "INDEED" with a bunch of fire and heart emojis next to it. If there's any other celeb we think could totally pull off this whole skiing in your bikini thing, she'd be our next contender.
Actress Holland Roden also chimed in, praising Chelsea for making the most of her big day. "This is best tradition any human could do to celebrate their birthday," she commented.
Jenna Fischer, Sophia Bush, and Katie Couric also commented on the post, wishing Chelsea a happy birthday and praising her for her confidence and finesse.
Although her skiing skills are remarkable, and clearly she's a pro at this, we just hope she was able to get inside and warm up after this video was filmed. We're cold just looking at her.
Madeline Merinuk is woman&home's US lifestyle news writer. She covers celebrity, entertainment, fashion, and beauty news but is also obsessed with internet trends - you can find her reciting trending TikTok sounds out loud at any given time.
After winning multiple student journalism awards for her investigative work, she graduated from Hofstra University in 2021 with a B.A. in Journalism. After graduating, she worked at today.com, the digital site for the Today Show, where she wrote pop culture news and interviewed big-name personalities like Emily Ratajkowski, Haley Lu Richardson, Emma Corrin, and more.
Her personal interests, in no particular order, are: cheese, Joni Mitchell, reading, hot yoga, traveling, having multiple chapsticks in every handbag at all times, and dancing to ABBA songs as if she were in the Mamma Mia movies.