Will family ski holidays be on the cards in 2021? We asked an expert
Plans have been put on hold this year.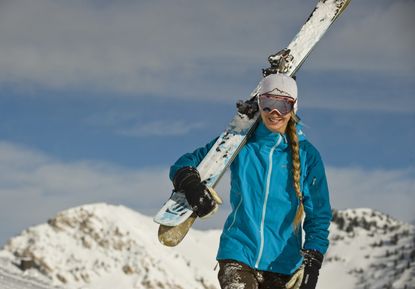 (Image credit: Getty Images)
Now the cold weather has returned many people will have one thing on their mind. Memories of family ski holidays on the slopes.
Blue sky, powdery white snow, hot chocolate, red wine, cosy fires and skiing. It's bliss.
But this year may see many people miss out on their exercise-fuelled break. Many may be hesitant to book for 2021 as last season was deemed somewhat of a disaster, when back in March coronavirus saw the closure of many resorts, leaving many people stranded, without a trip or with lost money. Many presumed come winter or by 2021 they would be once again zooming down the slopes, but the virus has not abated and travel rules are constantly changing.
MORE:Are river cruises safe from Covid? Here's everything you need to know (opens in new tab)
At the start of the pandemic, European ski resorts had some of the highest prevalence of antibodies in the world. The skiing season is typically November to April, which is just around the corner so we are here to answer some common questions people may have ahead of the new season to understand how best to plan your trip.
Snow season is around the corner, I'm keen to secure my slot on the slopes. Would I be stupid to book a holiday now?
In the Alps, where most people from the UK head for their fix of snow, things are still uncertain and things could still change between now and peak season. If you book with a reputable operator then you're more than likely to be safe and eligible for a refund should things get cancelled. If usually, you book with a small operator or a boutique service, you may have to change your tactic and go with a behemoth retailer with ATOL bonding. They are usually better protected and more likely to give you a refund. ATOL bonding protects your money in case of financial failure and they are legally obliged to not take you to a destination that the FCDO advises against and they are legally obliged to refund you for a cancellation. Jon West, Managing Director at Altitude Ski School says to "check the Covid policy of the hotel, agency or ski school. Many schools have a 100% money-back guarantee up to 48 hours before the lessons starting", meaning you could be fine to book. As ever with everything… it is a risk.
Where should I go?
Do you really need travel insurance?
Winter escapes can be exhilarating, but frigid weather and winter sports could wreak havoc on your holiday and travel insurance can give you peace of mind should the worst happen. Many travel insurance policies will cover things like emergency medical expenses, stolen or damaged possessions and even lost luggage. You can even get tailored cover if you are planning a trip to enjoy some winter sports.
Compare Travel Insurance Quotes at GoCompare (opens in new tab)
The more under the radar destinations like Scandinavia and Eastern Europe are looking more likely to go ahead. Whereas the popular places like France, Austria, Switzerland will be enforcing social distancing in lift queues, pre-booked lift passes table service in bars and restaurants and face coverings on lifts. It isn't going to be skiing as we know it. If the weather is extremely cold this winter, then there is nothing stopping you looking at somewhere closer to home like Scotland. As long as there isn't a complete ban on international travel, you should manage to find somewhere. John West says Switzerland did well in managing coronavirus last season with their app Swiss Covid "which is working very effectively and keeping people safe." It is a contact tracing app which they enforce everyone to use. So if you're a nervous traveller then this could be the option for you. Italy and Germany can be reached by train and are still in the travel corridors, so that could also be a good bet.
Can you book lessons, equipment and lift passes?
Yes, and some even better deals than normal! Although you may be told to try and pre-book where possible to save queuing at kiosks and masks will be mandatory in hire shops. In France, masks will also be required when gathering at the start and end of lessons, but not when on the slope. In Austria, masks will be required whenever social distancing cannot be maintained and lessons will be capped at 10 people.
Is skiing Covid safe?
Jon says unequivocally, yes. "The resorts are putting clean and safe policies into place for companies to follow and are preparing well to offer skiers a great holiday experience. The fresh air is possibly one of the healthiest places to be. Just don't expect any apres-ski as most resorts will be encouraging people to be outside in the fresh air. Austria has banned apres-ski this year."
The actual skiing is completely safe, there will just be no partying. Dr Ashish Jha, a professor at the Harvard School of Public Health, director of the Harvard Global Health Institute, and middling skier, told NY Mag about the risks posed with different aspects of skiing. "Lowest risk is coming down the mountain," he said. "Even if you bump into somebody, crash into someone, it's fine." (At least from a COVID-19 perspective, if not an orthopaedic one.)" Chairlifts? "It's probably fine — you share someone's space for five minutes, but it's outside, it's usually windy, I think you can probably get away with it." Gondolas? "That starts getting a little bit riskier if it's a long gondola ride."
What are the resorts doing to keep people safe?
Each resort will impose different rules and regulations. Jon says "expect to see fewer people on the slopes which means more powder snow to enjoy and much quieter slopes." In Austria, you must be able to show a negative Covid test result less than 72 hours old, which can be arranged at a local screening station.
French resorts will have strict mask rules and in Italy, cable cars will run at reduced capacity and at the highest possible speeds to reduce time spent in an enclosed environment.
Who to family ski holidays book with?
As we previously said, go with a bigger company, it's safer.
Crystal Ski Holidays, Inghams and Esprit Ski, Alpine Elements, Ski Solutions, Mountain Heaven, Skiworld, Ski France and Club Med all have special Covid terms in place to provide extra security and reassurance, including refunds or flexibility if restrictions change or if you become ill.
Rachel is a freelance contributor to woman&home, covering news as well as books, lifestyle and travel. Her byline has also appeared in The Independent, The Financial Times, ELLE Magazine, VICE, Glamour Magazine and others. She loves nothing more than talking with people to share their stories. When she is not writing you will definitely find her nose in a book or magazine, or perhaps training for the next half marathon, practicing yoga or eating in London's best restaurants.