Chandra Wilson is really trying to stay with Grey's Anatomy until the 'very last scene' - but the task is proving difficult
Chandra Wilson has been playing Dr. Miranda Bailey since the pilot episode of Grey's Anatomy back in 2005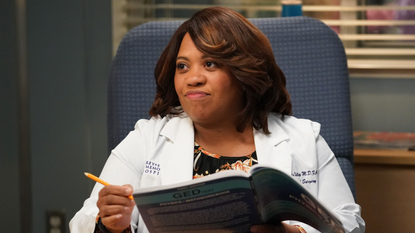 (Image credit: ABC)
Although key Grey's Anatomy cast members have recently announced their departures from the iconic ABC medical drama, one actress has expressed her desire to stay on board until the very end.
Following Meredith Grey's decision to leave Grey's Anatomy after 18 years and Maggie Pierce's similar choice recently, Chandra spoke to People during the PaleyFest event earlier this week about her own relationship with the TV show.
"I used to say, 'I'm there until the wheels fall off until the very, very end, and it can't last that much longer, right?' And then we keep going," the 53-year-old actress said on the record. "For now, I'm challenging myself to be there until the very last episode, the very last day, the very last scene. I said it, so now I've got to get there."
Chandra has famously been part of the cast since the show first debuted on ABC back in 2005 - that's a total of 19 seasons and well over 400 episodes!
Considering that the series has been renewed for a 20th season and no announcement has yet been made about a potential conclusion, Chandra might be working on Grey's Anatomy for quite some time still.
That's all for the better, considering the revelations that the actress has made about her character's upcoming story arc.
"[Miranda] is about to go through something that tests her as a professional, tests her as a surgeon, tests her as a wife and a mother," said Chandra. "And it's another example of juggling all the balls, right, that women specifically have to do and try not to lose it."
Clearly, the Grey's Anatomy writers know how to keep fans attached to the show and constantly on their toes.
After a tumultuous two weeks on the air, for example, fans are wondering if Addison Montgomery dies in Grey's Anatomy.
On the episode that aired Thursday night, March 30, audience members saw the results of Addison Montgomery previously fighting for her life after getting hit by a rogue car in the med bay. We got to see that Addison is thankfully still alive, albeit with a dislocated shoulder.
Let's just say, we wouldn't be surprise to see Chandra's character Miranda fight for her life in the near future as well - it's just how it works on Grey's Anatomy!
As for why Ellen Pompeo, who played the series' protagonists for over a decade, decided to leave such a successful show - it was all about timing.
"I feel super happy, but listen, the show has been incredible to me and I've loved a lot of the experience," Ellen said during an appearance on The Drew Barrymore Show in December. "Listen, it's just, I gotta mix it up a little bit. I'm 53. My brain is like scrambled eggs. I gotta do something new or I'm literally gonna turn into like, you can't do the New York Times crossword puzzle every single day. I mean, 19 years, that's longer than people keep their kids in their house, like people keep their kids in their house until they're 18 and then they send them off to college. So this is like me like going away to college."
Don't worry, Ellen, Chandra is still there to hold down the fort.
Anna Rahmanan is a New York-based writer and editor who covers culture, entertainment, food, fashion and travel news. Anna's words have appeared on Time Out New York, the Huffington Post, Fortune, Forbes, Us Weekly, Bon Appetit and Brooklyn Magazine, among other outlets.