Does Addison Montgomery die in Grey's Anatomy?
Grey's Anatomy fans are wondering what happened to Addison Montgomery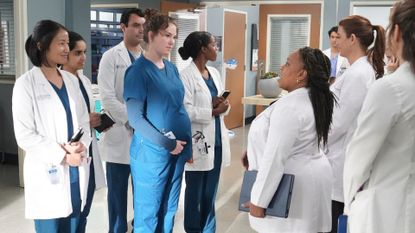 (Image credit: Getty Images)
After a tumultuous two weeks of episode on Grey's, fans are wondering if Addison Montgomery is really dead.
Grey's Anatomy fans have certainly had their fair share of disappointments about certain character arcs on the show. For instance, Ellen Pompeo, who played titular character Meredith Grey, just left the show after nearly 20 seasons of production - needless to say, fans were (and still are) upset. However, the show must go on - and new plots must develop.
On the episode that aired Thursday night, March 30, fans saw the results of Addison Montgomery previously fighting for her life after getting hit by a rogue car in the med bay.
Does Addison Montgomery die in Grey's Anatomy?
Addison is a recurring cast member who has been in the show as a guest star since almost the start of the show, so fans have grown to have a deep appreciation for Dr. Addison whenever she graces us with her presence.
We get to see, though, that Addison is actually alive and well in the most recent episode titled, "Pick Yourself Up" - her only injury is a dislocated shoulder. Not gonna lie, they really had us fooled that we might never see Dr. Addison again - we really didn't want another McDreamy-car-crash-situation.
Despite her left shoulder being dislocated, she continues on with her practice, saving lives like the queen she is.
In the newest episode, we see Link recommend that Addison take a break from work, and take some time to heal after her traumatic event. Addison won't hear it though - and as she discusses the situation with Amelia, she is reminded that there are a lot of people out there who need her help.
Watching the past 18 seasons of Grey's Anatomy I know better than to think that Addison only suffered from her shoulder dislocated…March 31, 2023
See more
If you're thinking to yourself - "Hmm, kind of strange that Addison survived that heinous car crash with only a dislocated shoulder?", you're not alone. In fact, fans are suspicious that some complication might arise for her in later episodes because of the car crash.
One fan tweeted, "Watching the past 18 seasons of Grey's Anatomy I know better than to think that Addison only suffered from her shoulder dislocated…"
It is very telling that fans are smart enough to know that everything is not always at it seems on Grey's... just because things appear to be fine doesn't always necessarily mean they are. Again, may we remind you of Patrick Dempsey's sudden death? We will never recover from that.
Additionally, fans are wondering about Henry, Addison's son whom she adopted in season 5 - will we see him again? He was barely mentioned in Grey's, but we wonder if, after the car crash, he might make an appearance to help take care of his mom. We'll have to wait and see - and we'll be holding our breath in the meantime.
Madeline Merinuk is woman&home's US lifestyle news writer. She covers celebrity, entertainment, fashion, and beauty news but is also obsessed with internet trends - you can find her reciting trending TikTok sounds out loud at any given time.
After winning multiple student journalism awards for her investigative work, she graduated from Hofstra University in 2021 with a B.A. in Journalism. After graduating, she worked at today.com, the digital site for the Today Show, where she wrote pop culture news and interviewed big-name personalities like Emily Ratajkowski, Haley Lu Richardson, Emma Corrin, and more.
Her personal interests, in no particular order, are: cheese, Joni Mitchell, reading, hot yoga, traveling, having multiple chapsticks in every handbag at all times, and dancing to ABBA songs as if she were in the Mamma Mia movies.