Why did Maggie Pierce leave Grey's Anatomy and what's next for the character after Ellen Pompeo's exit?
Here is what Grey's Anatomy fans can expect from Dr. Maggie Pierce in future episodes as Meredith Grey leaves Grey Sloan Memorial Hospital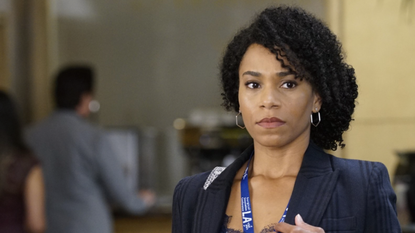 (Image credit: ABC)
Although she has been part and parcel of the current season, fans still wonder why Maggie Pierce left Grey's Anatomy during season 18 back in 2021.
As audience members still try to understand why Meredith Grey left Grey's Anatomy after 18 years, one more question reigns supreme: what's in store for Maggie Pierce now that Meredith is gone?
WHO IS MAGGIE PIERCE ON GREY'S ANATOMY?
Portrayed by actress Kelly McCreary, Dr. Margaret Pierce, more commonly referred to as Maggie, first landed on the show during season 10's penultimate episode.
To the shock of fans, just one episode later, it was revealed that Maggie is actually the biological daughter of Richard Webber and Ellis Grey, the latter of whom was Meredith's mother. Maggie is, therefore, Meredith's half sister.
Kelly's character became a series regular in episode 11 of season 11 of Grey's Anatomy and, throughout the years, earned the love of her now devoted fan base.
Although in a serious relationship with Jackson Avery for quite some time, Maggie eventually embarks on a romantic journey with Dr. Winston Ndugu, a cardiothoracic surgeon at Grey Sloan Memorial Hospital that trained under her in Boston before she moved to Seattle.
When the relationship kicks off in season 16, Winston is actually still living in Boston so the two maintain a long-distance courtship until the COVID-19 pandemic hits.
At that point, Winston heads to Seattle to surprise Maggie and starts helping out at the hospital. The two get married during the season 17 finale, which aired on June 3, 2021.
WHY DID MAGGIE PIERCE LEAVE GREY'S ANATOMY?
When season 18 of Grey's Anatomy premiered on September 30, 2021, Maggie was notably absent in the flesh although storylines referred back to her character. The oddity led many to wonder if and why Maggie Pierce left the cast of Grey's Anatomy?
Five episodes into the season, her absence was finally explained as Winston matter-of-factly tells Richard that he is planning on visiting his wife Maggie in Boston, where she currently was helping her father recover from hip surgery.
Although ABC, the network on which the show airs, never fully addressed the absence, fans knew that Kelly was actually then pregnant with her first child with her real-life husband Pete Chatmon, a director.
On October 3, 2021, Kelly gave birth to their daughter Indigo Wren in Los Angeles. That surely explains her seeming departure from the show, right?
To the delight of her fans, Maggie reappeared on the show during episode 8 of season 18, which aired on December 16, 2021. It was the mid-season finale and Maggie has been on the show regularly ever since.
WHAT'S NEXT FOR MAGGIE PIERCE NOW THAT ELLEN POMPEO'S CHARACTER MEREDITH GREY LEFT THE SHOW?
Now that Maggie's half-sister Meredith left the show (her last appearance was on episode 7 of Grey's Anatomy season 19, which aired last week), fans are wondering what's in store for the character.
The good news is that it doesn't sound like Maggie is going anywhere, but plotlines regarding specific developments have yet to be disclosed.
What we do know, for now, is that her and Winston are not on speaking terms because of Winston's decision to pursue a different specialty so we can only imagine that the subject will be dissected further in coming episodes.
Here's to hoping the two will soon make up and delight audience members with new scenes of romance!
Anna Rahmanan is a New York-based writer and editor who covers culture, entertainment, food, fashion and travel news. Anna's words have appeared on Time Out New York, the Huffington Post, Fortune, Forbes, Us Weekly, Bon Appetit and Brooklyn Magazine, among other outlets.