Best Valentines movies to watch this February 14
Our rundown of all the best Valentines movies to enjoy this February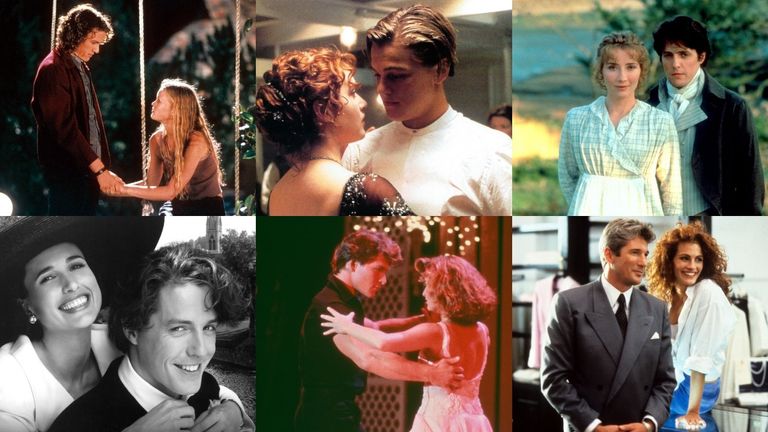 (Image credit: Getty Images)
The best Valentines movies can be tricky to find, but whether you are looking to cry into a tub of Ben & Jerry's as you watch a desperately sad romance film, or to laugh and feel all warm and fuzzy as you watch a hilarious rom-com, we have found a range of romantic movies that you can enjoy this February 14.
If you are the sort of person who loves heartfelt DIY Valentine's Day decorations, and adores cute Valentine's Day date ideas, you're probably also the sort of person who loves curling up on the sofa and watching some of the best Valentines movies.
While romance movies are definitely on the cards when you're enjoying a Valentine's Day movie marathon, there are a variety of different romance movies genres that you can indulge in.
You might fancy your average rom-com, or maybe something with a sci-fi twist, either way, love is in the air so put on your best Valentines pajamas, snuggle up on the sofa, and watch one of our picks for the best Valentines movies.
---
Best Valentines movies
Four Weddings and a Funeral
Four Weddings and a Funeral is a classic romantic comedy starring Andie McDowell and Hugh Grant. This 1994 film follows Hugh Grant's character Charles as he awkwardly bumbles through relationships and romantic endeavors during a series of weddings of his close friends. The film has an all-star cast including Kristen Scott Thomas and Rowan Atkinson and was written by the rom-com connoisseur Richard Curtis, who was also the mind behind Notting Hill, Yesterday, and Love, Actually.
The film is available to watch on Amazon Prime.
Dirty Dancing
Dirty Dancing is another classic that is sure to be the top of any romantically inclined movie buff. Starring Patrick Swayze and Jennifer Grey this coming of age film focuses on a young woman named Baby who goes to a holiday resort with her family and falls in love with the bad boy dance instructor with a heart of gold Johnny. The film was a late 80s classic and has stood the test of time because of it's tooth-achingly romantic dialogue, fantastic soundtrack, and of course, the very dirty dancing sequences.
The film is available to watch on Netflix and Amazon Prime.
Pretty Woman
Starring Richard Gere and Julia Roberts, the plot of Pretty Woman focuses on a prostitute who is picked up on the street by a wealthy businessman in Los Angeles, and the two fall in love. While it sounds like an unusual plot for a romance movie, this film is a classic and has all the best telltale signs of a rom-com—including Julia's character going through an incredible makeover and wearing one of the best wardrobes on-screen that truly encapsulates the late 80s and early 90s fashion.
This film is available to watch on Amazon Prime.
Crazy, Stupid, Love
This film starring Ryan Gosling, Steve Carrell, Emma Stone, and Julianne Moore truly sets the bar high for romantic comedies. The film focuses on a man named Cal (Carrell) who has just separated from his wife and has trouble finding purpose without her. After hearing Cal complain for weeks, Jacob (Gosling) decides to take Cal under his wing and teach him a thing or two about love and dating. The film is sweet and sexy and above all hilarious, with genuine twists and shock reveals that you really won't see coming. The ensemble cast is second to none in this film and you won't regret watching this movie on Valentine's Day.
This movie is available to watch on Amazon Prime.
10 Things I hate about You
This high school romantic comedy is based on the Shakespeare play The Taming of the Shrew and stars a young Julia Stiles, Heath Ledger, and Joseph Gordon-Levitt. The film focuses on two sisters, Kat and Bianca, whose father doesn't allow them to date as he has seen far too many teen pregnancies during his role as an obstetrician. Their father then says that Bianca can date once her elder sister Kat dates, which then leads to Patrick (Heath Ledger) starting a fake relationship with Kat so that her younger sister can begin dating. The film is sweet and funny and has the perfect amount of rom-com plot lines that make it a perfect addition to your V-Day romantic movie binge.
The movie is also available to watch on Disney + and Amazon Prime.
She's the Man
Based on another Shakespeare play, Twelfth Night, this noughties rom-com is another classic movie that has a new spin on a classic story. When Viola (Amanda Bynes) discovers that her women's soccer team has been cut from her school's program, she decides to disguise herself as her brother Sebastian and play for his new boarding school's team. The only thing she didn't think about was the fact that she'd be roommates with Duke (Channing Tatum) and have to deal with her feelings towards him while still pretending to be a man. This movie is the perfect light-hearted watch and you'll be sure to think about the movie's hilarious one-liners long after the film is over.
This film is available to watch on Netflix and Amazon Prime.
What's Your Number?
What's Your Number is an overlooked rom-com that stars Anna Faris, Chris Evans, Chris Pratt, Martin Freeman, and Anthony Mackie. The film focuses on a young woman who decides to revisit all of her past relationships and see if she may have given up too quickly on some of the men she has previously dated. Although the movie is a little bit slut-shamey in parts, overall the film is hilarious and the chemistry between Anna Faris and Chris Evans is undeniable.
This film is available to watch on Netflix and Amazon Prime.
How to Lose a Guy in 10 days
How to Lose a Guy in 10 Days stars Kate Hudson as Andie Anderson; a lifestyle journalist who is tasked with writing an article about all the pitfalls women typically fall into during the early stages of a relationship. Matthew McConaughey stars as Ben Barry, the poor subject that Andie dates and torments with her outrageous dating tactics. Unfortunately for Ben, he has also made a bet with his co-workers that he can make Andie fall in love with him within 10 days, so the pair are monstrously stuck together. The film is hilarious and romantic and features all the best rom-com clichés of a fake relationship that takes place in New York City.
This movie is available on Netflix.
About Time
About Time is one of the best romantic comedies with a twist. The film starring Rachel McAdams, Domhnall Gleeson, Bill Nighy, Margot Robbie, and Vanessa Kirby, is about a young man who discovers he can travel back in time. Tim (Domhnall Gleeson) is a romantic and uses this new gift to help himself find a girlfriend. The film is undeniably romantic and although it has more serious and poignant moments, the laughs are frequent and stop you from crying too much at the heartache that also makes a regular appearance throughout. This film is truly one of the best and is both written and directed by Richard Curtis, whose ability to find joy in deep despair and sadness is unparalleled.
This film is available to rent on Amazon for $3.99.
Pride and Prejudice
Keira Knightley, Matthew Macfadyen, Rosamund Pike, and Judi Dench star in this gorgeously romantic adaptation of the classic Jane Austen novel. The film focuses on the Bennett sisters who are all at risk of losing their home and place in society if they do not find a suitable husband. The film looks at the struggles women faced at this time and explores themes of love, desire, and class while set in the stunning English countryside.
This film is available on Netflix.
Emma
This recent adaptation of Jane Austen's Emma was released in 2020 but is already a favorite for many fans of period dramas. The film stars Anya Taylor-Joy, Johnny Flynn, Josh O'Connor, and Bill Nighy and focuses on a young woman's attempt to matchmaker her friends in her social circle, while she herself begins to fall in love with an unlikely suitor. This novel has been adapted many times but the costumes and cinematography of the 2020 adaptation truly take the cake. This is a period romance and comedy and is sure to entertain you on February 14.
This movie is available on Netflix.
Sense and Sensibility
Sense and Sensibility centers on the romantic lives of two sisters Elinor Dashwood (Emma Thompson) and Marianne Dashwood (Kate Winslet) who must learn to survive in a challenging society after they lose everything when their father dies and their elder brother casts them aside. The film is a romance and although there are heart-breaking scenes, this film is about love and sisterhood and brings Jane Austen's work to life beautifully. The 1995 film also stars a young Hugh Grant, Alan Rickman, Greg Wise, and Imelda Staunton.
This movie is available to rent on Amazon for $3.99.
The Duchess
Starring Keira Knightley, The Duchess is a semi-fictionalized account of the biography of the late-18th-century English aristocrat Georgiana Cavendish, Duchess of Devonshire. The story centers around a young woman in an arranged marriage who suffers at the hands of her husband as she fails to produce an heir. Despite this hardship, the Duchess manages to fall in love and find happiness in the strict society that contains her. This period romance film is dramatic and focuses on friendship, politics, class, and power.
This film is available on Netflix.
Shakespeare in Love
Shakespeare in Love is a 1998 romantic comedy-drama that stars Gwyneth Paltrow, Joseph Fiennes, Colin Firth, Ben Affleck, and Judi Dench. The film centers around the imagined life of William Shakespeare as he falls in love with the daughter of a wealthy merchant who has disguised herself as a man so that she can perform and work as an actor in Shakespeare's plays. The film is romantic and obviously contains some of the best love quotes from the bard himself. The movie was a huge hit when it was released as it secured seven Oscar wins including Best Picture and Best Actress for Gwyneth Paltrow who was just 26 at the time.
This film is available to rent on Amazon for $3.99.
La La Land
This film centers on Sebastian (Ryan Gosling) a pianist and musician, and Mia (Emma Stone), an aspiring actress, who fall in love with one another while trying to make it in LA. The film includes various dance breaks and musical numbers interspersed with comedic and dramatic scenes. It's not everyone's cup of tea, but the chemistry between Stone and Gosling is fantastic and the script is quick and clever. La La Land was incredibly well received by critics and received an obscene number of awards. Although the film famously lost out on the 'Best Film' award to Moonlight, the film still received 13 nominations and won six of these awards, including Best Actress for Emma Stone.
This film is available to rent on Amazon for $1.99.
Call Me by Your Name
Call Me by Your Name is based on one of the most romantic books by André Aciman. This novel centers around a young man named Elio and his relationship with older graduate student Oliver who comes to stay with his family in the summer of 1983. The romantic movie stars Armie Hammer and Timothée Chalamet as lovers who navigate their romance in the stunning backdrop of rural Northern Italy. The film was a breakout role for Timothée Chalamet and the film received four Oscar nominations and won the Oscar for Best Adapted screenplay.
This film is available to rent on Amazon for $3.99.
The Shape of Water
At its core, this film is about a woman who falls in love with a weird fish-like creature. But it's truly so much more than that. The focus of this film is on a kind-hearted mute woman (played by Sally Hawkins) who forms a connection with a human-like amphibian who is being studied at the laboratories where she works as a cleaner. The film is sweet and bizarre and came from the mind of director Guillermo del Toro who is known for his strange ability to mix romance with the macabre. The film received 13 Academy Award nominations and won four of the 13.
This film is available to rent on Amazon for $3.99.
Titanic
Starring Leonardo DiCaprio as Jack Dawson and Kate Winslet as Rose DeWitt Bukater, Titanic centers on a romantic fling between two people who come from different social backgrounds but meet after Jack saves Rose's life one evening when they meet onboard the Titanic. Although the film isn't based on a true romance, the Titanic was a real ship that sank in 1912, killing around 1,500 of the 2,224 passengers on board, making this film a high-stakes and heart-wrenching watch. The 1999 film was incredibly well received by critics and showered with 14 Oscar nominations. Titanic went home with a jaw-dropping 11 Academy Awards including Best Picture and Best Director. Watching this film is certainly one of the best Valentine's Day gifts you can give your partner this V-Day.
This film is available to rent on Amazon for $3.99.
Knight and Day
In this film, Cameron Diaz and Tom Cruise star as love interests who meet when Tom Cruise's secret agent character highjacks a plane that June (Cameron Diaz) is a passenger on. Roy (Tom Cruise) then must protect June as her affiliation with him has left her in grave danger and the two begin jetting across Europe on a high-stakes mission. Although Tom Cruise essentially is essentially playing the same secret agent character that he plays in most of his films, this movie is romantic and drama-filled and sure to entertain even the hardest of hearts who claim they hate romance and only want action.
This film is available on Amazon Prime and Netflix.
Mr and Mrs Smith
Angelina Jolie and Brad Pitt star in this fantastic action-comedy that notably marks the beginning of the pair's off-screen relationship that began when Brad was still married to Jennifer Aniston. The chemistry between Angelina and Brad is palpable as the pair star as two assassins who get married to one another without realizing that the other is a contract killer. The plot is fun and the film has a lot of comedic moments that are light despite the numerous murders and attempted killings that take place during the film.
This film is available on Amazon Prime and Netflix.
The Adjustment Bureau
The Adjustment Bureau is a romantic thriller that centers around a secret bureau that has the ability to intervene in the course of history. Matt Damon plays a congressman David Norris who falls in love with Elise Sellas (Emily Blunt) who is a dancer and meets David one night in a men's toilet when she inspires him to make an incredible speech. The pair then meet again by chance but the bureau decides that the couple cannot be together if the history is to pan out the way that they would like. The film is romantic and well-acted and adds a sci-fi action twist to what would otherwise be another romantic drama.
This film is available to rent on Amazon for $3.99.
Laura is a news writer for woman&home who primarily covers entertainment and celebrity news. Laura dabbles in lifestyle, royal, beauty, and fashion news, and loves to cover anything and everything to do with television and film. She is also passionate about feminism and equality and loves writing about gender issues and feminist literature.
Laura loves drinking and eating and can often be found trying to get reservations at London's trendiest restaurants. When she's not wining and dining, Laura can also be found travelling, baking, and hiking with her dog.