BBC reveals the 100 'most important' novels and there's a few surprises
Book worms, take note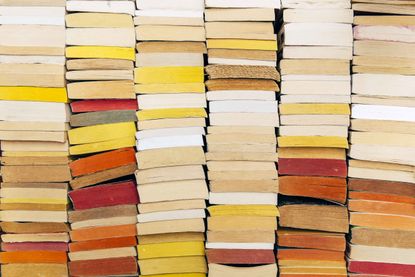 A list of 'important' literature has been revealed - with some surprising titles.
The BBC has released a list of the 'most important' English language novels, with Harry Potter and Bridget Jones featuring alongside Jane Austen classics.
The list is made up ofbooks (opens in new tab)believed to have 'shaped the world.'
Six leading British writers, authors and critics formed the 100-strong list of novels. The hearty compilation has categories such as identity, love, sex and romance, politics, power and protest, and class and society.
Beloved by Tony Morrison, The Bella Jar by Sylvia Plath and The Moor's Last Sigh by Salman Rushdie all feature on the list, alongside Riders by Jilly Cooper and White Teeth by Zadie Smith.
A number of contemporary works are also included, such asA Game of Thrones by George R. R. Martin and His Dark Materials by Phillip Pullman.
JK Rowling's Harry Potter series stars in the coming of age category, whereasBridget Jones's Diaryby Helen Fielding is located in the love, sex and romance section.
Classics such as Harper Lee's To Kill a Mockingbird and Frankenstein by Mary Shelley make the top 100, too.
The literary panel was made up of the Times Literary Supplement editor Stig Abell,author Alexander McCall Smith, novelists Juno Dawson and Kit de Waal, journalist Mariella Frostrup anddirector of the Bradford Literature Festival, Syima Aslam.
The team spent months debating before settling on their selection of contemporary titles, classics and children's books.
The list kickstarts the BBC's year-long celebration of literature, which begins with a new three-part series on BBC Two called Novels That Shaped Our World.
BBC Arts director Jonty Claypole said, "We asked our prestigious panel to create a list of world-changing novels that would be provocative, spark debate and inspire curiosity.
"It took months of enthusiastic debate and they have not disappointed. There are neglected masterpieces, irresistible romps as well as much-loved classics."
The last time the BBC attempted a similar list was in 2003 when it launched The Big Read - a list of 100 novels voted for by the general public.
Here's the list in full divided into themes...
Identity Beloved – Toni Morrison Days Without End – Sebastian Barry Fugitive Pieces – Anne Michaels Half of a Yellow Sun – Chimamanda Ngozi Adichie Homegoing – Yaa Gyasi Small Island – Andrea Levy The Bell Jar – Sylvia Plath The God of Small Things – Arundhati Roy Things Fall Apart – Chinua Achebe White Teeth – Zadie Smith
Love, Sex & Romance Bridget Jones's Diary – Helen Fielding Forever – Judy Blume Giovanni's Room – James Baldwin Pride and Prejudice – Jane Austen Riders – Jilly Cooper Their Eyes Were Watching God – Zora Neale Hurston The Far Pavilions – M. M. Kaye The Forty Rules of Love – Elif Shafak The Passion – Jeanette Winterson The Slaves of Solitude – Patrick Hamilton
Adventure City of Bohane – Kevin Barry Eye of the Needle – Ken Follett For Whom the Bell Tolls – Ernest Hemingway His Dark Materials Trilogy – Philip Pullman Ivanhoe – Walter Scott Mr Standfast – John Buchan The Big Sleep – Raymond Chandler The Hunger Games – Suzanne Collins The Jack Aubrey Novels – Patrick O'Brian The Lord of the Rings Trilogy – J.R.R. Tolkien
Life, Death & Other Worlds A Game of Thrones – George R. R. Martin Astonishing the Gods – Ben Okri Dune – Frank Herbert Frankenstein – Mary Shelley Gilead – Marilynne Robinson The Chronicles of Narnia – C. S. Lewis The Discworld Series – Terry Pratchett The Earthsea Trilogy – Ursula K. Le Guin The Sandman Series – Neil Gaiman The Road – Cormac McCarthy
Politics, Power & Protest A Thousand Splendid Suns – Khaled Hosseini Brave New World – Aldous Huxley Home Fire – Kamila Shamsie Lord of the Flies – William Golding Noughts & Crosses – Malorie Blackman Strumpet City – James Plunkett The Color Purple – Alice Walker To Kill a Mockingbird – Harper Lee V for Vendetta – Alan Moore Unless – Carol Shields
Class & Society A House for Mr Biswas – V. S. Naipaul Cannery Row – John Steinbeck Disgrace – J.M. Coetzee Our Mutual Friend – Charles Dickens Poor Cow – Nell Dunn Saturday Night and Sunday Morning – Alan Sillitoe The Lonely Passion of Judith Hearne – Brian Moore The Prime of Miss Jean Brodie – Muriel Spark The Remains of the Day – Kazuo Ishiguro Wide Sargasso Sea – Jean Rhys
Coming of Age Emily of New Moon – L. M. Montgomery Golden Child - Claire Adam Oryx and Crake – Margaret Atwood So Long, See You Tomorrow – William Maxwell Swami and Friends – R. K. Narayan The Country Girls - Edna O'Brien The Harry Potter series - J. K. Rowling The Outsiders – S. E. Hinton The Secret Diary of Adrian Mole, Aged 13 ¾ - Sue Townsend The Twilight Saga – Stephenie Meyer
Family & Friendship A Suitable Boy – Vikram Seth Ballet Shoes – Noel Streatfeild Cloudstreet – Tim Winton Cold Comfort Farm – Stella Gibbons I Capture the Castle – Dodie Smith Middlemarch – George Eliot Tales of the City – Armistead Maupin The Shipping News – E. Annie Proulx The Tenant of Wildfell Hall – Anne Brontë The Witches – Roald Dahl
Crime & Conflict American Tabloid – James Ellroy American War – Omar El Akkad Ice Candy Man – Bapsi Sidhwa Rebecca -Daphne du Maurier Regeneration – Pat Barker The Children of Men – P.D. James The Hound of the Baskervilles – Arthur Conan Doyle The Reluctant Fundamentalist – Mohsin Hamid The Talented Mr Ripley – Patricia Highsmith The Quiet American – Graham Greene
Rule Breakers A Confederacy of Dunces – John Kennedy Toole Bartleby, the Scrivener – Herman Melville Habibi – Craig Thompson How to be Both – Ali Smith Orlando – Virginia Woolf Nights at the Circus – Angela Carter Nineteen Eighty-Four – George Orwell Psmith, Journalist – P. G. Wodehouse The Moor's Last Sigh – Salman Rushdie Zami: A New Spelling of My Name – Audre Lorde
Lizzie Thomson is a regular contributor to woman&home, and also contributes to Metro.co.uk, Ideal Home, Culture Trip, and Evening Standard, covering all things lifestyle.