Angelina Jolie's next role will see her teaming up with Oscar winning director of Princess Diana movie
Angelina Jolie's next role will see her transform into one of history's most accomplished divas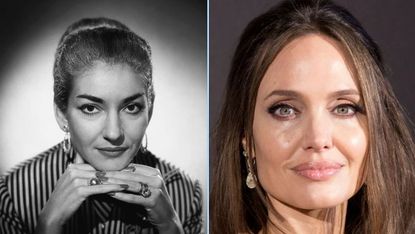 (Image credit: Getty Images)
He teamed up with Natalie Portman to take on Jacqueline Kennedy. Then, it was a collaboration with Kristen Stewart for a fictionalized exploration of Princess Diana. Next, Pablo Larraín is joining forces with Angelina Jolie to tell the story of opera's grandest diva, Maria Callas.
The Jackie and Spencer director has confirmed his next picture will tell the unprecedented, unconventional, and ultimately tragic story of the woman often revered as the world's greatest opera singer.
---
The movie will specifically follow Maria Callas during her final years, when she was living in Paris during the 1970s.
The biopic, currently titled Maria, will star Academy Award winning Angelina Jolie as the Greek operatic icon.
"Having the chance to combine my two most deep and personal passions, cinema and opera, has been a long-awaited dream," said director Pablo Larraín. "To do this with Angelina, a supremely brave and curious artist, is a fascinating opportunity. A true gift."
"I take very seriously the responsibility to Maria's life and legacy. I will give all I can to meet the challenge," added Angelina. "Pablo Larraín is a director I have long admired. To be allowed the chance to tell more of Maria's story with him, and with a script by Steven Knight, is a dream."
Who was Maria Callas?
Maria Cecilia Sophia Anna Kalogeropoulos, as was her birth name, was born in New York City in 1923. In 1929, her father shortened his last name first to Kalos and later to Callas.
A child of Greek immigrant parents, Maria received her musical education in Greece at age 13 and later established her career in Italy.
Not your typical operatic star, Maria's career was rife with obstacles from the beginning, from the wartime poverty of the 1940s to near-sightedness that left her nearly blind onstage.
She began appearing in secondary roles at the Greek National Opera, ultimately making her professional debut in February 1941.
Her first leading role a year later was as Tosca, in Puccini's legendary opera. This would begin the legacy of the woman who would come to define opera, as she was given the nickname of "The God-Given."
Maria would go on to be a leading star of opera, opening new productions all around the world, including Milan's La Scala and London's Royal Opera House.
Maria Callas' reputation earned her another nickname, La Divina (the Divine One).
Did Maria Callas lose her voice?
Maria Callas was almost as famous for her many scandals as she was her singular voice.
One such controversy was her sudden and dramatic mid-career weight loss.
Maria was, to begin with, a curvier woman. But she experienced a dramatic makeover into a svelte figure, and her fashion became much more glamorous and diva-like as a result.
There are some who believe her vocal decline was down to the weight loss, though it's never been confirmed.
As well as vocal problems midway through her career, Maria Callas' love life often made the news.
Most notably, she had a long and public love affair with shipping tycoon Aristotle Onassis.
Onassis eventually left Maria and married Jacqueline Kennedy, giving the former First Lady her popular moniker, Jackie O.
When did Maria Callas die?
Maria spent her last years living largely in isolation in Paris and died, aged 53 on 16 September 1977.
She died of a heart attack.
She later was cremated at the Père Lachaise Cemetery and her ashes were placed in the columbarium there.
Dramatic even in death, her ashes were stolen (but later recovered), and, in the spring of 1979, they were scattered over the Aegean Sea, off the coast of Greece, as per her final wishes.
Jack Slater is not the Last Action Hero, but that's what comes up first when you Google him. Preferring a much more sedentary life, Jack gets his thrills by covering news, entertainment, celebrity, film and culture for woman&home, and other digital publications.
Having written for various print and online publications—ranging from national syndicates to niche magazines—Jack has written about nearly everything there is to write about, covering LGBTQ+ news, celebrity features, TV and film scoops, reviewing the latest theatre shows lighting up London's West End and the most pressing of SEO based stories.