Allyson Felix is now the most decorated female track athlete in the world
Allyson Felix won her first medal since becoming a mom in 2018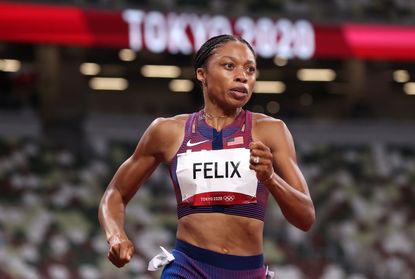 (Image credit: Getty)
After taking bronze in the women's 400m in Tokyo on Friday, Allyson Felix, age 35, is the most decorated female athlete in the world. She has six gold medals, three silver medals and a bronze. Her latest medal is her first since having her daughter in 2018.
"Hopefully, a lot of mothers will see themselves in me," she told reporters after the race. "I just want to be that inspiration."
Felix had a long recovery after her daughter Camryn was born at 32 weeks via emergency c-section due to severe pre-eclampsia. At the time, she accused Nike of being unsupportive after the company gave her a 70% pay cut and, according to Felix, wanted her back to competing as soon as possible.
Felix wrote an op-ed about the situation (opens in new tab) for the New York Times. "If we have children, we risk pay cuts from our sponsors during pregnancy and afterward. It's one example of a sports industry where the rules are still mostly made for and by men," she wrote.
She said she tried to ask Nike for guarantees.
"I asked Nike to contractually guarantee that I wouldn't be punished if I didn't perform at my best in the months surrounding childbirth. I wanted to set a new standard," she wrote. "If I, one of Nike's most widely marketed athletes, couldn't secure these protections, who could? Nike declined. We've been at a standstill ever since."
This week, Felix shared a video (opens in new tab) of her daughter Camryn rooting for her from home. "Mommy tired," sher daughter says.
Her latest medal ties Felix with Carl Lewis as the most decorated American track & field athlete.
Rebecca Holland is a travel and food writer based in Chicago. She has written for the Guardian, New York Times, Architectural Digest, Food & Wine, Wine Enthusiast and more. She is currently a graduate student at Northwestern's Medill School of Journalism. When not working, you can find her eating her way through Chicago's neighborhoods, or in non-pandemic times, traveling around the world.