All The Hats From Royal Ascot 2015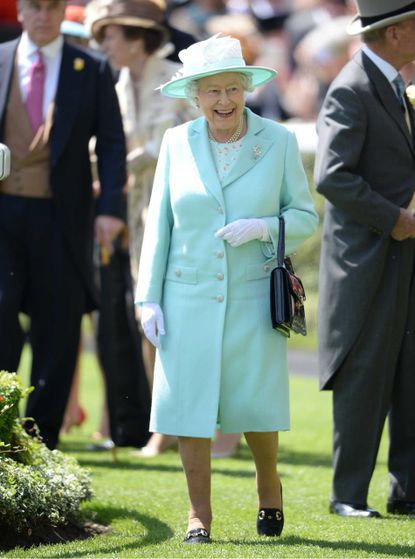 (Image credit: Rex Features (Shutterstock))
The royals were on show and the hats were as fanciful as ever on the first day of Ascot 2015...
Yesterday the lawns at Royal Ascot were swamped with stylish women in fabulous frocks and creative headpieces for the annual Ladies Day. The Queen who was in great spirits chose a beautiful pale blue ensemble with matching hat and crisp white gloves for the occasion.
It was a third day at the races for her Majesty, who was joined by a regal crowd, including the Duke of Edinburgh, the Duke of York, Princess' Beatrice and Eugenie, and the Countess of Wessex. And, although the Duchess of Cambridge wasn't in attendance, Sophie, Countess of Wessex, provided a masterclass in race-ready style in a dove grey ensemble (keep clicking for pics).
Earlier in the week as the gates opened, various celebrities filed through the gates at Royal Ascot. We spotted Damian Lewis, who is being tipped to take over from Daniel Craig as the next James Bond, sporting a wonderful moustache and his gorgeous wife, Helen McCrory, who graced our March cover, in a standout ensemble. Regular racegoer, Bruce Forsyth was also looking dapper with wife, Wilnelia at his side.
The sun shone as a swathe of ladies embraced the dress code with aplomb and a sea of colour graced the Ascot turf. Those who enjoyed a little flutter on the first day of races left with huge smiles on their faces - bookies are thought to have lost thousands yesterday as the favourites kept on coming in!
Fashion at the races is often a bit hit or miss, but yesterday there was a return to form with elegant on point outfits with the most mesmerising hats. From oversized feather creations to elaborate bespoke designs, don't miss the very best pictures from Royal Ascot 2015...
Sophie Countess Of Wessex
Princess Beatrice of York
Royal Ascot 2015
Ronan Keating and Storm Uechtritz
Royal Ascot 2015
Actress Eleanor Tomlinson
Royal Ascot 2015
Princess Eugenie of York
Royal Ascot 2015
Princess Anne
Actress Samantha Barks
Royal Ascot 2015
Royal Ascot 2015
Royal Ascot 2015
Royal Ascot 2015
Royal Ascot 2015
Royal Ascot 2015
Royal Ascot 2015
Royal Ascot 2015
Royal Ascot 2015
Queen Elizabeth II
Queen Elizabeth II, Prince Philip and Prince Harry
Sophie, Countess of Wessex
Zara Philips
Princess Anne
Prince Harry
Camilla, Duchess of Cornwall
Queen Elizabeth II and Prince Andrew
Damian Lewis and Helen McCrory
Bruce Forsyth and Wilnelia Merced
Gary and Danielle Lineker
Declan Donnelly
Royal Ascot 2015
Royal Ascot 2015
Royal Ascot 2015
Royal Ascot 2015
Royal Ascot 2015
Royal Ascot 2015
Royal Ascot 2015
Royal Ascot 2015
Royal Ascot 2015
Royal Ascot 2015
Royal Ascot 2015
Royal Ascot 2015
Royal Ascot 2015
Royal Ascot 2015
Royal Ascot 2015
Royal Ascot 2015
Royal Ascot 2015
Royal Ascot 2015
Royal Ascot 2015
Royal Ascot 2015
Royal Ascot 2015
Royal Ascot 2015
Royal Ascot 2015
Royal Ascot 2015
Royal Ascot 2015
Camilla, Duchess of Cornwall