25 Times Prince Harry Made Us Smile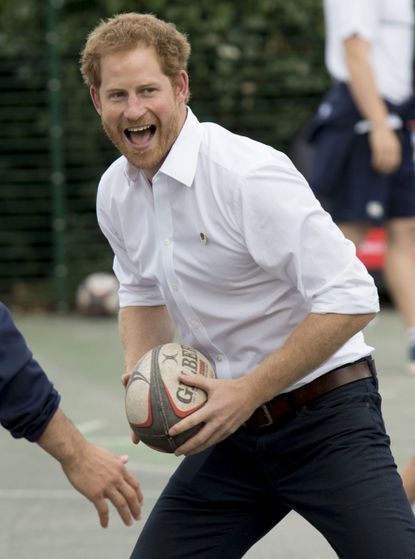 Almost always seen with a cheeky grin on his face, Prince Harry finds the funny side and makes people smile no matter where he is in the world. Since the day Princess Diana stepped out of the Lindo Wing with a baby Harry in her arms, he has brought joy to others with his charity work and cheery manner. Here, we're looking back on Harry's funniest moments, from his post-exams fist pump as a teenager to the time he gave Usain Bolt a run for his money. So, here they are - 25 of the many times Prince Harry was our favourite royal...
1. As the founder of the Invictus Games, Harry is known for his love of sport, so it's no wonder he enjoyed the Rio Olympics. His hilarious bromance with nine-time Olympic champion Usain Bolt made headlines after his double win. Harry took over the official Kensington Palace Twitter account to post a message with a photo of himself running faster than Bolt in 2012. He wrote: 'Congratulations @usainbolt - now you're officially the greatest you might be ready for a re-run! Happy 30th - H.' Usain has reportedly said he planned to 'party with Prince Harry' after the Rio games.
2. Harry was in Manchester earlier this year to meet a programme that uses sports to combat social challenge, and took some time to indulge in a bit of rugby himself - but it was what happened afterwards that had everyone talking...
Marriage proposals are ten-a-penny for our Prince, but this particular one resulted in an adorable response. After Harry had finished playing rugby with the children, he took some time to speak to them, and one particular little girl took a shine to him. Lottie, aged six, said: "I want to marry you. I want to be a Princess." Harry responded: "You don't want that - that's too big an age gap. You've been reading too many books." Prince Harry, the heartbreaker!
3. The Invinctus Games are sadly over for another year, but the world was well and truly charmed by Prince Harry during the competition. Whether he was cheering on Team GB or jokingly battling with the Obamas over which nation would win the most medals, it was a joy to see Harry looking so happy and passionate about his project.
He closed the ceremony with a speech where he praised an 'extraordinary' Invictus Games. Speaking to the competitors, he said: "You are all Invictus. you are now ambassadors for the spirit of these games. Spread the word. Never stop fighting. And do all you can to lift up everyone around you. I'll see you in Toronto!"
But it wasn't just during the speech when he captured our hearts - the Prince was pictured giving a service dog a hand out of the pool.
And when he met 95 year-old Ruth Uffleman - a spectator at the wheelchair tennis finals - he couldn't help leaning in to give her a kiss on the cheek.
We all know that Harry loves children, including his niece and nephew Princess Charlotte and Prince George, so it was no surprise to see him making a fuss of British double-gold winner Rob Cromey-Hawke's young daughter Pippa.
He watched some events from the crowd, and took the time to snap a picture for some fellow spectators. Must have been nice to have the camera turned the other way!
Prince Harry referenced US swimmer Elizabeth Marks, who gave back her winning medal to Harry to give to the UK doctors who saved her life - in his closing speech. He said: "What is the force that drives Elizabeth Marks to return to these games after nearly dying two years ago, to compete now, at the highest level, in a sport that renders her blind and faint? Invictus!"
4. He recently revealed that he was left feeling embarrased after his nephew, Prince George, landed him in hot water in front of President Obama and the First Lady. We've all seen the adorable pictures of Michelle and Barack Obama meeting Prince George in his dressing gown at Kensington Palace, and the cheeky son of the Duke and Duchess of Cambridge made it an evening to remember for his uncle, too.
He may not be three yet, but nothing passes Prince George by - and when he spotted Uncle Harry on his best behaviour for the visit, he called him out on his lack of usual cheeky behaviour. During an appearance on Good Morning America, Harry and Michelle Obama recalled the evening, with the First Lady saying: "Throughout he was like, 'Uncle Harry why are you so quiet?'" Prince Harry went on to explain, saying: "Usually I'm throwing him around the room and stuff."
We can see why that may have been awkward for poor Harry - but oh, how we wish we had been a fly on the wall!
5. He's known the world over as the charming Prince, but Harry is not afraid to show his vulnerability. He opened up in a recent emotional interview, saying: "All I want to do is make my mother proud."
In the interview with People, Prince Harry told of how much he misses his mother, Princess Diana, who died when he was just 12, and said that he thinks there is "A lot of my mother in me". He added: "When she died, there was a gaping hole, not just for us but also for a huge amount of people all over the world. If I can try and fill a very small part of that, then job done. I will have to, in a good way, spend the rest of my life trying to fill that void as much as possible. And so will William."
The Prince has also spoken out to say that he wants to create a memorial to 'last forever' on the 20th anniversary of Diana's death. Speaking to Hello!, Harry said: "We want to make sure that there's something she's remembered by...Every single day we still think about her, so it would be very fitting on the 20th anniversary to have something that is going to last forever."
6. We loved when Prince Harry starred alongside the Queen in a series of hilarious videos posted on social media.
The Invictus Games (founded by Prince Harry) are held in Orlando this year, and the Obamas started a light-hearted war on Twitter when they posted a short video, reminding Prince Harry that he had told the Americans to 'bring it' and to be 'careful what you wish for'.
But one does not look amused, and the Queen responds to the US President and First Lady's confidence with a simple: "Oh really? Please!"
http://www.youtube.com/watch?v=-I_1RhaN0Ao
Harry, we love your 'mic drop' action!
The 'feud' was started when the First Lady tweeted Kensington Palace, only for Harry to reply from the account shortly afterward:
Hey, @KensingtonRoyal! Are you ready for @InvictusOrlando? Game on. pic.twitter.com/S34KrEv5Is
Wow @FLOTUS and @POTUS, some @weareinvictus fighting talk there! You can dish it out, but can you take it? - H.
A perfect example of our modern Royal family using social media to get the world involved with their work - we're not sure we've ever loved the Queen and Prince Harry quite this much...
7. During the filming of Sky Sports show Game Changers, Prince Harry admitted to one hopeful schoolboy that he won't be taking the throne. Tristan, a 9-year-old pupil at Lambs Lane Primary School in Wokingham, where the show was recorded, asked the prince if he would become king, to which Harry replied: "You'll be glad to know, probably not".
After saying he would 'love' Harry to be king, the schoolboy looked crestfallen. "Oh look at the disappointment!" Harry said. "I love that. I'm going to give you a high-five."
Harry enjoyed the rest of his day with Invictus Games competitors and pupils from the primary school.
8. The charming prince won our hearts all over again at this years Marathon, when he proved that he is the perfect gentleman. When 86 year-old former Olympain Syliva Disley tripped during the medal presentation at the London Marathon, Harry rushed to her assistance to help her back to her feet. He was then seen holding her hand to help her away after the ceremony. Thankfully, Sylvia was uninjured - and has a great story to tell!
9. Princes William and Harry, who are said to be 'huge fans' of Star Wars, playing with lightsabres at Pinewood Studios in Buckinghamshre. They're still big kids at heat!
10. In March, Harry began a 5-day trip to Nepal to celebrate the bicentenary of Anglo-Nepalese relations. On his third day, he was snapped imitating a tiger at Bardia National Park after being asked to approach the camera traps that detect the animals' nocturnal movements.
11. He demonstrated his ability to spot a friendly face among a crowd as his touching reunion with his former matron at Ludgrove School was caught on camera
12. He spent his 31st birthday taking part in an RAF flypast in Goodwood Sussex to mark the historic anniversary of the Battle of Britain.
13. When Prince Harry's speech blew away as the British Armed Forces announced their Invictus Games team, he laughed it off like a pro
14. The mischievous prince was suitably pleased with this 'redheads rule' sign
15. Suit or no suit, he's always ready to have fun!
16. He perfected Usain Bolt's 'lightning bolt' pose after a coaching session with the sprinter
17. Nobody took becoming a wizard as seriously as Harry when he visited the Harry Potter studios with the Duke and Duchess of Cambridge
18. The Prince was cracking jokes aplenty on the day of the royal wedding. We'd love to know what he said to Pippa Middleton
19. The Duchess of Cambridge is rather fond of the Prince's jokes as well
20. He's always up for a dance. Harry was pictures here at the Fundacion Amigos de Jesus daycare centre in Santiago
21. And performing a Haka with members of the New Zealand army at the Linton Army Camp
22. Here he is at a street naming party in Belize - looking like he's having a whale of a time!
23. Because what boy doesn't cheer after finally finishing their A-Levels?
24. He was the envy of every teen boy when he met the Spice Girls. Just look at that grin!
25. An eight-year-old Prince Harry was thrilled to visit the barracks of the Light Dragoons in Germany
26. His first public appearance saw Prince Charles and Princess Diana beaming with pride on the steps of the Lindo Wing, and the charming Prince has made us smile ever since...
Sign up to our free daily email for the latest royal and entertainment news, interesting opinion, expert advice on styling and beauty trends, and no-nonsense guides to the health and wellness questions you want answered.