6 times Princess Diana was Kate Middleton's inspiration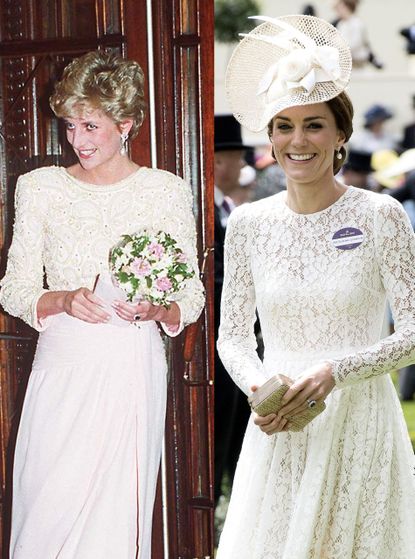 Kate Middleton is a style icon for thousands of girls all over the world but it seems like she takes her own inspiration from her late mother-in-law, Princess Diana. She stepped out at Royal Ascot wearing a white lace dress very similar to one Diana wore previously. And it's not just their fashion that's similar, the 36-year-old might not intend to but she has adopted her mannerisms too.
The mother of three has followed Diana's trend for a specific way of sitting that Royal fans have even nicknamed it "The Duchess Slant".
When sitting at Royal events she always slants her legs together when being photographed at official events and it's no surprise Diana had the same pose.
Royal ettiquette expert, Myka Meier explained: "Typically, 'the Duchess Slant' is used when a lady has to sit for an extended amount of time while keeping poise and posture.
"It is the perfect pose for when a camera is shooting directly in front of you because by slightly slanting the knees to create a zig-zag effect when wearing a dress or skirt, your legs are angled so that the camera only shoots the sides of your legs and protects your modesty."
June 2016: Standing on the balcony at Buckingham Palace Kate appeared to be channelling her late mother-in-law as she posed with her children to celebrate the Queen's 90th birthday. The way the Duchess of Cambridge was positioned with her two children was extremely similar to a snap of Diana with William and Harry as children three decades earlier. Both young mums were attending the Trooping of the Colour parade and were standing with their kids on the balcony of Buckingham Palace. Just like his dad, Prince George even gave a little salute and at one point Kate ruffled George's hair. Diana was spotted doing a similar act of affection.Not only were the poses similar with Diana clutching a young Prince Harry in her left arm while Kate held Princess Charlotte in the same position, but their outfits looked almost identical too. Both wore angled hats that were the same colour and dropped earrings and of course Kate wears Diana's sapphire engagement ring too.
April 2016: Visiting the Taj Mahal
Kate finished her tour of India and Bhutan with William with a nod to Diana's 1992 visit. Nearly 25 years afar Princess Diana famously sat on the bench, which has now been named after her, Kate re-enacted the same pose. She sat alongside Prince William on 'Lady Di's chair' in front of the Taj Mahal, a monument dedicated to love. Dressed in a white dress with a royal blue embroidered motif and nude patent heels, she even bent her knees the same way as Diana. But while the pictures looked similar - there was a contrast in their situation. Lonely Diana sat on the bench signalling the end of her marriage describing the experience as "very healing". Meanwhile Kate was happy to with her husband celebrating the love they share.
July 2013: Leaving hospital with Prince George Princess Diana may not have ever got to meet her first grandchild but it looked like Kate Middleton paid tribute to her when leaving hospital after giving birth to Prince George in July 2013. In a nod to Diana, she wore a blue and white polka dot dress by one of her favourite designers, Jenny Packham. The pretty empire line crep de chine dress was specially made for the happy occasion. But it's no surprise the dress drew comparisons to the green polka dot Catherine Walker outfit that Princess Diana wore 31 years earlier when she brought Prince William home from hospital in July 1982.
September 2012 Making her first visit to a Muslim mosque in Kuala Lumpur
Kate Middleton reminded everyone of Diana when she wore a hiijab during her visit to Kuala Lumpur's Assyakirin mosque. She joined Prince William on his nine-day tour of Southeast Asia. The visit to Assyakirin Mosque was the first Muslim place of worship Will or Kate has ever visited. The light, white headscarf she wore more than a passing resemblance to the traditional Muslim headscarf worn by her husband's late mother, Princess Diana while visiting Pakistan in February 1996.
December 2006: Attending The Sovereign's Parade
Kate and her family went to Prince Williams's pasing out cermony at the Sandhurst military academy in December 2006. The Sovereign's Parade in Berkshire was the most high-profile public event Miss Middleton has attended as a guest of the prince since they met at St Andrews University. She dressed to impress in a red coat with a black hat. But did she take style inspiration from Diana who wore a similar outfit on Christmas Day 1993 to Sandringham.
March 2005: Hitting the slopes
Kate is determined to be the lady in red even when on holiday. Like Diana, the Duchess of Cambridge loved skiing and often hits the slopes with William. Kate wore this red jacket the second time she went to Kloisters with William and it's very similar to the one Diana sported at the same plush resort in Switzerland back in 1986.
Sign up to our free daily email for the latest royal and entertainment news, interesting opinion, expert advice on styling and beauty trends, and no-nonsense guides to the health and wellness questions you want answered.