10 Surprisingly Liberal Donald Trump Quotes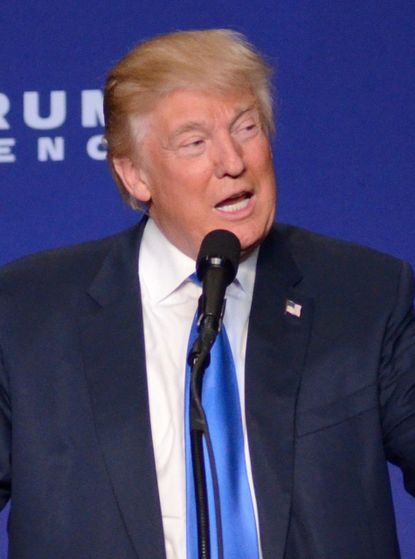 (Image credit: Bassman/CSM/REX/Shutterstock)
You might be surprised to learn that, whilst American Liberals are busy denouncing Donald Trump as a fascist would-be dictator, many staunch Republicans are taking issue with the new President of the United States of America for a very different reason: they're convinced he's a secret Liberal. Read on to find out why Trump's very own words have them concerned...
1. Trump has supported the concept of universal health care for years. In 1999, he told Larry King, "I'm very liberal when it comes to health care. I believe in universal healthcare." Last year, he reiterated his commitment, stating, "I'm going to take care of everybody." So who pays? "The government's going to pay for it," he assured CBS.
2. He denounced his Republican opponents' support for budget cuts to social security and assisted healthcare, saying in 2015, "Every Republican wants to do a big number on Social Security, they want to do it on Medicare, they want to do it on Medicaid. And we can't do that. And it's not fair to the people that have been paying in for years."
3. His views on abortion may have proved less than consistent, but back in October 1999 he told NBC, "I'm very pro-choice. I am pro-choice in every respect." 4. He has declared his support for workers' unions. "Unions still have a place in American society," he wrote in 2000. "In fact ... unions are about the only political force reminding us to remember the American working family."
5. In 1999, he declared that a one-time 14.25% tax should be levied on those with a net worth of more than $10 million. "It would pay off the national debt of $5.7 trillion in its entirety, and you'd save $200 billion a year. So taxes for the middle class would go way down, the estate and inheritance tax totally wiped out, and the Social Security system would be saved," he told Good Morning America.
6. In 2004, he voiced his opposition to the Iraq war, telling the Dallas Morning News, "Look, the war is a disaster. The war should not have been entered into. To lose all of those thousands and thousands of people, on our side and their side. I mean, you have Iraqi kids, not only our soldiers, walking around with no legs, no arms, no faces. All for no reason. It is a disgrace."
7. Although Trump admitted to hating "the concept" of allowing Syrian refugees into the US on Fox News in 2015, he conceded that, "on a humanitarian basis, you have to".
8. Back in 2004, Trump declared, "In many cases, I probably identify more as a Democrat."
9. He has previously voiced support for Obama, saying in 2009, "it looks like we have somebody that knows what he is doing finally in office," and, "I think he has a chance to go down as a great president."
10. He's also been vocal in his support for other prominent Democrats over the years, including arch rival Hillary Clinton. In 2007, he declared that, "Hillary would do a good job," when asked his opinion as to who was most qualified to make a nuclear deal with Iran. "Hillary's always surrounded herself with very good people," he asserted.
Sign up to our free daily email for the latest royal and entertainment news, interesting opinion, expert advice on styling and beauty trends, and no-nonsense guides to the health and wellness questions you want answered.