New summer trend: Revamp your bedroom with the global look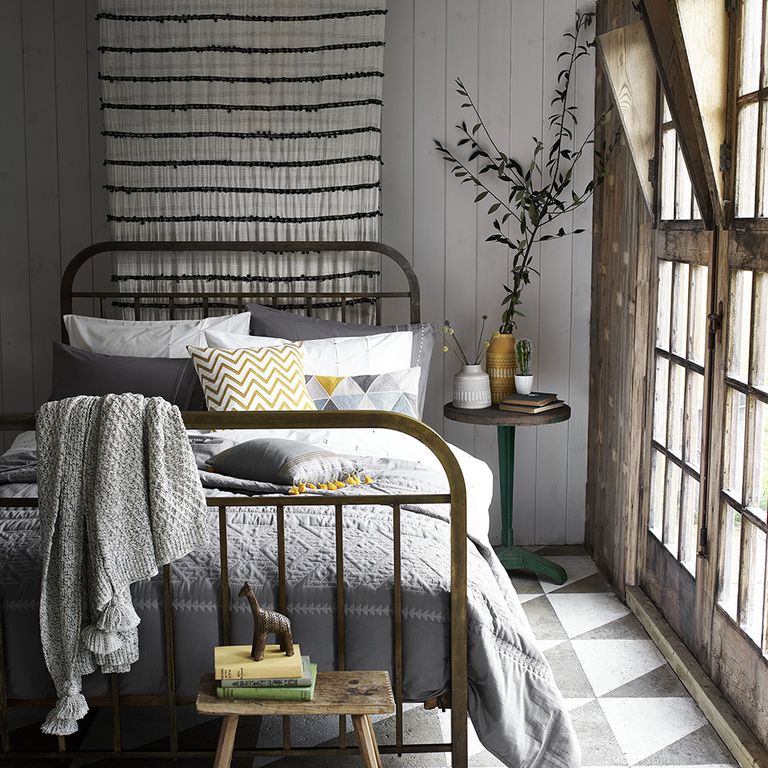 Give your home a sophisticated look with tribal style accents
Promotional Feature
Bring dreams of far-flung places into your boudoir with global-inspired pieces from two of Sainsbury's new home collections.
The Hinterland collection offers stylish bedlinen, throws and accessories, featuring graphic and pared-back textile designs, with playful pops of mustard yellow across soft furnishings and ceramics. Chevron-prints and fun pom-poms adorn embroidered cushions and cosy throws.
Layer them together to create a luxurious and stylish bedstead look that oozes comfort. Intricate sgraffito patterns meet tonal terracottas in the accessories, with quirky features such as carved giraffe ornaments and cacti adding to the African feel.
The Moroccan Luxe range is perfect if you'd like to add a more bohemian feel to your home. Influenced by exotic bazaars and North African treasures, you'll find delicate artisanal table lamps and bronzed metallics that fuse traditional souk style with a thoroughly modern aesthetic.
For that personal touch, ornate picture frames in burnished silver allow you to artfully display your prized travel photos. Arrange a few frames together on a statement shelf or windowsill for a collage effect, or else scatter to add interest to sideboards or storage units.
Here are a few of our favourite things...
Hinterland Knitted Marl Throw, £22
A cosy throw draped across the bed adds a touch of luxe even in summer.
Hinterland Embroidered Tassel Cushion, £10
Add some character to your bedspread with this embroidered scatter cushion. We love the cute pom-pom detail.
Moroccan Luxe Silver Frame, £12
Perfect for displaying your holiday snaps - and a great gift idea, too.
Hinterland Zigzag Crewel Cushion, £12
Chevron prints are a key part of this global trend. Try clashing patterns for a graphic bedroom look.
Moroccan Luxe Lantern, £22
Nothing brings an air of Moroccan chic into your home better than ambient evening lighting and this lantern will help create just that.
Moroccan Luxe Trinket Box, £12
Keep your treasured trinkets tidied away in this ornate keepsake box. Display alongside some delicate perfume bottles for instant dressing table elegance.
Moroccan Luxe Elephant Ornaments, £7 (small) £9 (large)
These fun little elephants are simply adorable.
Morrocan Luxe Metal Nibble Bowl, £3
Bronze accessories reflect natural light and bring an exotic luxury to any room.
Hinterland Small Succulent Cacti, £5
Adding green elements such as this faux succulent will help lift your bedroom's colour scheme, and bring an organic interest to the space.
Hinterland Yellow Tall Ceramic Vase, £12
This gorgeous vase will complement any colour scheme, especially when filled with leafy stems such as fragrant eucalyptus.