Michelle Obama reveals how anxious and uncertain 9/11 made her feel for young daughters Sasha and Malia
The former first lady recalled where she was on the day it happened—20 years ago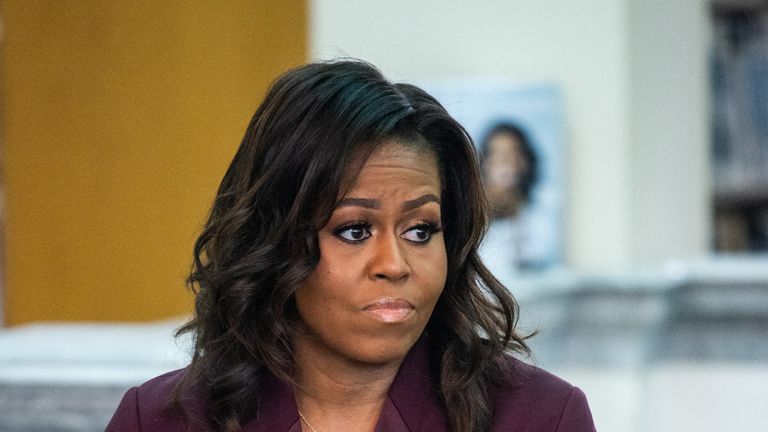 (Image credit: Jim Bennett/Getty Images)
Michelle Obama has revealed how anxious and uncertain 9/11 made her feel— especially when it came to daughters Sasha and Malia.
The former first lady joined countless people across the globe, remembering 9/11. She took to Instagram to share her thoughts on how she felt on that fateful day 20 years ago—saying that 'uncertainty and anxiety set in almost immediately' for her daughters, who were only young at the time.
Michelle, who is married to Barack Obama and has two daughters Sasha, 20 and Malia, 23, posted her message on the social media site, along with pictures of her and her husband Barack Obama meeting survivors of the tragedy.
---
In the post, Michelle recalled what she was doing twenty years ago and how the news made her feel, "I spent the morning of September 11, 2001, with my girls in Chicago. It was Malia's first day of nursery school—I remember taking her photo, dropping her off for the very first time, and feeling those pangs of separation from my baby.
"I'd just buckled newborn Sasha into her car seat and was driving back home when I heard the news on the radio—and the uncertainty and anxiety set in almost immediately. What was happening? Had the world just changed? What kind of future were our girls going to enter?"
She went on to pay tribute to those affected, "Each of us, if we were old enough at the time, has our own story from that day. It's a snapshot—a time capsule—back to a different moment for all of us. For those who lost loved ones, it's especially painful to relive. My heart goes out to all those for whom this wasn't just a national tragedy, but a personal one."
She concluded her post, which was popular with her followers, and has so far gained over 1 million likes, by writing about we can learn from such tragedies, "So today, I hope you'll take an extra moment to mourn, to reflect, and most of all, to remember.
"It's up to all of us to make sure that we're honoring all those memories that come rushing back by living lives that reflect not just the trauma of that day, but the best that was on display, too: our kindness and compassion, our courage and resilience. They're the values that lifted us up twenty years ago. And I hope they can guide us all, not just on an anniversary like this, but every single day."
Michelle and Barack Obama joined current president Joe Biden at Ground Zero yesterday, where a 9/11 moment of silence took place for those who lost their lives 20 years ago.
Sarah is a freelance writer - writing across titles including Woman & Home, Fit & Well, Tech Radar and the BBC. Covering a variety of subjects, including the royals, celebrities and trends in beauty, fashion and wellness - her biggest passions are travel and fitness. She can normally be found trying out the latest fitness class or on a plane to an exotic destination (pandemic allowing) - or writing about either of them.