9/11 documentaries on Netflix, Hulu, and more—to educate and remember on the 20th anniversary
Take a moment to learn more about one of the most shocking days in history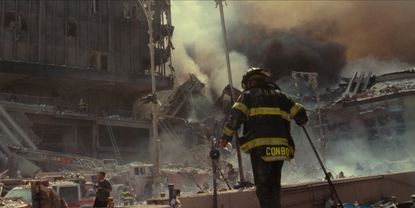 (Image credit: Courtesy of NETFLIX)
woman&home newsletter
Sign up to our free daily email for the latest royal and entertainment news, interesting opinion, expert advice on styling and beauty trends, and no-nonsense guides to the health and wellness questions you want answered.
Thank you for signing up to . You will receive a verification email shortly.
There was a problem. Please refresh the page and try again.
This year marks the 20th anniversary of the 9/11 terrorist attacks on the US. To remember and honor those whose lives were lost, a plethora of documentaries have been released that aim to re-examine the aftermath of the day from unique perspectives.
Whether you take a moment of silence or visit one of the various memorials dedicated to 9/11, these documentaries are another great way to honor those lost and educate yourself about that horrific day.
Netflix 9/11 documentaries
Turning Point: 9/11 and the War on Terror
Chronicling the events leading up to September 11, this documentary examines the day from almost every perspective you could imagine.
Directed by Brian Knappenberger, go back in time to discover how Afghanistan was overtaken by the Taliban, beginning with the Soviet invasion of 1979. Viewers will also learn how America got involved with its longest war in history.
The five-part docu-series attempts to answer questions including who attacked the US and why? What breakdowns in intelligence allowed it to happen? And how did decisions at the highest levels of three administrations in the war on terror bring us to this moment?
Hear interviews with administration officials, ex-CIA members, US veterans, Afghanistan National Army soldiers, Taliban commanders, Afghan government officials, Afghan warlords, Afghan civilians, and survivors.
---
Hulu 9/11 documentaries
9/11: One Day in America
This mini-series worked in collaboration with the 9/11 Memorial and Museum to help show viewers the harrowing events that occurred during that fateful morning.
From the vision of director Daniel Bogado, audiences will be able to watch archival footage, including never-before-seen scenes from the horrifying day. During the production of the series, filmmakers watched over 1,000 hours of archival footage and spent three years learning the personal stories of those featured in the documentary.
Throughout the six episodes, interviews with 54 eyewitnesses and survivors were incorporated to provide the perspective of first-hand experiences. As they recount their experiences of the horror and heroism that was demonstrated that day, viewers can hopefully gain a deeper understanding of the events as they unfolded back in 2001.
Apple TV+ 9/11 documentaries
9/11: Inside The President's War Room
Ever wondered how the President and his staff reacted to the events of 9/11? Well, a new documentary aims to answer some of our burning questions.
Get a closer look at how then-President George W. Bush and his administration reacted on the morning of September 11th, and how it forever changed them.
Narrated by actor Jeff Daniels, viewers will get an idea of what went on "inside the room only they [the Bush administration] saw." The documentary primarily focuses on the 12 hours after the attacks, such as the critical decisions that had to be made in a "race against the clock." For the first time, audiences will be able to see interviews with senior staff at the time, then-Vice President Dick Cheney, and even Bush himself as they delve into the heart-pounding experience.
Viewers will also get the chance to see around 200 previously unpublished photographs by photographers who followed President Bush and Vice President Cheney that day.
Discovery+ 9/11 documentaries
Rebuilding Hope: The Children of 9/11
Many lives were lost on 9/11, including the fathers of four families spotlighted in this documentary.
Learn the stories of four 19-year-olds who lost a parent due to the fallout of 9/11. Each child was born after 9/11, meaning they were never able to meet their fathers. In separate interviews, they each tell the tragic story of their fathers' bravery as well as how they try to honor them in their everyday lives.
Academy Award and Emmy Award-winning director Ellen Goosenberg Kent followed the teens over the years up until the 20th anniversary of the attacks. As the teens prepare to enter adulthood, the documentary also tries to emphasize how the tragic loss of a parent has helped shape who they are today, and the hope that it has instilled in them for a brighter future.
No Responders Left Behind
This documentary follows 9/11 first-responder and activist John Feal, along with comedian Jon Stewart, and another first-responder hero Ray Pfeifer as they fight Congress to ensure terminally ill 9/11 first responders receive proper health care.
After the events of September 11 first responders raced to help victims and families reconnect with one another. A crumbled New York City also needed rebuilding and as first responders dug through the rubble, the chemicals and toxins from Ground Zero eventually led to life-threatening and financially devastating illnesses.
The documentary follows the five-year battle with Congress to get proper health care benefits and compensation for first responders suffering. With the help of the social activist group The FealGood Foundation, the group was successful after challenging the federal government and ending up winning their case.
HBO Max 9/11 documentaries
In The Shadow Of The Towers: Stuyvesant High On 9/11
Watch as eight individuals reflect on the impact of watching the events of 9/11 unfold before them from their nearby high school.
Now alumni, these adults retell their experience witnessing the chilling events of the terrorist attacks. Back in 2001, their high school was mere blocks from the World Trade Center. Each interviewee describes everything from watching the planes crash to fleeing the cloud dust formed as the Twin Towers collapsed. In all the chaos, each student had to make the journey back home, which, for most, was located in boroughs outside of Manhattan including Queens and the Bronx.
Another topic the documentary also keys in on is the backlash children of immigrants and different backgrounds faced. The result is a story of overcoming tragedy and finding support along the way.
NYC Epicenters 9/11-> 2021½
Spike Lee conducted over 200 interviews with New York City residents who recount their first-hand experience with September 11 and how it forever impacted their lives. It was styled as a four-part documentary essay featuring stories from first responders, politicians, and journalists. Spike also includes his own personal experience alongside friends and family.
9/11 is only one of the main parts of a larger story the director weaves together. In the beginning, we see modern issues including the ongoing COVID-19 pandemic and Black Lives Matter protests that occurred over the summer of 2020. From there we go back in time to see the impacts of the 9/11 terrorist attacks and how New Yorkers have changed and evolved over the years.
Not sure how to honor September 11? Whether you're educating yourself or want to reflect on the past, take a moment to honor those lost to the attacks. These seven documentaries can help widen your view and offer new perspectives on the events that unfolded that tragic day.
Rylee is a U.S. news writer who previously worked for woman&home and My Imperfect Life covering lifestyle, celebrity, and fashion news. Before joining woman&home and My Imperfect Life, Rylee studied journalism at Hofstra University where she explored her interests in world politics and magazine writing. From there, she dabbled in freelance writing covering fashion and beauty e-commerce for outlets such as the TODAY show, American Spa Magazine, First for Women, and Woman's World.