Gillian Anderson triumphs as Margaret Thatcher in The Crown - and we bet you'll barely recognise her
You won't believe it's not really her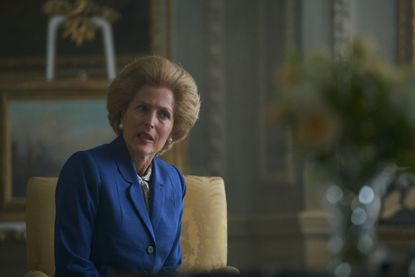 (Image credit: Des Willie/Netflix)
In the new series which comes to our screens in little over a month, the 1980s are on the horizon. Queen Elizabeth finds herself preoccupied with securing an appropriate bride for Prince Charles, who later finds romance with a young Lady Diana Spencer. But pivotally, Margaret Thatcher is in power.
Britain's first female Prime Minister, Margaret Thatcher, played by Gillian Anderson is in power. This era is one steeped in history, so it is sure to be a juicy series. Promotional stills showing the actresses in action have been released and people cannot believe how excellent the resemblance is, complete with perfectly coiffed hair.
Although, fans were pleased to get a sneak peek beforehand from when they were filming back in February. Wearing a padded shouldered grey blazer, a string of pearls and that iconic hair in perfect shape, Gillian was stepping out of a doorway.
In an interview with The Guardian, Gillian said she became completely immersed in the character, reading and watching everything she could find on the former PM. She finds Thatcher "absolutely fascinating. Mostly because of her childhood.
You could draw such a clear line from how she was raised and what she was exposed to in their religion, and how she was raised in the shop, and how she worked, and their work ethic and their beliefs. Just everything that came later stems so entirely from her childhood. But that in and of itself is fascinating, and – I'm not going to use the word forgivable, but one can find compassion." She also expressed how excited she was to work with Olivia Colman. We can't wait to see them both in action too.
The divisive figure's policies resulted in the 1984 miners' strike and the poll tax riots. Gillian knows the pressure of this and said in The Times, "I don't think I've ever taken on a role that presented so much pressure. The impact that she had, both in the UK and around the world. So taking on somebody who is hated as much as Thatcher is, is a whole other thing."
We have previously seen her played by Meryl Streep in The Iron Lady so it will be hard to not compare. But we have high hopes for the latest iron lady.
TheCrownSeason 4 will launch on Netflix on Sunday 15thNovember.
Rachel is a freelance contributor to woman&home, covering news as well as books, lifestyle and travel. Her byline has also appeared in The Independent, The Financial Times, ELLE Magazine, VICE, Glamour Magazine and others. She loves nothing more than talking with people to share their stories. When she is not writing you will definitely find her nose in a book or magazine, or perhaps training for the next half marathon, practicing yoga or eating in London's best restaurants.