A new podcast series has been launched to celebrate strong women – and here's why you'll love it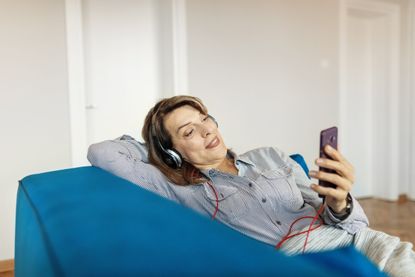 (Image credit: Getty)
Podcasts have fast become the nation's go-to for anything from keeping a finger on the pulse of most pressing issues facing the world to learning something new about a subject that has always piqued our interest.
Now a new podcast (opens in new tab) series could help achieve both ends, shining a light on female leading figures in the city of Manchester and the important impact they have on communities.
Set up by podcasting social enterprise MIC and supported by the charity The Pankhurst Trust, Strong Manchester Women features seven episodes to date lasting roughly 30 minutes each to date, with the series having a key aim of 'inspiring conversations with the change makers, activists, leaders and trailblazers - who make our communities a better place to live, work and play'.
Among the women featured include gardener Dena Murphy, boxer Stacey Copeland, local politician Lynne Rodsdale and Helen Brown, founder of On The Out – an organisation which supports prisoners upon release. The free series is available on Apple (opens in new tab) and Google podcasts as well as Spotify.
Dr Tessa Chynoweth, Curator at the Pankhurst Centre said, "Manchester has a history of very strong women: women who were forces to be reckoned with, who started movements, smash glass ceilings, and stand up for their rights.
"We're so pleased to support this podcast and show the world the latest Manchester heroes."
MORE:Everything you need to know about the woman &home Amazing Women Awards 2019 in partnership with Hotter (opens in new tab)
MIC founder Vic Elizabeth Turnbull added, "The mission of MIC is to amplify under represented voices and talent in podcasts and the podcast industry.
"The idea is for everyone to be able to tap into the power of podcasts, whether as a contributor, maker or consumer.
"I'm excited to be working with a range of community groups, social good organisations and podcast industry partners to achieve this."
Sarah Judge, a Councillor for Manchester City Council and Lead Member for Women continued, "The women profiled in the campaign and podcast are normal women like you and me, women you may not have heard of before.
"With women's rights and issues by no means solved, I hope the Strong Manchester Women campaign can inspire more women to rise up and make a difference, no matter who they are, or where they come from."
Miriam worked for woman&home for over five years and previously worked on the women's lifestyle magazines Woman and Woman's Own.