50 Over 50 Awards: 'Changing Our Country' shortlist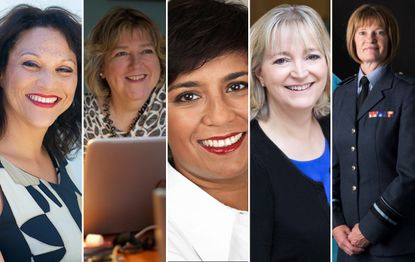 Celebrating women in high places dedicated to making our lives better...
The latest batch of nominees in our50 Over 50 Awards- in association with JD Williams - are in.
The Changing Our Country category celebrates British women in high-powered positions who are using their influence to make all our lives better.
The shortlist below is the latest of the ten categories to be revealed. We'll be announcing the other shortlists both in the magazine and online over the coming months, and you can see the full list here.
The overall winners of each category will be announced at a special event this autumn.
Until then, read on to discover more about the five women to make our Changing Our Country shortlist...
Her Honour Judge Anuja Ravindra Dhir QC, 50
First non-white female judge at the Old Bailey State-educated, dyslexic, and born in Dundee to Indian parents, Anuja has been a barrister for 23 years and QC for two. She was appointed Circuit Judge in 2012 and Old Bailey Judge in 2017. Anuja says: "I'm motivated by the professionalism of the people I work with and their commitment to getting it right every time. "My proudest moment was being appointed as a Judge – it's a huge privilege as well as a responsibility. "I'm a mother of three. One of the advantages of a judicial career is the option of part-time work, which I hope means more women feel able to apply."
Air Vice Marshall Sue Gray CB, OBE, 54
The second woman to be made Air Vice-Marshal Previously Director of Combat Air, Sue is now Air Officer Commanding Number 38 Group (over 3,000 people providing RAF's Engineering, Logistics, Communications and Medical Operations units. She served in both Gulf wars. Sue says: "I'm the Chief Engineer for the Chief of the Royal Air Force. My proudest achievement – returning from the second Gulf War having delivered everything that was asked of us. "As an RAF STEM (science, tech, engineering and maths) champion, I have a lot of contact with younger people, who never fail to impress me. "My approach to midlife? Full speed ahead."
Deborah Cadman OBE, 54
Chief Executive of one of the largest combined authorities Deborah is Chief Executive of West Midlands Combined authority (WMCa). She works with the Elected Mayor, Andy Street, seven metropolitan local authorities and others to deliver economic growth to almost three million people. She has had a distinguished career in public service and received an OBE for services to local government in 2006. She has also won the First Women Award for Public service. Deborah says: "The public sector is a force for good. Despite the challenges we face, when it works well it makes a real difference to those who need it. "I've built my career and success as someone who gets things done. I love the opportunity to break through a maze of complexity to find a practical solution. "I'm only as good as the people I work with, and seeing those people grow and develop is a major inspiration."
Professor June Andrews OBE, 62
Leading dementia expert in the UK As a consultant, nurse and teacher, June is one of the most influential clinicians in the UK. She has dedicated her life to raising awareness of how to make life better for dementia patients, receiving numerous awards including the Chief Nursing Officers' Lifetime Achievement Award in 2012. June says: "I love being with older people. They have a bad reputation, but that's only because we often notice them when they're poorly or unhappy. When dementia happens, they are still the same, just a bit harder to understand but well worth the effort. "I'm motivated by the fact there's a lot you can do to make things better in dementia, and am still surprised at how much misinformation there is. My proudest achievement is my book, Dementia: The One-Stop Guide, which outsold Fifty Shades of Grey and Top Gear on Amazon for two weeks!"
Professor June Andrews OBE, 62
Leading dementia expert in the UK As a consultant, nurse and teacher, June is one of the most influential clinicians in the UK. She has dedicated her life to raising awareness of how to make life better for dementia patients, receiving numerous awards including the Chief Nursing Officers' Lifetime Achievement Award in 2012. June says: "I love being with older people. They have a bad reputation, but that's only because we often notice them when they're poorly or unhappy. When dementia happens, they are still the same, just a bit harder to understand but well worth the effort. "I'm motivated by the fact there's a lot you can do to make things better in dementia, and am still surprised at how much misinformation there is. My proudest achievement is my book, Dementia: The One-Stop Guide, which outsold Fifty Shades of Grey and Top Gear on Amazon for two weeks!"
Kathy Abernethy, 56
Menopause specialist and educator Kathy is a Specialist Nurse and Chair of the British Menopause Society - the first non-doctor to be elected in its 30 year history. She educates GPs and Practice Nurses by hosting menopause study days, and co-leads an NHS menopause clinic, where she's an independent prescribing practitioner. She also educates women through workplace awareness sessions and published resources, such as Menopause: The One-Stop Guide. Kathy says: "The menopause often occurs when life pressures are also at a peak – financial stress, relationship breakdown, elderly parents. "Good health in later years can be influenced by positive changes made around the time of the menopause."