Inside A Neoclassical Mansion: Kenwood House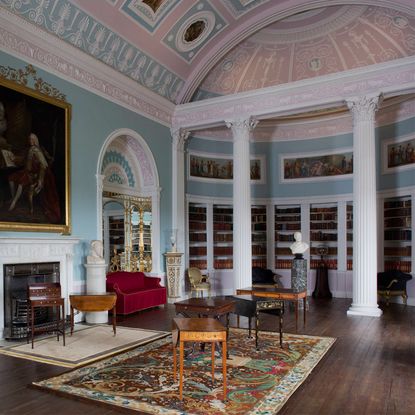 woman&home newsletter
Sign up to our free daily email for the latest royal and entertainment news, interesting opinion, expert advice on styling and beauty trends, and no-nonsense guides to the health and wellness questions you want answered.
Thank you for signing up to Woman & Home. You will receive a verification email shortly.
There was a problem. Please refresh the page and try again.
Perched on the top of a hill on the northern edge of Hampstead Heath, London, stands a graceful white-stone mansion, housing masterpieces by the likes of Rembrandt, Turner and Vermeer; Kenwood House is indisputably one of Britain's most historic - and spectacular - former stately homes.
Boasting sweeping views over the London skyline, the Georgian villa is the latest in a number of 18th-Century London houses to be restored, with almost £6 million poured into re-presenting and reinterpreting eight of its rooms to reference different periods in the building's history.
Once a large farmhouse built in 1616, the Grade-I listed mansion was first called 'home' by the Earl of Mansfield, William Murray, who acquired the building in 1754, and immediately commissioned the king of neo-classical styling, Robert Adam, to remodel it into a luxurious villa. Having abandoned his ancestral home in Scotland, Scone Palace, he was gaining respect as an up-and-coming lawyer, and looked on Kenwood as a convenient rural retreat, where he could work, read and entertain.
It was then that Adam brought to life one of Kenwood's most famous rooms, the library or 'Great Room', hailed by his contemporaries as "superior to any thing of the kind in England." As the property passed through the hands of William Murray's nephew, and the third Earl of Mansfield, a music room, dining room, stables and farm buildings were added, making it fit for entertaining the likes of the Russian Grand Duke in 1818, and a royal visit from William IV and Queen Adelaide.
Later Earls favoured their Scottish roots, and when in 1914 Kenwood was offered to a building syndicate for £555,000, it seemed Kenwood's days were numbered. But in 1925, it was saved from development by Edward Cecil Guinness, 1st Earl of Iveagh and England's second richest man, who bought the house and the grounds and donated them to the nation, along with 63 paintings from his outstanding collection. He stipulated that it should be displayed as "a fine example of the artistic home of an 18th-century gentleman," and now, more than 80 years on, Lord Iveagh's vision has been brought to life.
400 samples of historic paint, and some of Adams' original drawings have been analysed in order to return his iconic library to its original complex colour palette. The result is a subtle mix of pale blues, greens and pinks in a framework of delicate white plasterwork that unites the 19 ceiling paintings from 1769 by the Venetian artist. Antonio Zucchi, The library steps and a little desk sit as if waiting for an Earl to appear.
Items of furniture designed by Adam have been tracked down, brought back, and sit again in their original places, including an original library window seat and two long stools in the antechamber, decorated with lions' heads and paws. Other period features, including casts of 'Flora' and 'A Muse', taken from statues at Syon House in west London, have also been added, giving a strong sense of how the room was originally viewed.
When the house was closed in April 2012, forty-eight of Lord Iveagh's paintings commenced a tour of the US, and Rembrandt's 'Portrait of the Artist' went to the Metropolitan Museum of Art, in New York. Now each of the masterpieces have been rehung - work by Joshua Reynolds,Pietervan denBroecke and ThomasGainsborough, as well as 'The Guitar Player' by JohannesVermeer and 'Self Portrait with Two Circles', a late work of Rembrandt's.
Kenwood now stands as one of the few stately homes free from the usual paraphernalia of ticket desks, rope barriers, information boards and 'do not touch' signs; inside lies a world of sophistication and luxury to be immersed in, a truly spectacular venue in which to discover the many stories of 18th-Century family life there.
Kenwood House (020 8348 1286; english-heritage.org.uk/kenwood) is open daily from 10am to 5pm. Admission is free.
Download the Kenwood Tour app for free to discover special tour routes around the property, watch interviews with English Heritage experts, and learn more about the story of the house and its former residents. Available from iTunes and Play store.
Cover Image: The newly restored library at Kenwood House. Copyright: English Heritage/ Patricia Payne
Secondary Image: The newly repaired south facade at Kenwood House. Copyright: English Heritage/ Charles Hosea
Sign up to our free daily email for the latest royal and entertainment news, interesting opinion, expert advice on styling and beauty trends, and no-nonsense guides to the health and wellness questions you want answered.
Natalie Whittle is a British journalist specialising in celebrity content in the women's lifestyle sector. She previously held the role of Celebrity Director at Woman & Home and has also worked at Prima, Red & Good Housekeeping.