Humans Star Katherine Parkinson On Beauty Secrets, Embarrassing Dance Moves And Her Love Of Glamping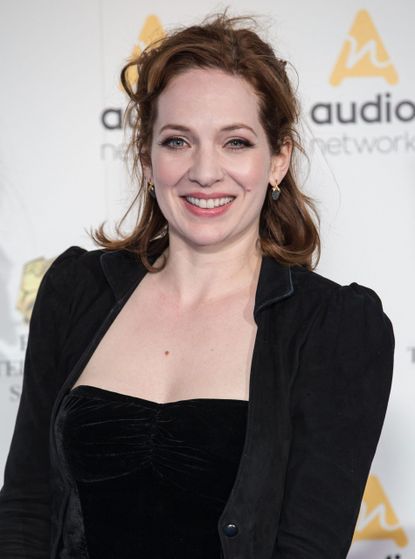 Katherine Parkinson, 38, lives in London with her husband, actor Harry Peacock, and their two daughters, Gwendolyn, two, and Dora, three.
I'd have a facial every week if I could afford it. I go to a place recommended to me by [actress] Ruth Jones called Linda Meredith. There's something quite wonderful about being able to lie there and switch off while someone sorts out my skin troubles!
My ideal night in would be spent on the sofa watching a Netflix show with Harry. It's something we really look forward to while we're doing bath time or making the dinner because it's time for just the two of us when we can share something we both love. We've just finished the first series of Bloodline, and now we're about to start the second series of Fargo. I can't wait.
Harry and I recently went to a jive night at the Rivoli Ballroom and we had such fun. We've never had lessons before, but we both fancy ourselves as dancers and thought our natural rhythm would kick in - it didn't! There were all these incredible dancers there and it turns out Harry and I look more like an embarrassing auntie and uncle dancing at a wedding! There's a move I do where I knock my knees together - that's when Harry usually says it's time for us to go home. We made a pact to start taking lessons, which I'm quite excited about.
We've just returned from our first family glamping holiday in Devon - and I surprised myself how much I loved it. We stayed in a little yurt, so there was no electricity or phone signal and having thought, "How on earth will I cope without my iPhone?" I was amazed at how quickly you adapt. We couldn't find any coffee anywhere and I convinced myself I was going to have migraines and get the shakes - but actually, I was fine. It was a real lesson for me that you can give up the things you love if they're not doing you any favours.
Dawn French once said: "There are two types of women; those who like chocolate and absolute bitches" - well, I'm the former! I hate to admit it, but I eat chocolate every day. There's a shop in Soho called Said Dal 1923, which is very unfortunately situated around the corner from my agent, so I find myself going there far more often than I should! I don't even have a cupboard where I store it all, I just put it in the bottom of my bag. I've been addicted to far worse things in my life though, so I won't be giving it up in a hurry.
What's on my to-do list? Learn to drive. I didn't do it when I was young because I knew my parents couldn't afford to get me a car, but now I'm in this position where I feel quite inadequate as a mother because I can't ferry my kids around. I'm planning on doing an intensive course - my relatives are worried because I can be a bit gung-ho in that sort of scenario, but none of them thought I'd enjoy a glamping holiday either so we'll see if I can prove them wrong again!
Sometimes I dream about having my own robot, like my character, Laura, in Humans. Like her, I have a natural reticence towards new technology - I like to wait until things have been around a while before I sign up myself. But my lack of domestic ability is appalling - I don't know if it's a feminist statement or if it's a condition that hasn't been diagnosed yet. I'd like a robot that would sort out my wardrobe and get rid of all the moths. I hate the idea of another human doing it, but the idea of a robot who wouldn't judge me for how many dirty socks I've got through is somehow very appealing! Humans airs on C4 this October.
Sign up to our free daily email for the latest royal and entertainment news, interesting opinion, expert advice on styling and beauty trends, and no-nonsense guides to the health and wellness questions you want answered.
Natalie Whittle is a British journalist specialising in celebrity content in the women's lifestyle sector. She previously held the role of Celebrity Director at Woman & Home and has also worked at Prima, Red & Good Housekeeping.