The best KitchenAid mixer deals to upgrade your kitchen in July 2022
The best KitchenAid mixer deals are few and far between, but as we approach another shopping holiday there are some strong bargains if you know where to look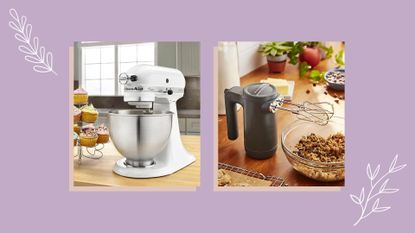 (Image credit: Future)
The best KitchenAid mixer deals can be quite elusive outside of major shopping holidays. However, with Amazon Prime Day approaching you're bound to find some deals on these coveted kitchen appliances. We've rounded up some of the best offers below that we're seeing on KitchenAid hand and stand mixers right now.
KitchenAid products are considered a must-have for any keen chef or baker – the popular brand is world-renowned for having the best stand mixers on the market. But with that prestige comes high prices and rare sales, which is why it's a great idea to take advantage of any KitchenAid mixer deals as soon as they come up.
Fortunately, we're finding several deals on the best KitchenAid mixers at various retailers throughout the US and UK, helping you save up to $150/£150. Scroll down to see them all, along with some buying tips to help you save on a new KitchenAid mixer before and during Prime Day.
The best KitchenAid mixer deals in the US and UK
Amazon Prime Day will be live in the US and UK on July 12-13, 2022. We can expect to see KitchenAid mixer deals crop up in the lead-up to the major mid-year shopping event. (To learn if Prime Day is the best time for KitchenAid mixer deals, scroll to the end of this feature.)
But on either side of the pond at the moment, KitchenAid direct is leading the way with some of the best KitchenAid mixer deals out there. At KitchenAid US, limited-time July 4th offers include up to $175 off new and refurbished KitchenAid stand mixers, along with up to $20 off select stand mixer attachments. Meanwhile, KitchenAid UK cuts 15% off its mixers during its Fabulous Flash Sale.
KitchenAid deals (US): Quick links
The best KitchenAid mixer deals in the US
KitchenAid Professional 5 Plus Series Stand Mixer: $449.99 $349.99 (save $100) (opens in new tab) | KitchenAid
This top-rated 5-quart stand mixer is now $100 off at KitchenAid and the lowest price we can find for it. It features a bowl-lift design and compatibility with over 10 different attachments so you can make your favorite meals or treats with ease. Plus, it comes in seven colors so you can match it to suit any of the latest kitchen trends (opens in new tab).
KitchenAid Professional 5 Plus Series Stand Mixer + 5 Blade Spiralizer: $549.98 $429.98 (save $120) (opens in new tab) | Best Buy
Here's an easy way to turn your KitchenAid stand mixer into an all-around slicer, dicer and spiralizer. The bonus attachment will come in handy for making veggie noodles, fruit pies, and much more. Purchase these items together at Best Buy and save $120.
KitchenAid Classic Series 4.5-Quart Tilt-Head Stand Mixer: $329.99 $269 (save $61) (opens in new tab) | Amazon
This entry-level KitchenAid stand mixer is ideal for casual bakers. It has a nice roomy bowl plus 10 speeds so it can knead, whip and mix as fast or slow as you need it to. We're also fans of its classic, sturdy design. Find the Classic Series stand mixer on sale at Amazon for $269, which is the best price we can find for it in any color.
KitchenAid Cordless 7-Speed Hand Mixer: $99.99 $54.60 (save $45) (opens in new tab) | QVC
This is a stellar deal for one of the best hand mixers (opens in new tab). It's cordless, so you can use it anywhere without fussing over a power supply — except when it comes time to charge it. But even then, KitchenAid says it's capable of making 200 cookies in four batches on a full charge, so that will hardly be an issue. Even with $5.50 for shipping, QVC has the absolute lowest price for this KitchenAid hand mixer in three colors.
KitchenAid 9-Speed Hand Mixer: $109.99 $89.99 (save $20) (opens in new tab) | KitchenAid
For more serious chefs who lack space for a full-fledged stand mixer, KitchenAid's 9-speed hand mixer is a more-than-capable alternative. It comes with plenty of attachments — two beaters, two dough hooks, a whisk and a blending rod. The soft start setting is a helpful feature so ingredients stay in your bowl (and don't go flying all over your kitchen). Buy directly from KitchenAid to save $20.
KitchenAid Artisan Stand Mixer in Empire Red: $459.99 $379.99 (save $80) (opens in new tab) | Amazon
The Artisan series of stand mixers comes in over 20 colors, but the lowest price we can find is for the bold Empire Red shade, now $80 off at Amazon. This 5-quart stand mixer has 10 speeds and includes two bowls plus four accessories. The Power Hub will allow you to add any of 12 compatible attachments so you can effectively turn this stand mixer into a pasta maker, spiralizer and much more.
KitchenAid Ice Cream Maker Attachment: $99.99 $79.99 (save $20) (opens in new tab) | Bed Bath & Beyond
We all scream for ice cream now that summer is officially in full swing. Instead of waiting for the ice cream truck to make its way to your neighborhood, make your own frozen treats instead with this attachment. It's compatible with most KitchenAid stand mixers and can make up to two quarts of ice cream. If you need it ASAP, opt for same-day in-store pickup from your closest BB&B location.
KitchenAid deals (UK): Quick links
The best KitchenAid mixer deals in the UK
KitchenAid Artisan 6.9L Stand Mixer: £749 £636.75 (save £112) (opens in new tab) | KitchenAid
Here's 15% off the best KitchenAid mixer you can buy, direct from the source itself. This pro-level kitchen appliance is powerful enough to whip up just about anything you want, but despite its 10 speeds and 500W motor, it's not very noisy at all. And with a 6.9L bowl, it's an excellent choice if you have a large family to feed or like to entertain often. Choose from five colours on offer.
KitchenAid Artisan 4.8L Stand Mixer: £449 £381.65 (save £67) (opens in new tab) | KitchenAid
For smaller spaces and budgets, the 'mini but mighty' KitchenAid 4.8L Artisan stand mixer is a great pickup — especially at 15% off. You'll only really be able to pull off single batch recipes with this one, but it's otherwise as flawless as its larger counterpart when it comes to performance, with the added ease of being able to store it in a cupboard.
KitchenAid Artisan Mixer 175 Velvet Blue with Free Gift: £549 £448.96 (save £100) (opens in new tab) | Harts of Stur
This colourway is exclusive to Harts of Stur, and now it's £100 off. Included are a KitchenAid Artisan Mixer 175 in Velvet Blue plus a digital scale so your recipes are always precise. The KitchenAid Artisan 175 also comes with 4.8 & 3 litre stainless steel bowls, a pouring shield, a wire whisk, flat and flex edge beaters, and a dough hook.
KitchenAid Classic 4.3L Stand Mixer: £349 £296 (save £47) (opens in new tab) | KitchenAid
This is KitchenAid's entry-level model, which will suit culinary newbies who are new to using a stand mixer. It has 10 speeds and includes a 4.3 litre bowl, a wire whisk, a dough hook and a flat beater. You can also level it up via any of the 10 attachments available (sold separately). Regularly £349, it's now 15% off at KitchenAid during its latest sale.
KitchenAid Cordless Hand Mixer in Almond Cream: £149 £109 (save £40) (opens in new tab) | Appliances Direct
If colour is no object, this is the absolute lowest price we're finding for this 7-speed hand mixer anywhere. No need to fuss over cords limiting your mobility, as this design allows you to use it anywhere in the kitchen. And to give you an idea of how reliable the built-in battery is, a single charge will yield up to 200 cookies!
KitchenAid Classic 5-Speed Hand Mixer: £99 £69 (save £30) (opens in new tab)| Appliances Direct
Need something more standard? This easy-to-use KitchenAid 5-speed hand mixer fits the bill, and it's now £30 off at Appliances Direct. It's compact and quiet, but also capable when it comes to mixing light batter. You can also fix the power cord to either side for more seamless operation.l
KitchenAid Professional 6.9L Stand Mixer: £1,079.98 £719.98 (save £360) (opens in new tab) | Nisbets
Serious home chefs may be keen to invest in this professional-grade KitchenAid stand mixer, especially now that it's £360 off at Nisbets. It boasts a 1.3HP motor, a wire guard and stop switch. Also included are a 6.9 litre handle bowl, a pouring chute, an 11-wire whisk, a spiral dough hook and a flat beater.
Do KitchenAid mixers go on sale for Prime Day?
KitchenAid mixers have seen discounts during Amazon Prime Day in past years, and we imagine it'll be the same scenario this year. But don't just look to Amazon for discounts — for instance, last summer in the US KitchenAid direct offered some steep bargains that rivaled a few Prime Day deals from Amazon.
That said, if you're looking for the best KitchenAid mixer deals of the year, it may be worth waiting until Black Friday and Cyber Monday, which are flush with offers on the best kitchen gadgets in general — typically at all-time price lows.
Deals can also be found on KitchenAid mixers in January (the post-Christmas sales). KitchenAid also sometimes do their own end-of-season sales too, but this is rarer and only happens a few times in the year.
Alison Barretta is a freelance writer and editor from Philadelphia, USA who specializes in home and lifestyle, skincare, and tech. For the last 15 years, she has been sharing buying advice and product reviews with curious, cost-conscious shoppers from around the world. Alison's work has been featured in Forbes, Business Insider, Tom's Guide, TechRadar, and Creative Bloq.
When she's not reviewing mattresses or waxing poetic about her favorite face cleansers, Alison can be found teaching/training in martial arts, streaming underrated TV series, trying new recipes, and singing karaoke until her throat is hoarse.