The best KitchenAid mixer deals available during Black Friday 2022
The best KitchenAid mixer deals are few and far between, but with this year's Black Friday sales, you can save over $260 or £400 on some of the best KitchenAid stand mixers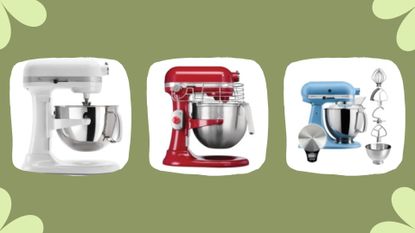 (Image credit: Future / KitchenAid)
The best KitchenAid mixer deals can be hard to come by which is why we pay attention when the Black Friday sales are running. Right now, you can save up to $260/£400 on some of the brand's top models in some fantastic time-limited deals.
KitchenAid products are considered a must-have for any keen chef or baker and the popular brand is world-renowned for having the best stand mixers on the market. But with that prestige comes high prices and rare sales, which is why it's a great idea to take advantage of any KitchenAid mixer deals as soon as they come up.
Fortunately, with Black Friday there are lots of deals on the best KitchenAid mixers at various retailers throughout the US and UK at the moment, to help you save or get ahead on your Christmas shopping. After all, a KitchenAid is a coveted Christmas gift for her, him, or any keen chef.
Scroll down to see them all, along with some buying tips to help you save on a new KitchenAid mixer for all your holiday cooking.
The best KitchenAid mixer deals available now
KitchenAid mixers are a staple in most kitchens, but unlike any generic mixer, the brand's prices aren't the most affordable. However, we're currently seeing some brilliant Black Friday deals, making the coveted item a bit more affordable.
KitchenAid direct leads the way with some of the best KitchenAid mixer deals. As part of the KitchenAid US Black Friday sales, you can save up to $260 off new KitchenAid stand mixers. Meanwhile, if you're in the UK, you can save up £400 at Nisbets on one the best and largest stand mixers.
Current KitchenAid deals and discounts in the US
The best KitchenAid mixer deals in the US
Current KitchenAid deals and discounts in the UK
The best KitchenAid mixer deals in the UK